There's plenty of people and drama to go around at Boreal Summit University the next two years…
The next two years at Boreal Summit University proved to be… awkward ones.  James, Marcus, and Shelly were all finishing their final years.  That was well and good, aside from the fact Marcus was sleeping with James' girlfriend.  Of course, Marcus felt awful about it, especially because he was really interested in starting up a relationship with his former high school flame.  It was kind of hard when he kept randomly running into Kit and sleeping with her, though.
"Don't even talk to her, don't kiss her, just avoid her," James suggested, surprisingly calm.
"You are handling this way too well, dude," Marcus replied, stunned.
"You're not the problem, Marcus, you're a distraction.  Claude freakin' Saunders is the problem.  Damn vampire."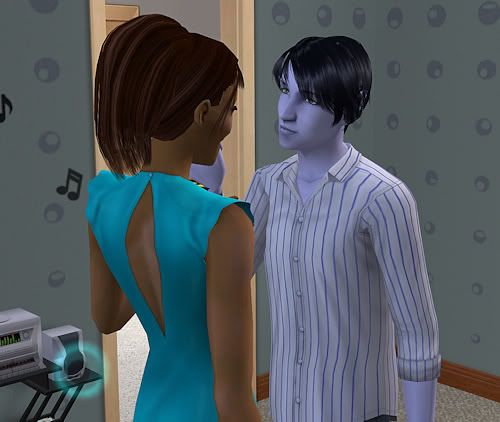 Cole wasted no time approaching Shelly.  She hadn't really spent time trying to find romance in college.  Instead, she found herself kind of missing Cole.  She had always wanted Timothy O`Hanlon, but she was beginning to realize that may have been a shallow, teenaged girl fantasy.  She and Cole had a lot more in common and he would also cow-down and do whatever she said.  He was a bit of a pushover, the kind of person Shelly needed if she was going to make her dreams come true and become the next mayor of Boreal Springs.
So she accepted his advances and they started a true, non-fake relationship.  If anything, the Anderson name would certainly give her a leg-up in the political world.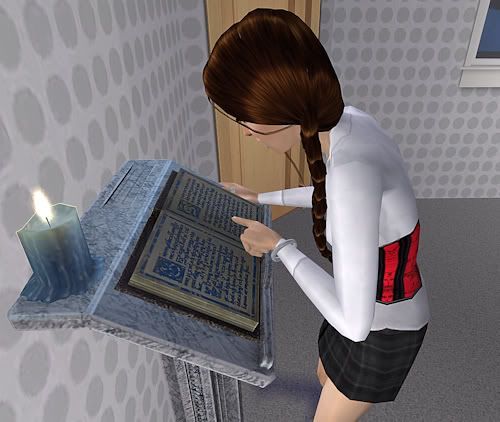 Isolde, meanwhile, was still studying her 'art'.  She'd had many talks with Lilith Yu and when she finally arrived at University, she couldn't keep herself away from Timothy.  Together, they both brought her out of her negative spiral.  She stopped sulking and brooding and went back to what she loved.
"What are you doing?" Timothy asked one evening as Isolde tested her cauldron for the first time.
"Trying to make something for Lilith," Isolde said, trying to concentrate.
"Screw potions," Timothy replied, giving the globe in his hand a pained look, "use magic on this damn thing.  How did anyone ever manage to figure this thing out?"
Isolde sighed, "I don't think it works like that."
There were some definite perks to being a witch.  Isolde had the best transportation to class and anywhere else–a broom!  A real, flying broom.  Sure it was a gaudy blue, complete with a weird crystal at the end of it's stick, but what could beat a flying broom?  Absolutely nothing.  She couldn't wait until she'd studied enough to have a spectral assistant.  Timothy tried, but he really wasn't very good at handling the reagents.
Poor Cole, meanwhile, was finding that tinkering was not exactly his thing.  The computer broke in the midst of him working hard on his term paper.  He tried to fix it only to get quite a jolt.  Thankfully, Isolde was around and she quickly hit him with a rejuvination spell.  He wasn't enamored with her anymore, but he was certainly thankful for her helpful, witchy ways.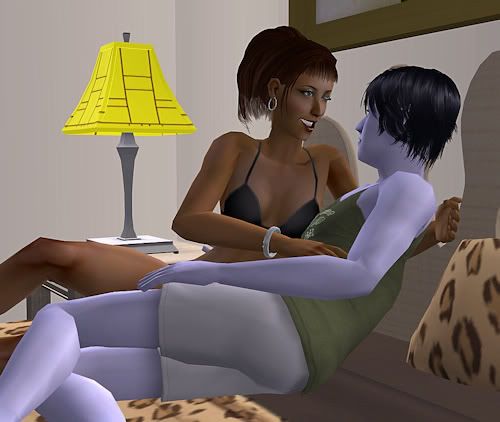 Shelly had different ideas of 'healing wounds'.  Not that Cole particularly disagreed with her methods.  Perhaps it wasn't smart to leave a bunch of unattended, young adults in a house all by themselves.  It would seem that none of their parents even considered they would do anything questionable.  Well, okay, Cole's had.  Sara called constantly, reminding him that he was their last hope.  No pressure or anything.
Of course, you can't have two family sims without a little trouble, either.  Sure, Isolde was knowledge-minded first and foremost, but her second inclination was family.  Perhaps that's why she and Timothy got along so well.  They had plenty of chemistry, though it probably wasn't wise to explore the chemistry right before an important final exam.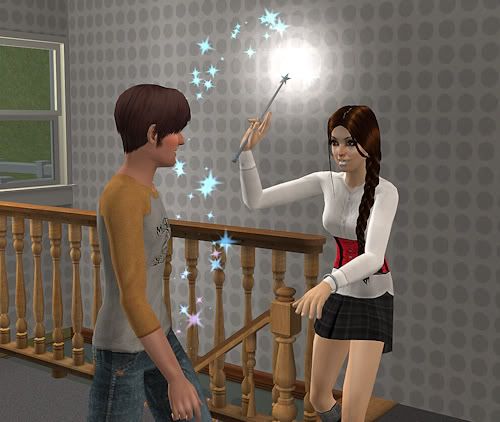 But then again, most guys don't have girlfriends with witchy ways.  Timothy heads off to his final exam feeling completely rejuvenated and safe in the knowledge that he's totally got college in the bag.
James, Marcus, and Shelly all graduated with honors, much to the delight of their parents.  Cole wasn't about to let Shelly run off into the sunset.  He proposed to her rather spontaneously, right before she was preparing to leave with Marcus.  Of course, she accepted.  Instead of staying in a cramped little apartment, she'd go make nice with her future in-laws.  It would be awkward, but they had a nice house.  James seemed shocked by the display, wondering if Cole knew exactly what he was getting into.  Not that he was one to talk, really.
Meanwhile, outside, Marcus was chatting up his old flame, Valerie.  She was surprisingly also on campus and they had met a few times through classes and just random campus things.  She'd grown up quite well, he couldn't deny it.  There was still an attraction there and maybe, since they were both adults now, a chance at something more.  They passed numbers and Marcus moved to leave with Shelly.  James would leave in the morning.
—————————–
Note from Mao: Isolde really wants Timothy to be a warlock, LOL.  Poor Timothy, I don't think he has it in him to do witchy things.  He's too confused by that silly game ball, he brings it out constantly and makes pained faces.  Cole immediately walked up to Shelly and planted one on her.  I was too shocked for a picture.  Seems he took the Tsung way of confrontation!  Either way, he wanted to get engaged and so they did.  Marcus kept having wants to talk to Valerie, so there she is.  She's a pretty sim, despite her over-painted, pudgy-faced teen years.