Damien Saunders is still trying to deal with the death of his twin Chuck. Can his newest love interest, Aiyana Lam, help close the wound? Nathaniel Anderson is the star of B.S.U. University's soccer team–will all the fame and women go to his head? Lilith Anderson still isn't talking to anyone but Tsung Yu and the questions she asks him are getting progressively more odd.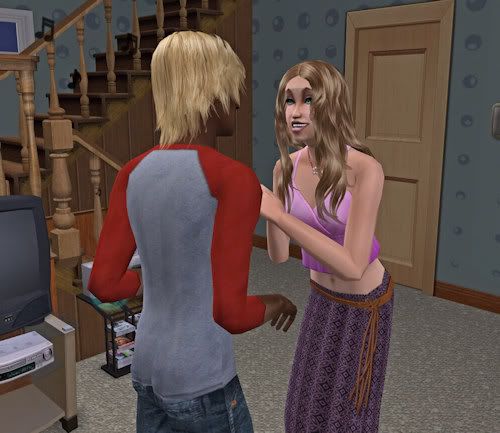 Lilith: It's odd for me to be doing this, isn't it? But here I am. When we first got to University, we realized that the addition of Tsung wasn't enough to cover rent. Damien put an ad in the paper and Aiyana Lam showed up. She's a hippie chick–you know the type, totally bohemian and whatever.
I think Damien accepted her into the house just because he thought she was hot. At least we didn't have to worry about the rent anymore… not that I voiced any concern in the first place.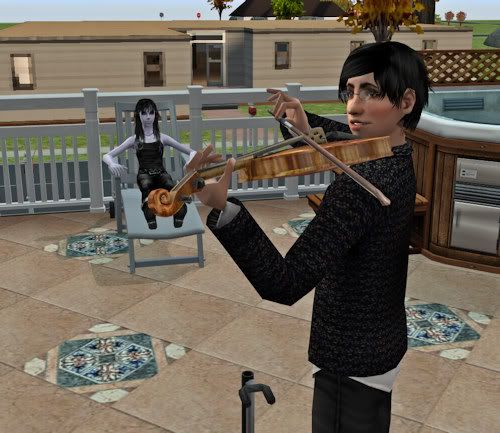 I thought it would be weird living with a bunch of guys, but it isn't so bad. Everyone kinda leaves me alone and that's cool. I can do what I want and not worry about people patting me on the shoulder. I guess Damien has it worse, but he didn't see it happen, you know? That makes it a different story.
I caught Tsung practicing with his violin thing on the balcony. When Nathaniel told me he was 'really good', I brushed it off. Who cares about that stuff? Let's see him be good at something substantial! But I guess it isn't so bad. It's kind of soothing. He didn't really notice I was sitting there until he finished. I think it embarrassed him, which was completely hilarious.
Of course, I totally called the whole 'Damien and Aiyana hook-up' thing… not aloud, but still. It was me who saw it first. They're 'kinda' dating now. Whatever. They think it's weird because they're always around one another and they don't want to put too much pressure of the 'blossoming relationship' or some hippie crap like that. Listening to that girl talk is like cramming flowers down your throat and vomiting up perfume. Blegh.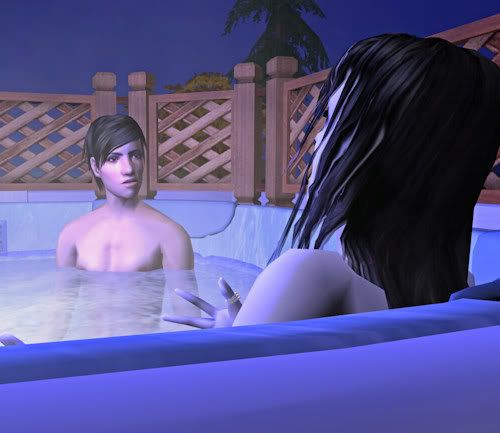 Tsung is completely obsessed with the hot tub. If you ever want to find him, that's where you go. Tsung and I were rivals for like, our entire lives, but I guess in the end… he won. I'll admit it (not aloud, though) that he knows more than me. That's why I talk to him–he can answer my questions about death and ghosts and stuff. Damien slipped up one time and told me he saw his dead mother before he left for B.S.U…. I wonder if Chuck is lurking around there, too?
Of course, Tsung was hesitant to answer me. I guess he doesn't think much of the whole paranormal thing. He's too logical–too constrained by math and science. Whatever. I'll figure it out myself, then. We'll see who is right!
I guess I am a little worried about Nathaniel. In High School, he was a total sports jock and it's the same thing here, too. But there's a difference… High School girls… well, they're not the same carnivorous creatures as University ones! Besides, I scared all the HS girls away by scowling at them. I can't do that here, they're like a swarm of hormones. It's really annoying. I'd feel bad for Nathaniel, but I doubt he minds at all. Men are such pigs.
I just hope he is using the right head or we're in trouble. Sara will be joining us in a year and even if it's futile, she has it beyond bad for him. Which is totally gross, but what can you do?
Damien and the flower child reject are getting really heavy lately. What happened to strangling the burgeoning blossom and all that crap? Seriously, I don't want to see this stuff. Go somewhere private, why don't you? Though, I have noticed Aiyana doesn't stay in her own room anymore. Sheesh. It's like University charges your hormones and puts them in hyper-drive. At least I've still got my head on my shoulders.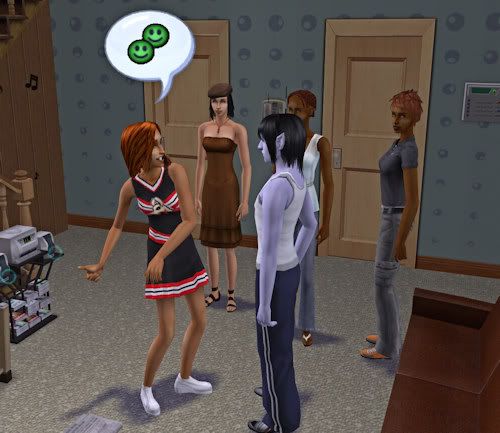 Speaking of which, I really wish girls would stop following Nathaniel home. It's really, really annoying. The house suddenly becomes a party zone and it's impossible to hear yourself think. What? I know I used to be a bit of a slacker, but I've changed and I am really worried about Nathaniel. All these women are vultures.
I hope Sara gets here with some boobs and makeup. I'd rather see my brother with her than any of these vapid chuckle heads! One more cheer from that pom-pom waver and I'm gonna go crazy…
———–
Note from Mao: Sorry this took so long! I haven't had a chance to really play and Uni was dragging with so many people. Too much to do, so little time. As for Lilith, she did the Uni Reroll and is now Family… haha. Talk about a complete flip-flop. And yes, women are following Nathaniel around and it is creeping me out. He hasn't had any bolts with them yet, but who knows.