Julie and Asia may have an unconventional marriage, but their lives are fairly normal otherwise.  Maggie is enjoying the last of her teen years before joining her older brother at B.S.U.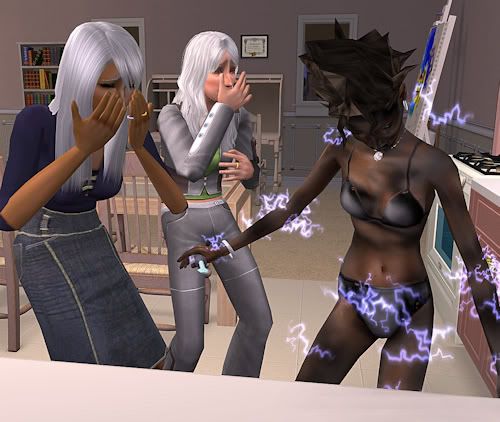 Unfortunately for Maggie, things don't seem to be going too well.  Being a senior isn't all it's cracked up to be, it seems.  Sure, her life at school is going fine, but that'll all be over soon, water under the bridge.  Right now, she's stuck getting assaulted by their evil trash compactor!  She just wanted to help out and try to fix it.  She should have left it to Julie.  Maggie's hobbies don't necessarily include tinkering or jamming a screwdriver in the angry maw of a trash compactor.
It wasn't just appliances Maggie had trouble with–boys also seemed to be a problem.  Maggie had it all going for her–looks, popularity, intelligence–but the boys didn't seem to care.  Most of them were just too intimidated by her.  She came on too strong, too hard.  She was a good girl, she was just trying to broaden her horizons.  She wasn't asking for marriage or anything!  Still, they shuffled off and avoided her like the plague.  Poor Maggie.
There was at least some bit of good news–their dog, Sansa, gave birth to three puppies!  Sandor, Catelyn, and Brienne all resembled their mother and were kept safely in the unused bedroom behind the garage.  Julie and Asia planned to give them away to any willing neighbors when the time came.
Maggie still wasn't having much look with cooking, either.  Again, the fireman came to the rescue.  He was getting to know everyone in the house by now, especially Maggie.  He was older, but not too old, Maggie noticed with interest as she chatted him up.
"I know you probably think I'm an airhead," she began, "but I'm not.  I'm really smart with books!  It's just cooking that elludes me."
It seems he heard this excuse a lot.  He simply laughed and nodded, "whatever you say, m'am.  Try not to burn the house down."
It would seem he left his warning with the wrong resident!  Poor Julie suffered her own culinary disaster shortly after Maggie left for University.  Aang was just as puzzled by the roaring flames, unable to move.  Luckily, the fireman was still around and the damages were minimal.  At this point, it seemed a better notion to just hire a caterer… or order out for the rest of their lives.
———————
Note from Mao: Nothing too crazy this round.  Poor Maggie, she really does have terrible luck.  Maybe it'll improve in Uni.