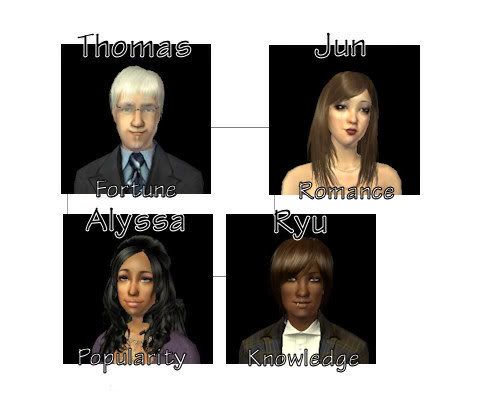 Thomas Anderson still has everything in the palm of his hand, including his girlfriend Jun Yu and his daughter Alyssa. Will the arrival of Ryu and Alyssa's first child cause an issue?
Tensions between Ryu and his father-in-law, Thomas, had been building since he moved in. It had only gotten worse with the arrival of Katarina. Thomas spent a lot of time with his granddaughter, though Ryu questioned his motives. Ryu was on the police force and was becoming more and more aware that Thomas' business dealings were hardly what one would call legal.
"You'd best watch it, Ryu," Thomas warned. "I've allowed you here only because my daughter seems to have grown fond of you… but I'm sure if something were to happen, she'd recover."
"Are… are you threatening me?" Ryu said, quite surprised. "I thought you were smarter than that, Thomas."
"We'll see who is smarter," Thomas said casually, turning towards the door. "Remember what I said."
Thomas' threats couldn't bring Ryu down. He reached the top of the heap. He was part of the secret crime fighting unit–the leader of the task force that had been formed to combat the recent upswing of organized criminal activity. He was certain Thomas was involved, though he didn't have any proof.
If only he knew his step-mother, Janine, was in the same boat.
Jun, too, found that she was quite fulfilled in her life. Sure it had been a little rocky now and again, but then she found someone rich and now she didn't have to worry about anything. She really didn't care if he was doing shady dealing or screwing his ex-wife. What did it matter to her? As long as Jun had an elegant roof over her head and didn't have to exert herself, she was quite content.
Katarina's birthday crept up on them and soon she was a mobile toddler ready to wreak havoc on the house. She was quite cute, though and seemed to favor Ryu when it came to her facial features. Alyssa was unsure about being a mother, but she did try. She meant well and spent time with Katarina when she wasn't working on her campaign. She was so close to becoming mayor she could taste it. Once she reached her goal, she could take some time off and maybe enjoy life a little more.
Ryu was over the moon, of course. He was a bit more family-oriented than his wife. He spent as much time as he could with Katarina, trying to broaden her horizons. She didn't care too much for nursery rhymes, though. Ryu was surprised that she much preferred when he read her books. Perhaps she took more after him than just her looks.
He tried to keep Thomas away from her, worried that he'd try and brainwash her like he seemingly did to poor Alyssa. Ryu was determined that Katarina wouldn't become one Thomas' subservient little puppets.
Alyssa returned home one afternoon walking on air. She was finally mayor! It felt good to be on top, though the only thing she could think of now was taking a vacation. She had missed out on a honeymoon, thanks to her father. She was completely oblivious to Thomas' true motives.