Marcus Yu returns to his childhood home after graduating University, where his aging mother awaits him anxiously.
Tracey was beyond happy to have someone else in the house again.  It wasn't that she feared any retribution for her warning to Roman, but simply that she was lonely.  She knew Gordon wouldn't pull anything against her and so far, hadn't even acted against Roman yet.  She simply didn't want to be alone anymore and she was excited to see Marcus settle down, like Shelly planned to.  She couldn't wait to have grandbabies.  With Marcus and Shelly, she didn't have to fight over the ability to see them like she did Michael.  She hated that their relationship was pretty much nonexistent now, but what could she do?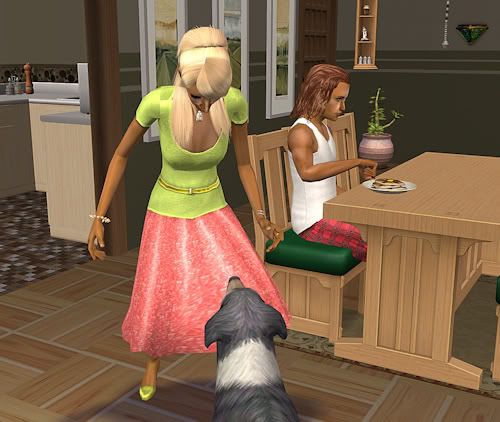 Things fell into a routine and Tracey was disappointed that Marcus didn't seem to be in any hurry to settle down.  She had heard rumors of him messing around with Kit Knight, but had hoped them to be false.  Since he arrived, she hadn't seen Kit, so maybe it had ended, whatever 'it' had been.  Instead, Marcus vaguely mentioned a girl named Valerie.  That was a nice name, Tracey mused.  When would she get to meet her?
Unfortunately for Tracey, Valerie only came over when Tracey was at work.  It was a little weird living with his mother, even if he was the technical heir and that, in and of itself, was an honor in these parts.  It just didn't feel right to flaunt Valerie in front of her, so he waited until Tracey was gone to have her over.  They were adults now, doing adult things meant for adults.  It was a lot different, they'd changed, matured.  Marcus liked Valerie, but he wasn't sure if he loved her.
One thing he was sure of, he didn't love Kit Knight and he was kind of tired of the drama.  James was a good guy and Marcus was over this little 'fling'.  When she called him up, he refused her and told her that she shouldn't call anymore.  He may even have mentioned that he and Valerie were maybe-serious again.  Was that true?  He wasn't sure, but anything to get Kit off his back.  Why was she so insistent on causing James so much agony?
—————-
Note from Mao: It took forever, but Marcus finally spun up a want to go on a date and so he phoned Valerie.  Up until that, he simply wanted to call and chat with Kit and Valerie, that was it.  Agh.  Kit called, as you can see above, but Marcus wasn't responding well to the conversation.  That fling is definitely over.  Now lets see if he spins up some commitment wants with Valerie.  I was surprised, he didn't even make any booty calls!  He is really showing Tracey some respect, LOL.  The boy went without for three days!