Lauren is finding herself neck-deep in vampires.  Gordon, the resident criminal mastermind and self-proclaimed underworld mayor of all that he surveys, isn't too happy about Roman's meddling with his son.  Claude, meanwhile, is quite enjoying his life as a creature of the night.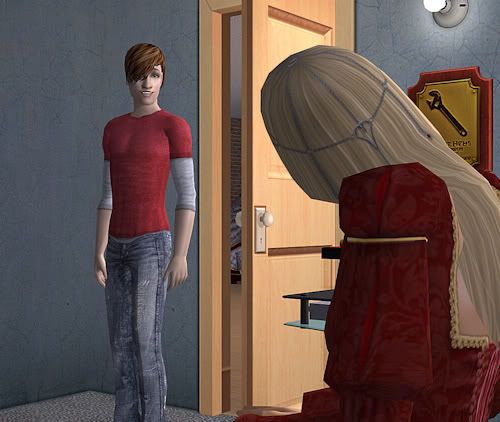 Claude was shocked when he managed to get the door to his father's ever-exclusive study open.  He must have left it unlatched when he left for work.  Even more surprising was the familiar, yet peaked face of Emily.  She was seated on the high back chair looking wholly defeated and hopeless.  Their eyes met slowly and recognition washed over both their faces like an electric pulse.
"Emily?"
"Claude?"
"What are you doing down here?" Claude asked, helping her out of the chair.  Suddenly, he had a thought, "my father found you, didn't he?"
"I'm sorry, Claude.  I didn't know what I was getting into… but even so, I mean, despite it all, I'm glad I did." She smiled, taking his hand.  "Otherwise, I'd still be out there… alone.  Being a vampire isn't always easy, it's a very solitary, lonely existence.  I can't even begin to count how many years I've endured.  My parents were vampires and so, I was inducted quite early."
"It's all right, I'll make this okay.  Dad will understand.  I'm not mad, I'm actually kinda happy with this–I mean, being a vampire and all.  And I'm really glad he found you."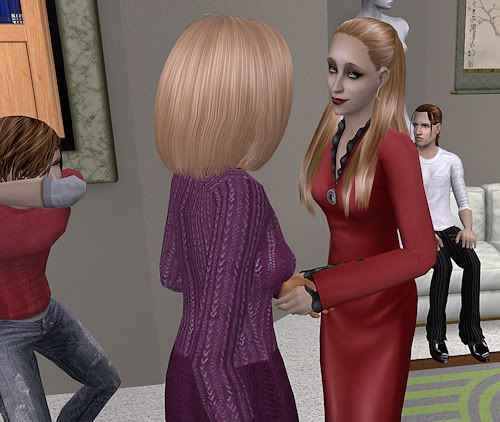 Making it 'okay' wasn't easy.  Emily joined the ranks in the Saunders home, but was forced to go through the gauntlet of dealing with Gordon and explaining herself to Lauren.  Lauren wasn't immediately accepting of yet another vampire in her home, the one who had changed her baby boy, but what could she do?  Emily made Claude happy, and she seemed genuine.  At least, Gordon assured her she was… and well, if she wasn't…
For now, Lauren would tolerate it.
Claude, being the type of guy he is, wasn't quite sure how he'd adjust to the lifestyle of having a 'serious' significant other.  They weren't married or anything, but Emily was really fond of him and he of her.  Still, after awhile, he didn't even think about it.  Emily was hot, she was technically an older woman, and her accent was hot.  She was all around hot, a straight ten, what more could he ask for?  The vampire thing was a catch with the ladies, but with Emily, it was a shared, mutual experience.  Emily's reaction everytime they crawled out of their coffins at dusk was evidence of her agreement on the matter.
Plus, they had a lot of fun doing cliched, vampire things like making out (amongst other things) in a graveyard.  They enjoyed lurking in dark clubs and luring away innocent, admittedly stupid, club-goers.  The town was their oyster and while Gordon pleaded with them to be discreet, they also managed to enjoy themselves quite a bit.  Emily wasn't new to this, she knew how to keep a low profile, but she wasn't above making the best of the time she had with Claude, either.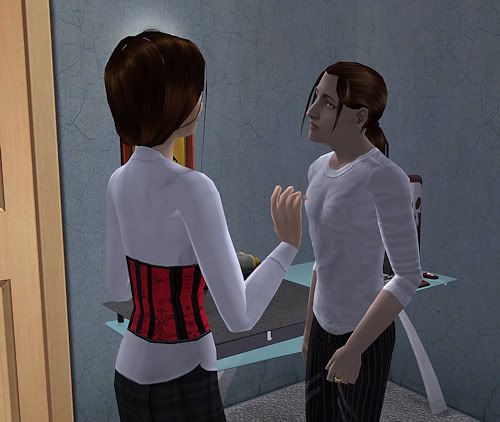 When Gordon wasn't corralling his vampire son and his much older girlfriend or trying to placate his very anxious wife, he was cleaning up other messes and securing friendships that would aid him in the future.  He had been immensely saddened to hear of Lilith Yu's death, not simply because they had an agreement, but she had become a friend, and she was Tsung's wife.  Her apprentice and protege, Isolde Anderson, was quick to come to him.  Apparently Lilith had let some thing slip and surprisingly, Isolde was happy to help him with Claude's problem.  She even brought a potion.
Gordon was hesitant to deal with another Anderson, especially one so closely tied to Roman, but what choice did he have?  For now, Roman was safe, because as much as Gordon hated to admit it, he needed Isolde and her skills.  Isolde had single-handedly saved her uncle's butt without even knowing it.
Still, Gordon wasn't sure what he'd do about Claude.  Claude seemed adamant to continue this little play of being a vampire, but Gordon knew better.  The fancy would wear off and his fickle son would grow bored with the life he chose.  What would become of him then, and what of Emily?  Gordon idly stuffed the potion Isolde had given him into the locked drawer.  He would need it, eventually, but not now.
—————–
Note from Mao: Emily is quite pretty, I'm surprised.  She and Claude are ridiculous… but hilarious, too.  Poor Gordon, his hands are tied!  And now you know why Roman hasn't gotten any payback… Isolde to the unknowing rescue!  Lilith created peace by dying.  She wouldn't be pleased, we all know much she loved a little chaos!
On another note, Boreal Springs is a year old.  Wow.