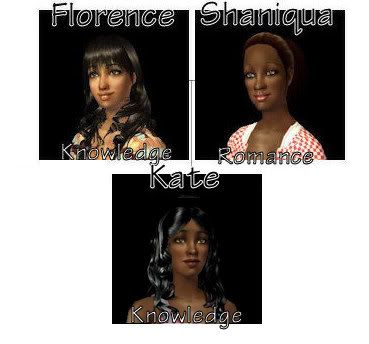 Florence Anderson is nearly an elder and thinks life has gone pretty well. She isn't aware of her partner, Shaniqua's, infidelities. Kate is blissfully oblivious to everything.
Despite the fact that Janine had tried to warn Florence about Shaniqua's little 'fling', Florence continued on like nothing was wrong. When would Shaniqua have time? Anytime Florence came home, she was busy entertaining Kate. She would never do something like that with their daughter in the house, nor would she have done it with the twins. Especially not after what happened to Lilith!
Florence was convinced her mother was delusional.
Of course, she was wrong. Shaniqua was having an affair. It wasn't a 'one night stand' deal, but an ongoing relationship. It may not have been as emotionally invested as the one she shared with Florence, but that was a technicality. In recent times, Shaniqua had spent more time with Ravi than Florence.
She felt badly about that, but Ravi was always happy to see to her needs. He wasn't busy at work or preoccupied with children. He was also a little differently made…
Gina had heard the rumors flying around about her twin and decided to pay her a visit. The two had once been inseparable, but adult life had made them both far too busy. They were still twins, though, and Gina was concerned.
"Is it true, Shaniqua?"
Shaniqua gave her twin a look, "how can you ask me something like that?"
"Because I know you," Gina replied quickly. "Why are you doing this? It's going to end badly."
"She doesn't ever have to know…"
Gina sighed, "yes, she does. And eventually, she'll find out. You might want to stop it now and cut your losses while you still can. You should tell her."
Kate's birthday passed and she was completely oblivious to the tensions surrounding her parents. She was knowledge-minded like her mother, but her true passion was cooking. She enjoyed learning everything she possibly could about it. Maybe someday she could even have some sort of business or cooking show. She dreamed of winning a cooking contest and studied the culinary arts every chance she got.
Unnerved by the things being said around the suburb, Florence decided to confront Shaniqua. Of course, Shaniqua talked her way out of it. That's what people like her did, they smooth talked their way out of anything disagreeable. It was an art form she had perfected over the years. It worked, of course. Florence just didn't have it in her to believe that Shaniqua would do something like that. She craved stability and given what a dysfunctional mess her family was, wasn't about to give up her idea of her own happy home.
Kate, meanwhile, was making her own kind of happiness. She had a crush on Shang Yu since she had been a little girl. Now she was old enough to let him know. She knew he was known as a womanizer–they went to the same Academy, after all–but she didn't care. She was young and foolish. She was still under the impression people could change.
Florence wasn't so pleased by her daughter's youthful naivety. She had no idea that Kate was seeing Shang until she came home one evening. Needless to say, he was chased out of the house with some angry words and Kate was sent to her room. Kate was far too young to be getting messed up in that business and Shang was the last person Florence wanted her to date. Even she knew he wasn't much for commitment when it came to girls.
———
Note from Mao: Shang and Kate have two bolts and yes, they actually have been friends since childhood. I just never got a picture of them together. Poor Kate, she has no idea what she's getting into…