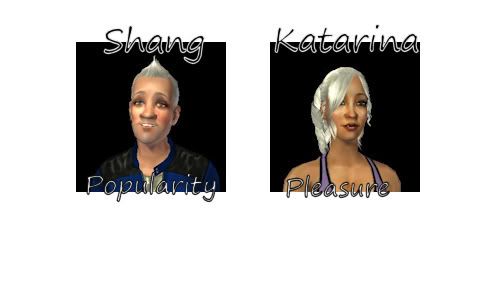 Shang Yu and Katarina Anderson have an understanding, one that's gotten them through a rather long time together.
Of course, it's business as usual at the Yu-Anderson household.  Katarina really enjoys the hot tub, really.  She takes most of her lovers down there to enjoy the seclusion.  Of course, things aren't always so private… not that she minds.
That isn't to say that Katarina and Shang don't spend an ample amount of time together.  They have their own brand of love, one that isn't limited by barriers and jealousy.  They have a lifestyle, a need to do things that other couples scoff at.  But they're still together and those other couples?  Well, divorce rates have skyrocketed, haven't they?  Though, there's no speculation in the fact that the rest of the community would appreciate it if they kept their amorous ways behind closed doors.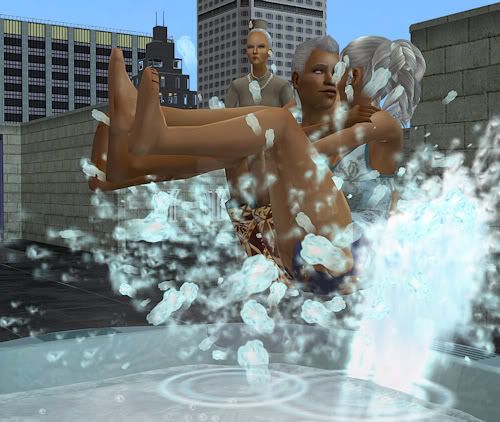 Katarina isn't one for privacy, though.  She loves hot tubs and she loves the public just as much.  She doesn't even care when cranky old Mrs. Crumplebottom shoots her a look that could kill.  Katarina is just happy to give the old, prudish coot a heartattack!  How funny would that be?
Shang has his own conquests, though he's slowed down as of late.  Katarina started late in life while Shang has been wooing his way through women for most of his.  He can see the end now and so he's slowed down considerably.  It's hard to believe he's younger than Tsung, but he is.  Still, he knows Tsung will outlive him.  Shang's life has been riddled with women, stress, and travel.  He's put his body through more things than most can ever hope to.  He's been lucky to keep going this long…
So when Death comes calling, Shang doesn't fight him.  He's lived a good life, an awesome life.  His sons will preserve, Katarina will live through his death, and life will go on.  Shang, meanwhile, has some hula girls in the afterlife to attend to.
—————————-
Note from Mao: R.I.P., Shang!  You were a thorn in my side, but I'll miss you anyway…