Damien has Aiyana to keep his mind off Chuck's death, but Lilith's still struggling. This isn't helped by Tsung's bizarre behavior, Nathaniel's flock of female followers, and her best friend's sudden change of personality. Gordon's arrived, but he's keeping quiet and well away from the drama.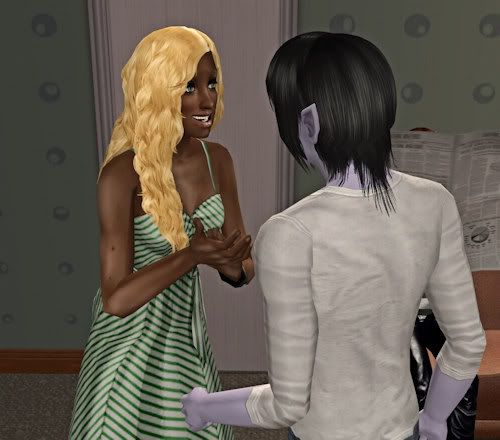 Sara had decided that she was going to shock everyone when she arrived at Boreal Summit University. She let her hair down, bought a dress, and squeezed her feet into a pair of casual heels. The result was an unimpressed Lilith, a shocked Damien, and a receptive Nathaniel. Gordon, who she had traveled the long distance with, just sat down with the paper.
"I heard you're doing really well on the team, Nathaniel."
Nathaniel shrugged, "I guess. We'll see how it goes when I'm a senior. What happened to you?"
"What are you talking about?" She smiled, taking her leave. "I'm not any different than before."
When he was sure no one was watching, Gordon crept into the room with the computer. Pulling out a tool kit his mother had gifted him, he began modifying the computer. He was too busy to bother with term papers and all that. It would be much easier just to hack his grades. He also had to drive the length between Boreal Springs and Boreal Summit University to see Thomas for his 'mental training'. There was no time for studying.
While Gordon was scheming, Lilith, Tsung, Nathaniel, and Sara hung out in the hot tub. It was a cool autumn night, perfect for lounging in the hot water and talking about nothing in particular. Lilith was slowly coming out of her shell, though it wasn't for a good reason. She kept staring at Sara, her eyes squinted in distaste. She couldn't believe Sara had actually done it. Even worse, she couldn't believe it was actually working.
Tsung noticed her preoccupation with her best friend and realized that while it may bring Lilith out, it wouldn't be a good thing.
Despite their glaring differences and the distance that had been between them, Tsung Yu and Gordon Saunders were still best friends. Tsung was studying early into the morning when Gordon woke up for breakfast.
"It's always been obvious, you know," Gordon said suddenly, grinning. "So what's holding you back?"
Tsung didn't bother looking up from his book, "I've been meaning to ask, Gordon… where did you get all that hair?"
"I'll tell you when you finally confront Lilith," Gordon replied, taking a bite of his cereal.
Tsung tried to take Gordon's advice, he really did, but it was difficult. He approached her later that afternoon to no effect.
"What do you want, Tsung?" Lilith snapped, glaring at him. "Can't you see I'm busy trying to save Sara from the pod people that stole her brain?"
Tsung sighed, muttering under his breath as she breezed past, "yes, but who will save you from that stick you've got rammed so far up your–"
"What?!" She snapped, turning to face him again.
"Nothing," he replied, walking off. "Go save Sara from herself."