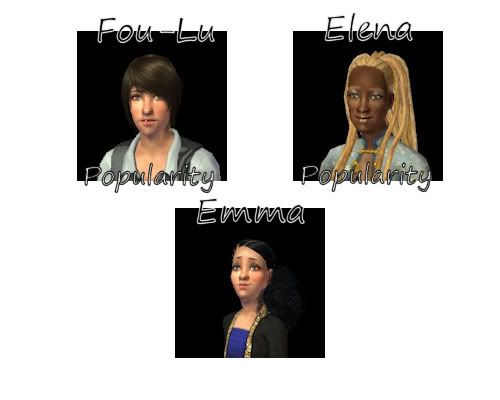 Fou-Lu and Elena have finally reconciled, much to their daughter Emma's delight.  They have no plans to get married anytime soon, but are enjoying their new found family dynamic.
Emma and Six continued to be inseparable.  Six would wait until Emma came home from school and their routine would begin.  Emma liked to watch television before she started her homework and Six would sit and watch as aptly as her childhood master.  It was an odd sight, a cat watching TV, but one that they became accustomed to.  Where Emma went, Six went.
Fou-Lu's work schedule allowed him to spend an ample amount of time caring for and spending time with Emma.  It certainly made up for the years he'd been missing from her life (no choice on his part, he didn't know she existed!)  He would keep an eye on her and then tuck in her when it was bed time.  He was still the same old Fou-Lu, but caring for Emma caused him to be a little bit more grown up.  He learned to consider her before himself.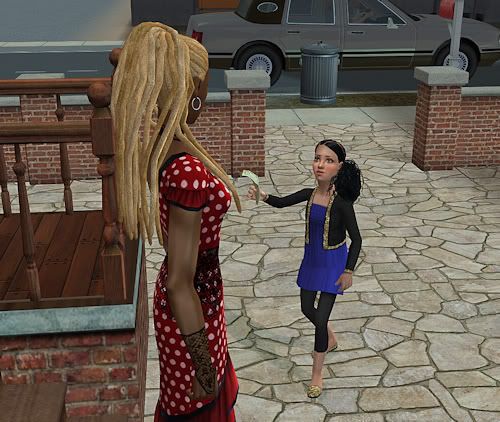 Elena, unfortunately, did not have the ability to spend heaps of time with Emma.  Her job kept her very busy and while she wanted to succeed, she was beginning to feel a pang of jealousy for all the time Emma and Fou-Lu had together.  She felt like she was slowly slipping out of Emma's life and off the radar.  When Emma brought her report card home, she usually ran past her and to Fou-Lu.  Of course, Emma also knew that Elena was very busy and probably just didn't want to bother her.
It was a horrible thought.  Elena wished she had more time to spend with her daughter.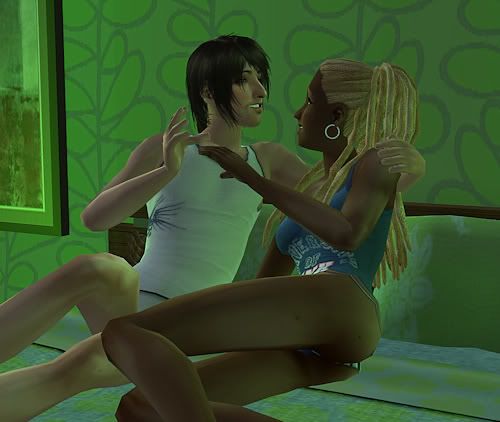 When Elena voiced her concerns to Fou-Lu, he told her not to worry about it.  That Emma didn't like him anymore than he liked her and she was being silly.  Emma was more like Elena than him, so he assured her that it was simply a matter of her knowing and not wanting to interfere with Elena's ambitions.  It comforted Elena a little, but she was still determined to spend more time with her daughter.
Little did she know something was in the works to guarantee her plenty of time…
Elena found out, quite abruptly, that she was pregnant.  It was a shock, to be sure.  She had been on the job and had to run off-stage to go puke her guts out.  After several more bouts of completely unbearable nausea, she went to the doctor's.  When she came home with the news, Fou-Lu was happy, but Emma was a bit put off.  She wasn't ready to share her parents.
"You're going to look like a beachball!  Beachballs are gross!"
"How do you think she looked with you, brat?" Fou-Lu countered good-naturedly.
"Not like a beachball!"
As Elena's pregnancy advanced, so did Emma's age.  She was soon a teenager and filled with a teenager's concerns and whims.  She still wasn't pleased about the impending addition.  She really didn't want to have to share her parents.  She had been the baby, and she liked it.  She was spoiled.
"Come on, Em.  You know that's not true.  We love you, and a baby won't change that," Elena tried to reassure her daughter.
"But you'll be so busy with the new baby and you'll think 'well, Emma is old enough, she can care for herself' and I'll be left out in the cold!"
Elena sighed, "you know that's ridiculous.  Stop it.  We love you."
"Yeah, well," Emma began, indignant, "if you start ignoring me, I'll run away to Grandpa Gordon's!  He'll still love me…"
Eventually, Emma came around, not completely, but enough.  She would try to feel when the baby kicked and was quite fascinated by the way the pregnancy progressed.  It wasn't as gross as it had been when she was younger.  She still didn't want to share, but maybe being a big sister wouldn't be completely awful… besides, they had found out it was a girl and having a little sister was a much better prospect than having a baby brother!
—————————-
Note from Mao: Elena did give birth, but it was after the round was over (I couldn't wait to see it).  It was a girl named Emily… with, get this, the ANDERSON skintone.  WTF?  Anyway, you'll see her next round.  Oh, and I lost the picture, but Emma has a big crush on Gregory Anderson, FYI.
Also, during this round, I was met with a MAJOR surprise.  All of the sudden, I heard BOOOOING!  So I looked around and saw Viola slapping Patrick silly.  Uh oh!  Someone's been busted!  I had completely forgot that he and the landlord were semi-lovers and yeah.  The BBQ turned into Jerry Springer.
So, that'll be something to deal with next round.  Note that Patrick is right there, too.  sigh.