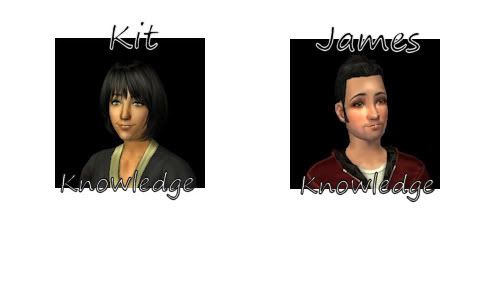 Kit Knight and James Anderson have had an odd sort of on-again, off-again relationship.  James may be the right guy for her, but Kit just can't get over Claude Saunders.
James and Kit have moved into the same complex as the O`Hanlon and Davis family.  Kit and Patrick are distant relatives whiles James and Fou-Lu also share some blood ties.  Of course, as soon they move in, James makes it clear that he's not an idiot and he's very much aware of what Kit's been doing while he was in college.  He pleads with her to stop what she's doing and be faithful to their relationship.  Kit takes it all in stride.  She cares about James, she knows she needs to cool down and stop acting a fool, but love is blind and she can't help herself.  She is in love with Claude, as stupid and senseless as it is.
So when Claude calls her late one night while James is sleeping, Kit immediately agrees to meet him.  They meet at a platonic place and Kit is startled.  He's sitting alone, but it looks as if he's been there since the sun set.  She joins him.  He looks at her out of the corner of his eye.
"I'm glad you came, Kit.  I care about you and I didn't want to do this over the phone, you know?"
Kit's chest tightens, she looks at him and then past him.  It's obvious what's going on.
"I'm a guy with a lot of love, but unfortunately, I have to give you up.  You need to be with James and, well, I need to–"
"…be with Emily," Kit finishes, seeing the pale vampiress standing there, completely complacent, completely cool.  There would be no scene, no cat fight.  Kit was sure she could take the old biddy, but Emily was composed.
"I'm glad you understand!" Claude smiled, finally facing her.  It wasn't an easy thing to do, he and Kit had been attached a long time.  He cared about her a lot, but he was in love with Emily.  She was his match, his perfect fit.  James was Kit's.  He wished she'd realize that.  "It's for the best, Kit, really."
Of course it was, but that didn't mean Kit felt like jumping up and down for joy.  She enjoyed her last night with Claude and left him to run off with Emily.  It was over.  She felt empty.
James, however, was quite overjoyed when it seemed Kit turned a new leaf.  She agreed to a complete commitment and even accepted his offer of engagement.  James wasn't an idiot, though, he didn't ask her before he was sure that Claude freakin' Saunders was out of the picture.  He'd heard through the grapevine that Claude had been seen with a very lovely, old-world classy type vampire lady.  Kit was old news and now, officially, James'.  Hopefully she would see that they were right for one another and finally accept his love and return it.
Unfortunately, James couldn't completely enjoy his victory.  News of his father's death reached him via his mother and he found himself feeling guilty.  She was all alone now and while she assured him she was all right, he insisted that she come and stay.  He knew Katarina and Kit did not get along  at all, but Katarina was his mother.  He wouldn't let her live her last days alone.  Their fight was a silly one, anyway.  Whatever happened with Kit's family was her parents fault and didn't involve Kit or maybe James had just grown up with infidelity so long he didn't see it as a big, horrible thing.
Maybe that's why he was still in love with Kit, despite all her transgressions.
————————–
Note from Mao: I know this update doesn't seem like a lot, but it is, trust me.  Kit… is pregnant.  I know she is.  There are three possible fathers.  Yes, THREE!  Why do I know this?  Because she's she's woohoo'd with both James and Claude in the span of a day, AND, during her date with Claude, she went on the dance sphere.  OH HAHA, SILLY ME, I had forgotten about her teenage abduction.  ARGH!
Here you can see Claude and I BOTH wondering WTF Kit went.  ARGH!  COME BACK KIT, NO ALIEN BABIES FOR YOU!  Also, note the peeing memories.  From when she was HELD CAPTIVE at her former apartment building.  Yargh.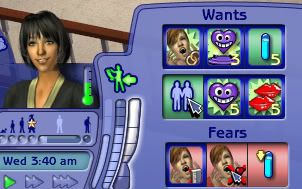 Poor Kit, she really is/was/whatever in love with Claude.  This was her want panel before the date.  Note the MARRY CLAUDE want.  So, now she has baby daddy drama.  I refuse to spoil it and find out WHO the father is.  To recap, it's either JAMES, CLAUDE, or AN ALIEN.  This is some straight up Springer crap right here.