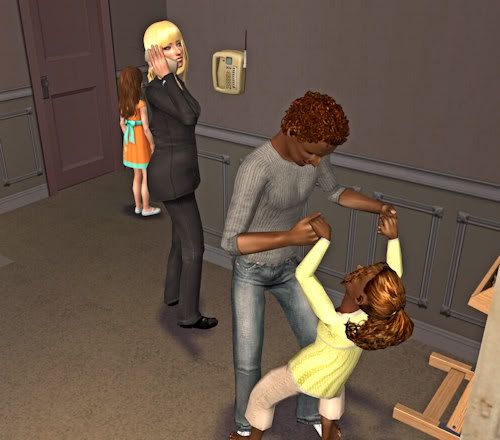 After that night, things began to slow down. The next week went without a hitch and Mary didn't bring up Katy's murder again. She did spend long hours at work and on the phone, though. It was left to Derek to entertain Julie and Marla. Gina kept quiet about what she heard that night, unsure of what to do next.
She poured herself into her novel completely, not leaving her room unless it was completely necessary. It was going to be her magnum opus, a tale of love, murder, and betrayal. She needed the distraction, she didn't want to think of the possibilities that surrounded her. She didn't want to put together the pieces that everyone else had missed. Gina Saunders wasn't a detective, she was an author. She couldn't rat out her brother, nor could she destroy her father.
So she wrote until her fingers cramped up and the words blurred together.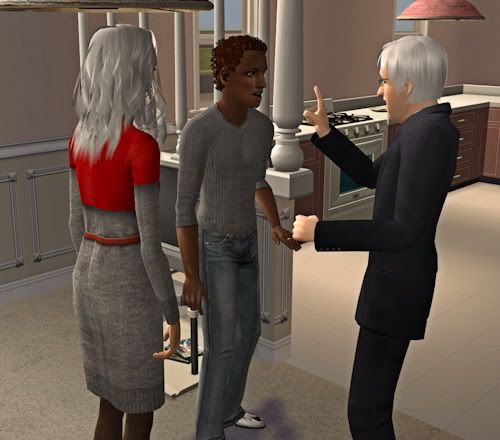 On afternoon, on Derek's day off, two unexpected visitors arrived at his door. Well, not really. They arrived sneakily and nearly scared him to death when he turned around to see Janine and Thomas standing there. Thomas didn't give him a moment to speak before laying into him.
"I realize that intelligence isn't exactly plentiful in your gene pool, Saunders," Thomas began angrily. "But it's simple common sense to know not to call criminals about criminal activity on a phone that has every likelihood of being bugged."
Derek was floored, he had no idea that Thomas Anderson was involved. He couldn't speak, Thomas went on.
"You'll keep your mouth shut and you'll act like nothing is amiss, do you understand? Janine got her hands dirty for you without my consent and now we're all in hot water. I won't go down for some lackwit in love. The moment things look bad, you'll be the one going down, do you understand me? You can't even begin to comprehend the influence I have."
Janine, who had remained silent the entire time, gave Derek a sympathetic look, "I'm sorry, Derek."
Later that night, while they were preparing to go to bed, Mary confronted Derek. He had been acting skittish ever since she got home. He kept looking over his shoulder or jumping when Marla or Julia popped up behind him. She could tell something was very, very wrong.
"I'm sorry," Mary said suddenly, "I know you didn't hurt Katy. I just… everything is a little insane right now. Can you believe that evidence is starting to point to Janine Anderson? That's just ridiculous."
Derek swallowed hard, "I think it's just best if we don't talk about it anymore. It's too much trouble."
"You're right, I guess,"Mary sighed. "I'll try not to bring work home with me anymore. It's just so hard to stop thinking about it."
————
Note from Mao: And so the crap hits the fan, woo! This is turning out a lot bigger than I planned. Will Mary ever find out the truth? Only time will tell. Janine kept going by the house, and then Thomas, so it only made sense for them to come down hard on Derek. Oh, and an extra picture that I found hilarious: