Alyssa gave birth to twin boys, Nevio and Roman. It was quite the surprise, but Thomas was overjoyed. Boys! One of these two would definitely be heir. Nevio, likely, because he had all the Anderson traits… except his eyes.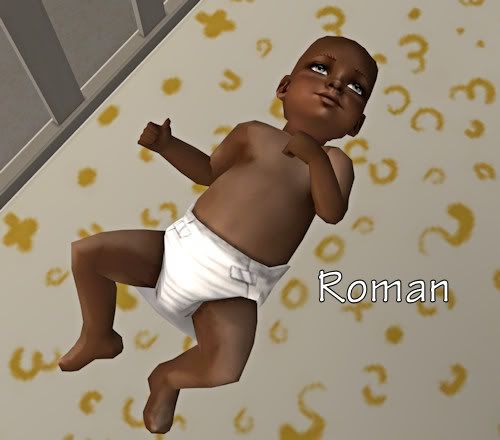 Roman had Janine's eyes, but he looked every bit a Saunders. That wouldn't do for an Anderson heir, Thomas reasoned.
Sometime after the birth of the twins, Ryu had a strange dream. It seemed and felt so real. He found some mysterious lamp on the porch. There was no one around to claim it. When it picked it up, his finger slid over the surface and it jumped from his grasp. A genie appeared in a puff a smoke and addressed him in a deep voice that reverberated with power, "I answer to the Master of the Lamp. I will grant you a wish."
Ryu thought it was silly, but how could he refuse? So he wished for something that would benefit everyone. The Katy Saunders case had recently been reopened upon finding some evidence that didn't quite add up. So he wished for Katy Saunders and she appeared, similarly, in a puff of smoke.
"You have your wish," said the genie. "Use it wisely."
And with that, he disappeared.
"Katy, are you all right?"
She gave him a look, "all right, Ryu? I'm dead! And pregnant. Eternally so, actually."
"Sorry, you're right, stupid question," Ryu said, shaking his head. "What really happened to you?"
"Don't act like you don't know," Katy said, frowning. "I was murdered!"
"By who?"
Unfortunately, as Katy's lips moved to speak, the dream came to an abrupt end. He awoke in a sweat, trying desperately to recall what had happened. He had seen her mouth the name, but no sound had come. So close, and yet so far…
While his son-in-law was mulling over the mysteries of death and dreams, Thomas was showing Gordon the ropes. He was dubious as to Gordon's ability to take the reigns once Janine was gone, but there was no other choice. Gordon had potential, yes, but he was young. Thomas did have to hand it to him, though… Gordon was amazingly deceptive. He could wear personalities as easily as one wears a shirt. He was better at it than Thomas. Even Thomas had no idea who the real Gordon was.
Nevio and Roman had their birthdays and become precocious toddlers. They weren't much for trouble as they were for sticking strange things in their mouths. It was a habit Alyssa tried several times to break them of. As they were getting older, it was becoming easier to see who they took after.
————
Note from Mao: Okay, before you freak out, no, Katy isn't alive. She's still dead. Those pictures were from my first ever introduction to the lamp in Free Time. Ryu randomly spun up a 'Make a Wish' want, which baffled me, as they didn't have a lamp. Then I glimpsed at their porch and there it was. So I went over and tested it out. I didn't save the results, thus why it makes for a fitting dream! So, Katy is still very dead. No worries… yet.