Henry Saunders has led a tumultuous life, but he's got plenty of children and even more grandchildren, so he's happy. Janine is still struggling with her life of crime, but her time is short. Damien returns from University with his fiance, Aiyana Lam, to take over the house in his father, Derek's, stead.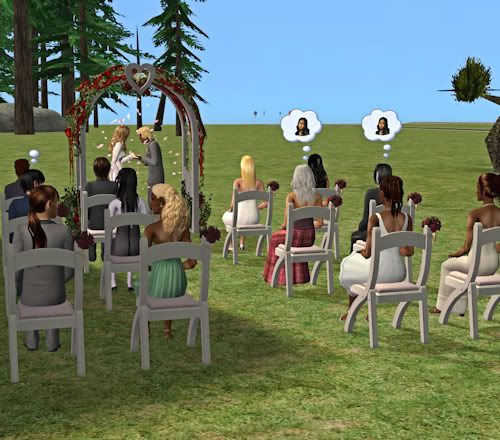 Damien and Aiyana were married in an outside ceremony. A great majority of the neighborhood attended, but their minds weren't all on the wedding playing out before them. Gathering so many people into a large group is sure to bring about problems. Sara had to make sure to avoid Nathaniel and did so by making Gordon sit with her. Tsung gave Lilith no space, taking the seat beside her. Derek nearly jumped out of his skin when Ryu sat next to him.
The entire ceremony was riddled with tension, but the happy newlyweds hardly noticed.
They were oblivious to the problems that surrounded them, too lost in their own wedded bliss to care. They were truly a 'power couple', completely enveloped in one another. It was a rare thing these days, especially in Boreal Springs, and so it was rightfully celebrated. Everyone pooled together their collective composures and applauded the union.
Aiyana kept herself busy with sewing. She was quite skilled at it and even found herself working on custom tailored suits and gowns for Alyssa Anderson to wear during her functions. This little deal was struck during her own wedding! It turned out to be a very lucrative day.
Neither Damien nor Aiyana took jobs. They had enough money to stay afloat and were much too busy with their own endeavors to really hold down a job.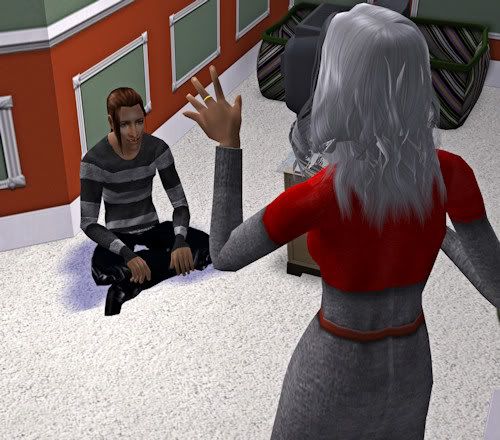 Janine spent her time tutoring Gordon on the finer points of being a criminal. He had a lot to learn and little time. Janine could feel her age creeping up on her. The end was near. She was too old for this, too old for the sneaking and the lying. She only hoped she could die as Janine Saunders and not the criminal personal and moniker she had come to hate. She just had to continue being careful and hope, pray, that Derek didn't do anything hasty.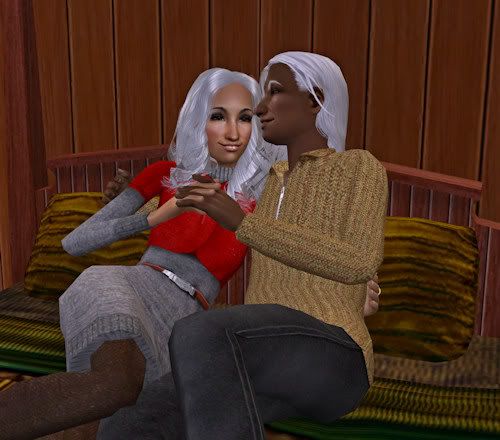 While she had spent a good part of her marriage having a strange affair with her ex-husband Thomas, there was no denying where Janine's heart lie. It was with Henry–she loved him. Thomas was something different and dangerous, but Henry was her safety, her true love. She hated lying to him and she hated being unfaithful, but it wasn't in her to fight it. She led two separate lives and it just started to make sense that what her criminal side did had no reflection on what Janine felt or thought.
Damien and Aiyana shared the same type of love, though there was no adultery or twisted affairs involved. Aiyana found Damien's family history puzzling and troubling, but decided it had no reflection on Damien. Besides, she was weird, too. Who wasn't? It was their awkwardness oddness that made them so perfect.
Unfortunately for Aiyana, she had no idea that her step-mother-in-law was the leader of the dreaded crime syndicate. Damien was just as clueless.
Despite being busy with their own hobbies and quests for knowledge… Damien and Aiyana had been trying to have children. Henry had been dropping hints since the wedding that he wanted to see grandchildren before her died. They had no problem trying, who does? But it just didn't seem to be working.
Perhaps it was stress or just the fact of trying too hard. They decided to stop focusing so hard on it and just let be what would be.
——-
Note from Mao: I'm thankful Aiyana isn't pregnant yet, but I'm surprised. With Inteen back, I can't force pregnancies, my 'Try For Baby' is gone and only 'WooHoo' remains. It is randomly risky woohoo or try for baby. So, we'll see. I really want Henry to be around for the birth–it'll be his tenth grandchild!