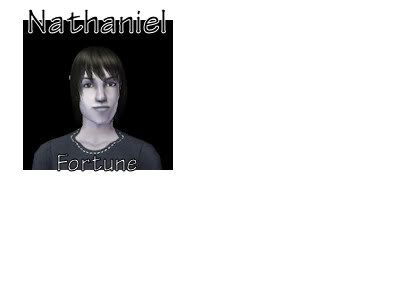 Nathaniel Anderson has graduated college and moved out on his own. The hefty settlement from his sport injury allowed him a nice house, can he find happiness in a new career?
There will never be a feeling comparable to that of winning the big game, but Nathaniel would have to find something to fill the empty hole that professional sports had left. It had been his thrill for his entire life and now it was gone. He wasn't sure what to do except mope.
It had definitely changed his perspective on things, though. While Nathaniel had always tried to stay grounded, his own successes blinded him to the things that really mattered. He suddenly felt incredibly guilty about the whole blow-up with Sara.
Thankfully, his sister Lilith was always there to back him up. She somehow convinced Sara to come over with her. Sara was dubious, of course. How could she not be hurt? It seemed odd that he suddenly was interested now that his career was over. Nathaniel couldn't deny the suspicious nature of his request, but he was truly sincere.
It took a long time for Sara to calm down, to be comfortable. She was still incredibly cautious, though. Even with Lilith there, she was on edge. Nathaniel's sincerity was obvious, yes, but entirely too convenient. He'd probably be off jet-setting with some bimbo were it not for the injury.
Nathaniel had dated, though sparingly. Most had been what one would call 'bimbos' and that's why it rarely lasted past a date or an appearance or two. Sara may be a tomboy, but she was seemingly the only compatible match for Nathaniel.
Of course, the barriers soon melted away and Sara found that the crush she had as a child that had developed into an infatuation had gone so far as to turn to love. Regardless of what had happened and regardless of what hidden motive there might be, she couldn't deny what she felt. Lilith ignored them and finished up her game before leaving. Her work was done!
Nathaniel's education befitted him a job at the newly founded research facility just outside of the suburb. It was essentially formed to do studies on the ocean that touched against the mountain range and to reveal the secrets within the depths. Nathaniel wasn't sure it was something he'd enjoy, but he was pleasantly surprised. His compassionate nature and unique way of problem-solving allowed him to move quickly up the ranks.
While he was incredibly busy with his new job, he still had time for his twin. His injury kept him from playing professionally, but there was nothing keeping him out of his own backyard! Lilith always loved a good competition, especially with her brother, so she wouldn't turn down the chance to possibly kick his butt.
———
Note from Mao: Apologies for the lack of updates. Fiance and I have three days off starting today, which we will mostly spend together, as his birthday is this Saturday and we have to work. I'm still toiling through University, but I'm almost done. This is the first of another new house that will be added to Boreal Springs. Woo, growth! I'm still working on updating the DB entry for this house.