Shang Yu enjoys the ladies, though he's finding that a little difficult to do with Kate Anderson constantly 'cramping' his style. Sara O`Hanlon is back with Nathaniel Anderson and happy. Gordon Saunders is too busy plotting his future to concern himself with the drama in the house.
Time hadn't caused any of Kate's feelings for Shang to lessen. As soon as she saw him, she was instantly in love again. Shang, of course, was completely oblivious… more happy to look at himself in the mirror than notice a former flame's adoring glances. He was used to it. The ladies loved him, and why shouldn't they? He was all kinds of awesome, this much was true. His awesomeness was sure to aid in his quest to become a supremely famous rock star.
Of course, Shang would bid his time while he waited for the fame and fortune. There were plenty of ladies at University ready and will to adore him, as well they should. Kate was always at the front of the line, as usual. While Shang tried to make it clear he wasn't a 'one girl kinda guy', she didn't seem to buy it. Whatever. He let her know and if she wanted to ride down the river of denial, that was her choice. No one can fault him for reaping the benefits!
Sara and Nathaniel, thankfully, were a lot more stable than Shang and his crazy relationships. They didn't have any big plans–neither of them were necessarily family-oriented. Sara would graduate soon and likely join Nathaniel. Scandalous, to be sure, unwed and not even engaged!
Neither of them really cared. It wasn't like they wouldn't do it eventually… maybe. Sara was just happy to be accepted, finally.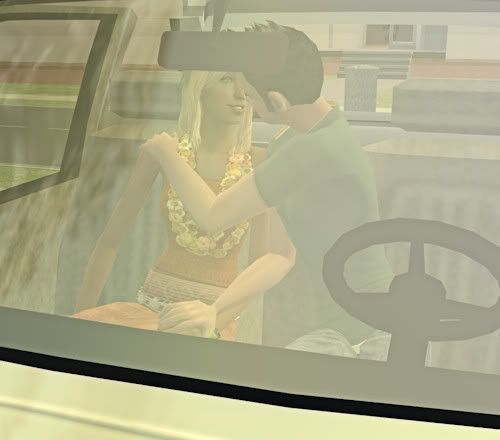 Shang wasn't just messing around with University girls–he also called up some old acquaintances from the distant island. He even had Tracy come and stay as a 'friend'. Right, a friend. If anything, she was a friend with benefits. Tracy had her own reasons for going along with Shang's little charade. She knew he was seeing other people, it didn't concern her. She didn't necessarily like him all that much.
She just wanted off that miserable, sweltering island. She wanted to wear real clothes instead of ones made with grass! If she had to grin and bare Shang's ridiculous ego to do it, then so be it.
Unfortunately for Tracy, she didn't know that Kate had her eyes on Shang long before she had. Kate wasn't giving up her hold, either. She would go down fighting. She let Tracy know this one afternoon after she had come home from her yoga class. Tracy was shocked, to say the least. She knew absolutely nothing about Kate–she thought all of Shang's women were… well, not exclusive.
This could be a problem.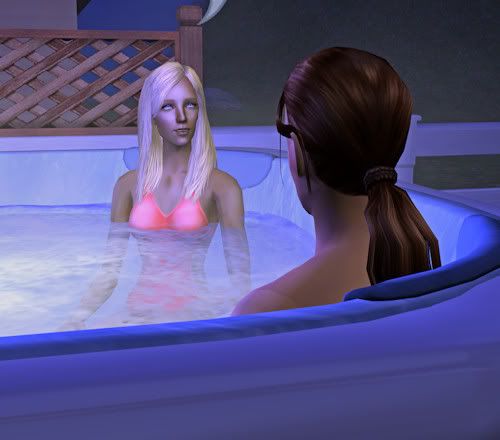 Tracy snuck upstairs to get in the hot tub while everyone else was asleep. She only had a few more days before she had to return to the island and her anxiety was growing. Shang had another two years before he graduated, while Sara and the other mysterious person living there graduated within the next few days. Tracy was shocked to find the hot tub was already occupied.
Shang had mentioned Gordon, Tracy remembered. He was really Tsung's, Shang's older brother, best friend, but Shang and Gordon were good buddies as well. Gordon was a little… strange, Tracy would admit that much. But he was certainly more agreeable than Shang… and better looking, too. Definitely. Why hadn't she seen him before? Did he only come out at night?
After Kate attacked her again, Tracy decided that Shang was out of the question. It was apparent Kate wasn't going anywhere. So Tracy would need a new plan. She couldn't help but think back to Gordon–they had gotten along quite well, in fact, they had a lot in common… if she could just convince him to support her visa, she might just have a way out off that darn island.
———–
Note from Mao: You're probably wondering about Tracy. She appeared in the Yu update 'Risky Business'. Her story has been slowing evolving in my mind as I watched her interact with everyone. She doesn't have any chemistry with Shang and when she met Gordon? Two bolts, no tampering. She also spent a lot of time seeking him out, despite his reclusive nature. So, this should be interesting. And yes, Kate kept slapping Tracy around, though Tracy won more than she lost. Another side note… thinking about changing the layout, so don't panic if things are… weird.
Oh, and apparently this is where the lamp comes from? I keep getting them now, it's annoying.