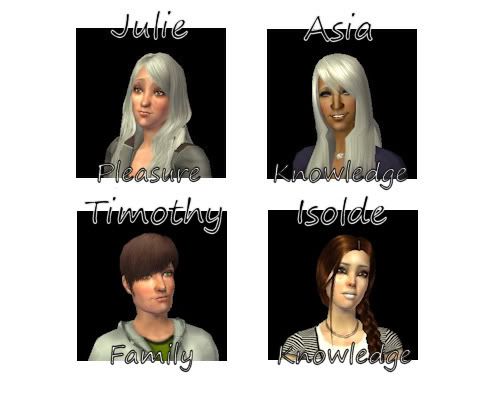 Julie and Asia are happy and eager to welcome their future grandchildren.  Are Timothy and Isolde really prepared to be parents?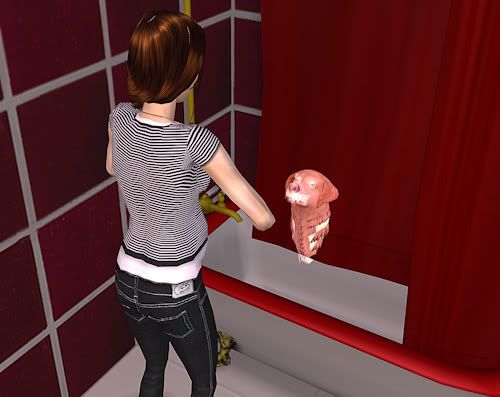 Isolde loved working in paranormal and she really did enjoy dealing with all things 'abnormal', but there was just something very wrong about it coming home with her.  Or, perhaps, being at her home.  The ghost of Agent Superball enjoyed giving her a scare everytime she went to take a bath.  Perhaps it was the memories of all the times Mary had bathed the dog that caused this.  Regardless, Isolde didn't think it was funny.
Isolde wasn't surprised when she gave birth to twins.  They seemed to run in the O`Hanlon blood.  They were both boys, dubbed Tommy and Gavin.  Timothy was quite pleased to have two strapping young examples of masculinity in a house primarily dominated by females.  Isolde was just happy to finally be able to hold her babies.  Of course, twins were a bit more than the new parents bargained for.
Julie was happy to help and Asia, too.  Without them, Timothy and Isolde would have probably gone crazy.  It wasn't that they weren't good parents, they were, but neither had really prepared enough for twins.  Isolde just thought it would come naturally and Timothy, well, he wasn't known for thinking about things for long periods of time.  But with Julie and Asia's support, they made it through and even began to enjoy their little bundles of joy.
Timothy was still job hunting, but in the meantime, was quite happy to spend time with the boys.  He was the only one who was home all day.  It was a strange role reversal, all the women at work and him at home.  He didn't mind.  It meant he could spend more time trying to imbue some manliness into his little men.  He was just thankful they'd been able to remodel all the pink stuff before the boys joined them.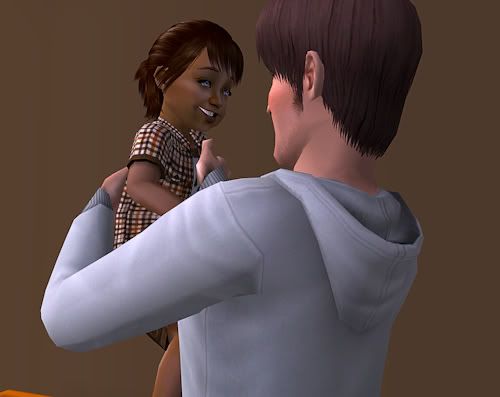 Babies tend to grow like weeds and before they knew it, Tommy and Gavin were both toddlers, running around and causing all sorts of trouble.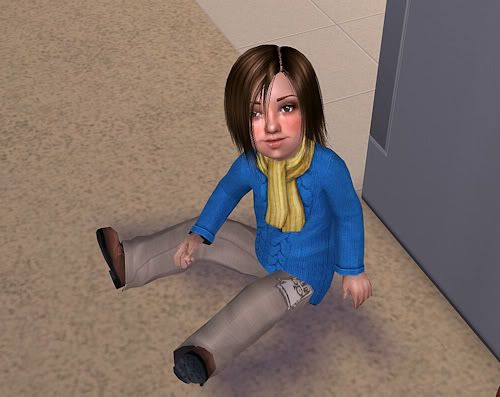 Gavin tried to play it innocent, but Isolde wasn't fooled, neither were the others.  These two were going to be a handful, indeed…
————————————-
Note from Mao: So, two months later, and I'm back to playing.  It's slow going, so I'm not sure how frequently I'll update.  I've also still got a lot of wedding stuff to do.  And I'm writing this after a blissful night of NyQuil (yay spring flu!), so yeah.  Apologies if it sounds kooky! The twin's names should make it obvious what my fiance keeps naming the O`Hanlons after, lol.