Basil and Virginia aren't spring chickens anymore, but they still act pretty irresponsible.  Daisy and Sage are preparing for their life in college.
Sage, who never had any problem with boys, managed to net her first kiss.  Daisy was understandably a little jealous.  She wished she had the same charisma, but she didn't.  Not only that, boys made her feel awkward and weird.  She was much more comfortable just hanging out with their friends.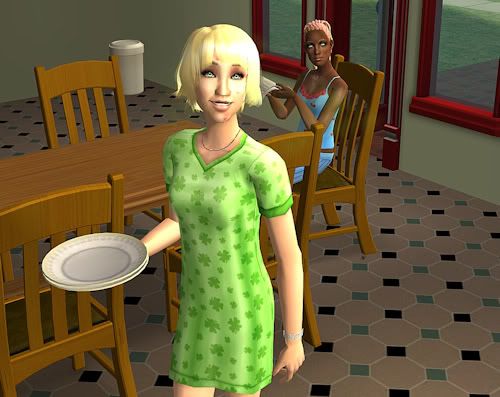 Sage and Daisy continued to get along, but Daisy wished her sister wouldn't point out things she was pretending not to notice.  Like when Sage asked her if she'd looked in the mirror lately, because she was having a complexion malfunction.  Sage, naturally, didn't get pimples… but Daisy?  They were next to her best friend at this point.  Life was unfair.
While Sage chatted on the phone, Daisy spent her time with the cat.  They would be leaving for college soon and everyone was excited.  Daisy wasn't sure how to feel.  It would be the same as always.  She'd excel at the academia, but fail when it came to being social.  And let's face it… being social is what college is all about!
Sage often had parties and invited their mutual friends over along with boys.  Daisy could only sit and watch her friends mix and mingle.  Sure, Jennifer was at her side, but only because she had recently had her own complexion malfunction and was pretending to be more interested in video games.  Even Rosa was finding her niche with boys, and Rose was definitely an odd duck.
Daisy hoped that college would give her the chance to really open up and let loose.
———————–
Note from Mao: Poor Daisy, she really does often hang out in the background.  And she really has NO luck with boys, period.  Short update.  Virginia and Basil keep autonomously going to the trainset.  I am beginning to regret bringing it back!