Tsung has outlived his younger brother, Shang, and his wife, Lilith, but he knows his time has finally come.  Zhou and River are nearing their twilight years while their only son, Fujin, is enjoying his childhood.
Tsung Yu knew his final days were upon him.  He'd outlived pretty much everyone, except his once best friend Gordon.  But Gordon would outlive them all with his… 'unique' condition.  Tsung was ready to move on, though.  He'd lived a good, long life; married the woman he loved; birthed two wonderful boys and enjoyed their own children.  He was ready.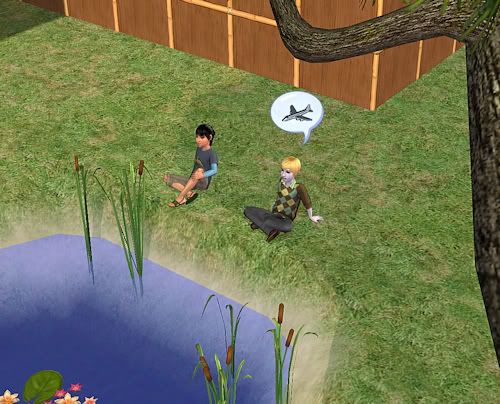 Fujin, meanwhile, was just really starting to begin his life.  He'd made friends with Francis O`Hanlon and they would often have chats.  They were around the same age, but Francis lived in Aperture, so they didn't get to hang out very often.  When they did, they spoke of traveling and nature.  Sometimes even science came up.  Francis loved coming over because Fujin had a backyard, grass, and quiet.
Tsung died quietly and painlessly.  His family was quite rocked by the event.  They all knew it had been coming, but no one wanted to face the loss.
Things were tense and quiet for awhile.  No one really knew what to say or do.  Zhou and River were about to end their lives as adults and embrace their elderly years.  It seemed strange to face mortality, to realize that someday, they would be like Tsung.  Would they be as ready?  Death was the farthest thing from Fujin's mind.  He was looking forward to his teen birthday.  He missed his grandfather dearly, but knew how much Tsung had missed Lilith.
Fujin was overjoyed when he could finally go to highschool and be 'cool' like all the other teens.  Of course, Fujin's idea of 'cool' wasn't exactly on par with the general consensus.  He enjoyed being obscure and eccentric.  It suited him.  He was intelligent and witty, but very grounded.  He wanted a family someday, but for now?  He was content to make friends and focus on learning.
Zhou and River became older seemingly overnight.  River swore the wrinkles weren't there the day before.  Her hair turned gray, fast, and instead of dyeing it, she embraced it.  Why bother?  Zhou was a little more vain, but his job forced him to be.  He was a TV personality by now and so, image was still very important.  The two looked as different as they always had, but over the years, had grown even closer.  It seemed eons ago that they were awkward teens, bumbling around their friendship turned relationship.
————————————————
Note from Mao: TSUUUNG!  I was so sad. 
  But he's with Lilith now… Fujin is such a sweet kid.  I really enjoy him.