Marcus Yu and Valerie Alioto are expecting a child, but have no plans to get married anytime soon.  Will this put a damper on Valerie's career ambitions?
During her pregnancy, Valerie tried her hardest to find some way to get in contact with Gordon Saunders.  She'd tried doing it through his daughter-in-law, Sade, but that hadn't worked.  Michael had nothing to do with his father's business, period.  She could try Claude, but he was just as illusive as his father.  Perhaps Elena Davis?  But she was like Michael, disconnected from the crime syndicate herself.  Valerie was hitting a brick wall.
Valerie didn't let pregnancy hamper her in anything, even in love.  She was frustrated about not being able to pursue her dreams, but she knew she had to focus on the baby and ensure that Marcus didn't think anything was up.  She somehow doubted he'd be completely understanding of her need for criminal acts.
Megan Alioto entered the world not long after, sporting her mother's hair and her father's eyes (which he got from his great-grandparents).  Valerie was happy to have a daughter, but hoped she could still try and track down those darn vampires.  She could always chance it and start out on her own, but she'd heard stories of folks who went up against Gordon without being in the clear…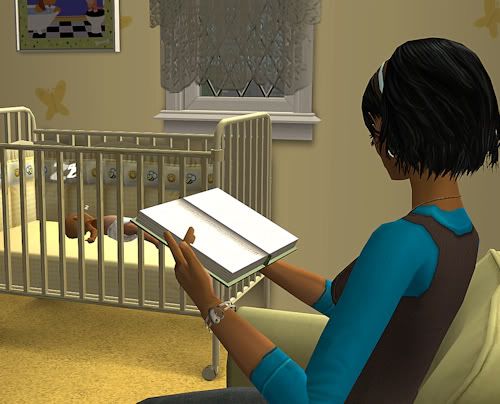 Motherhood hadn't been something Valerie expected.  She figured she'd be out planning heists and laundering money, not sitting in a nursery reading a book while her infant daughter slept.  It didn't change her goals any, however.
Marcus was quite glad to have a little girl to fawn over.  His sister had recently given birth to twins.  All had been girls.  Perhaps a boy would have been nice, but Marcus couldn't deny that Megan was adorable.  His heart melted everytime he held her.  She made him want to be a more responsible and well-versed parent.
Megan quickly became a toddler, much to both her parent's joy.  She wasn't a difficult one to manage and she giggled quite often.  It was obvious who she looked like now, but she showed hints of having Valerie's fiery personality.
———————————
Note from Mao: Poor Valerie, still no luck tracking down Gordon!  He is very illusive. 
  Megan is adorable.