Florence Anderson and Shaniqua Saunders have been together since college. So far, Florence is unaware of Shaniqua's infidelity. Will she find out or is she destined to remain oblivious?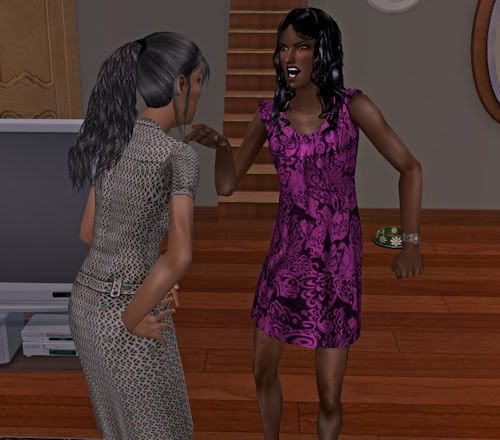 Florence had a lot to say about Kate's relationship with a certain Shang Yu. He was no good and he'd never be faithful. Kate was Florence's heir, and as such, she expected her to find a respectable mate. Shang had no respect for anything and was just plain lazy. Little did Florence know that her own situation mirrored her daughter's quite a bit.
It was unfortunate, but Florence's hatred of Shang caused a rift between her and Kate.
Shaniqua, of course, was a bit more understanding. She had a guilty conscience, it wasn't like she could talk Shang down. Instead, she simply reasoned with Kate. Florence was just still upset over the death of her mother. This was made worse by all the propaganda being spouted off about Janine being the true leader of the crime syndicate. While it was true that the activity had died down since Janine's death, no one who knew Janine could believe it.
Gina stopped by often to visit her twin, having finished her novel. She was happy that the Dramatica series had come to an end, but it also left her feeling a little empty. Thankfully, her sister had more than enough drama to fill the hole.
"Look, Shaniqua, I won't pretend to know your situation… but you can't keep doing this."
"I haven't been seeing him as much," Shaniqua protested. "In fact, I'm planning on ending it. She'll never have to know."
Gina shook her head, "you're walking a dangerous path…"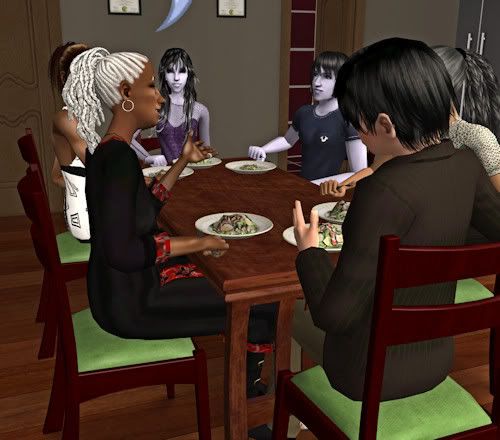 The house was empty with all the children gone, so Florence and Shaniqua made an effort to have them over often. Their spouses usually tagged along, although Sara often stayed behind. She took over babysitting duty for Zhou, letting Lilith drag Tsung along to help her through her misery. She loved her family, but they asked way too many questions.
Shaniqua's supposed 'final goodbye' to Ravi turned out to be more than she had anticipated. Florence came home from work early and caught them. Ravi excused himself and Shaniqua was left to deal with a very angry Florence. Surprisingly, she didn't go off or shout. She simply gave Shaniqua a terrible look and walked out of the room.
Shaniqua would have preferred to be yelled at than ignored. Florence gave her the cold shoulder, ignoring her when she spoke. Eventually, she'd crack, but Shaniqua would likely go crazy with anticipation.
Alyssa dropped by during her lunch break to visit with her older sister. Their mother's funeral had brought them together after having grown apart over the years. They were both sad over her death and extremely displeased with all the rumors flying around.
Florence had called Alyssa's cell phone and told her what happened with Shaniqua, bringing her younger sister to her door, her breathing labored. She had not overemphasized her 'rushing right over'.
"I'm sorry, Florence," Alyssa said, pulling her older sister into a hug. "This is just a really awful time."
"It's probably worse for you," Florence reasoned. "With the slander going around about mother and election time approaching…"
"Meh, let's not talk about that. Dad grills me enough as it is."
"Have you spoken to Ryu yet?"
"No," Alyssa growled, her eyes narrowed. "He'll be lucky if I ever talk to him again! How can he say those things about mother? She helped raise him!"
They took a seat at the table, Alyssa removing her coat and settling into the chair. She sighed heavily, looking forlorn. Florence didn't have to ask why.
"He's just doing his job, Alyssa."
"How can you not be angry, too? Our mom wasn't the best, but I won't have all this crazy talk. Mom wouldn't do that!"
Florence sighed, "I know, but maybe someone set her up?"
"Maybe," Alyssa said, calming down. "I still can't believe Ryu would do something so stupid. I hate him right now. I thought he loved me… but all he cares about is that stupid job of his. If he cared about me he wouldn't say all those things about my–our–mom! It just makes me so angry!"
"Derek, too, did you hear? Things are going crazy, Alyssa. I don't know what to think… both our lives feel like they're falling apart at the seams…"
Alyssa frowned, "I wish I had signed a prenup like daddy advised. Now what am I going to do?"
———-
Note from Mao: And, as you can see, the crap is already hitting the fan! Wee! Things are getting interesting around here. This round was boring, though. I hate playing just elders!