Patrick and Viola O`Hanlon have had their rough patches, but with two kids to raise, can Patrick curb his desires and finally do right by his family?
Patrick was determined to prove to Viola that he wasn't a complete lout.  Perhaps it would even gain him some credit with his recently estranged family, too.  Of course, little Deidre had a big part of it.  Patrick really didn't want her falling for a guy like her dad, that's for sure.
Unfortunately, he was too late with Francis.
Francis' birthday came in the blink of an eye and with it, some strange changes.  His once green eyes turned completely and wholly black, like his sisters.  He woke up one morning, had his shower, dressed, and was preparing to brush his teeth when he faced his reflection.  His changing voice bellowing, "MOOOM!" had everyone running to see what the fuss was about.  After a doctor's visit or two, there was no explanation past "well, it's puberty."
And so it was.  Francis still did well with his studies, but they were no longer his focus.  He was noticing the girls at school a little too keenly for his mother's interests, who was a newly established teacher at the high school her son now attended.
Meanwhile, Deidre was proving to be quite the intelligent little toddler.  She was quick to pick up on everything and even complicated tasks such as potty training seemed to come easily to her.  She was also a very keen listener and loved it when Viola would read her stories.  She was a chatterbox, speaking almost as intelligibly as a young child would.  She definitely out shined her older brother's progress when it came to wit.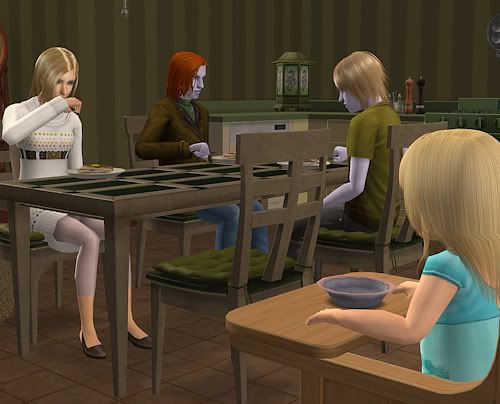 It was becoming obvious to both Patrick and Viola that their small, city townhouse rental wasn't big enough for the entire family.  Francis was wanting his own space desperately now that he was a teen and Deidre was always managing to get into his stuff.  They had plenty of money, thanks to Patricks' burgeoning career, but hadn't moved simply because of the convenience.  Now Patrick was starting to see some merit in moving back to Boreal Springs.  It'd be easier to resist temptation there, for sure.
So, they moved into a large house befitting of Patrick's status.
Upon moving, Patrick decided to purchase a piano from an actor friend who was also moving.  He thought that maybe Deidre would like it when she was older.  Instead, Francis sat down and tickled the ivories in such a masterful way it was astonishing.  It was another reminder that Francis was just looks, he was brains, too.  Patrick was still a little disturbed by how keenly Francis seemed to follow in his footsteps.
Moving had definitely lessened the rift that had developed between Patrick and Viola.  With more space and room to breath, Viola was able to sort of put her worries aside and focus on the children and their current successes.  She, too, saw that Boreal Springs might yet manage to tame Patrick's ways, but didn't hold her breath.
Deidre grew up into a cheerful and loving child who enjoyed running around the large house.  She was definitely vibrant and it was hard not to notice her when she was in the room.  She demanded attention.  If Francis had inherited Patrick's personality, then Deidre got his presence.  She was definitely a showboater.
——————————–
Note from Mao: There was something buggy about their apartment, so I moved them into a pre-built house that came with M&G.  The kids needed space, anyway.  Deidre is adorable and Patrick is still being faithful… so far.  Francis rolled Romance, sigh.

Also, has anyone else had an issue with this teen mesh?  It looked fine at first, but now it's just a mess!