Nathaniel Anderson and Sara O`Hanlon are finally together, but have no plans to jump into marriage. Can Sara keep her head amidst all the chaos that's come up in regards to her father, Derek O`Hanlon, and Janine Saunders?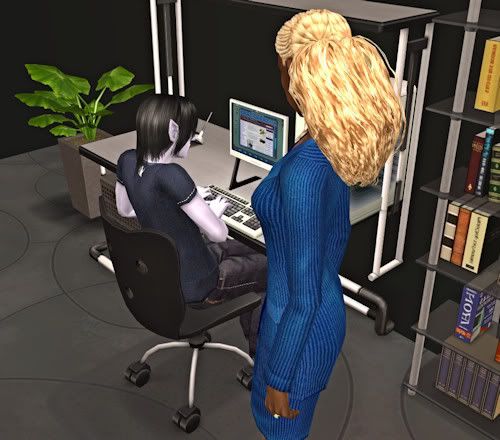 Sara walked into the livingroom, grumbling loudly. She kicked off her heels and looked over at her boyfriend, who was typing hurriedly on the computer. A few minutes of silence passed between them until Sara sighed heavily and Nathaniel took that as his cue to say something.
"Everything okay?"
"No!" Sara huffed angrily. "Have you heard, about Derek? Can you believe that? And my mom! What is she thinking?!"
"C'mon, Sara, what do you expect? The evidence is there."
"So you believe it?! My dad would never do that!"
Nathaniel sighed, pushing away from the computer, "I didn't say he did, just that, well… your mom is the DA. She has to do her job."
"That doesn't mean she has to expect me to help her!" Sara cried out in frustration, balling her fists. She had been working at her mother's old law firm and was on her way to a government position, but she wasn't sure if she still wanted it. "He's my father!"
"Stop thinking about it," Nathaniel said, standing up and pulling her close. "There's nothing you can do right now. If he's innocent, then his lawyer will get him off, okay?"
Sara frowned, biting her lip, "it just… it sucks. I didn't have my dad for half my life… now I have him and they want to take him away."
"C'mon, babe, don't depress yourself. It'll be okay."
After a weekend off, Sara was beginning to feel a little better. Nathaniel was busy with work, so she spent a lot of time at home by herself. When he finally got the day off to spend with her, he absently mentioned he would be leaving for a trip to the islands for a week or so to do some research on whales for his job.
"Without me? You're going to leave me here while you go to the beach?!"
"It's not a vacation," Nathaniel explained carefully. "I'll be busy all week."
"So? At least I'll be able to enjoy it! You weren't even going to ask?"
"…Er, so you want to go, then? I'm serious, you'll be alone in the hotel all day, Sara. I can't be with you–I have to work."
"I'm a big girl, Nathaniel." She said, glaring. "I can take care of myself!"
Sara, determined to get away from all this propaganda involving her father, decided to phone work and tell them she was taking a week's vacation. Sure, she hardly gave any notice, but who cared? She didn't even really want to be in law, she only did it because he mother offered after she graduated. Sara wasn't sure what she was passionate about yet, but it certainly wasn't a law that pegged her father a murderer.
While Sara was on the phone, Tsung dropped by to visit with Nathaniel. He had come with a strange question for the other half of his alien wife.
"Are you kidding, Tsung? Seriously?" Nathaniel laughed. "'Is Lilith really that strange?' That's a loaded question!"
"I'm serious, Nathaniel." Tsung replied gravely. "She's worrying me. She's acting strange and building some… weird phone thing."
"Oh come on, you knew she was crazy when you married her. It'll pass. She's a mom now, she's got responsibility. Don't worry too much about it, all right?"
"Can you at least tell Sara to talk to her?"
"I'll try."