Of course, alcohol also has the side effect of reducing one's inhibitions.  Isolde was greatly amused to see Maggie and James half-flirting while she prepared to sing.  She was a little too inebriated to see the possible consequences, though, and much more focused on belting out another disco tune.
Isolde was undoubtedly the unrivaled champion of drunken karoake.  She sang even better than James and was able to jump up on the machine itself and do an impressive dive despite not being able to see straight.  Of course, she probably should have been paying more attention to her husband, who had wandered off and started talking to strangers.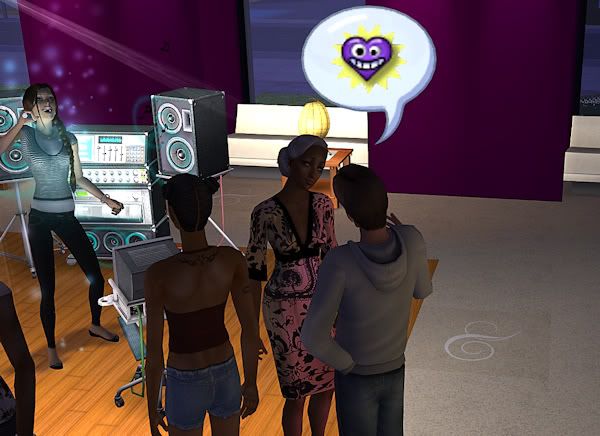 Timothy had never been the brightest bulb in the pack, but he at least knew better than to start up questionable conversations with the well-to-do of the neighborhood.  Especially when they are technically your wife's relatives, her aunt, to be exact.
Cara Anderson was considerably unimpressed with his behavior and rewarded him with a slap.
Everyone made it home safely, Isolde and Timothy had taken a cab… James and Maggie opted to do the same thing, given that they had walked.  Walking probably wasn't wise.  When they got home, the house was quiet, Katarina already in bed.  Somehow, Maggie ended up in James' room.
They weren't really able to talk about it in the morning, both having hangovers and James working very early in the morning.  Maggie barely managed to get out the door in time and was informed by her entire class that she was wearing two different heels on each foot.
When Maggie got home from work, she immediately had a long shower.  She was surprised when she exited the bathroom and James pulled her aside.  She figured they'd just ignore it until it went away or things became really awkward.  Maggie didn't regret what happened, she could scarcely remember, but she did feel a little bad that her first time had been in a drunken haze.
"I feel really bad," James said, his face apologetic.  "I'm really sorry, Maggie.  I didn't mean to mess up our friendship and I certainly didn't invite you to stay with the intention of this."
"I know, I know, you don't have to tell me.  Besides, I'm a big girl.  That was as much my fault as yours.  We had a little too much to drink, things happened.  Maybe it was a little too fast, but I don't regret it.  I really like you, James, and I'd be lying if I didn't say I accepted your invitation simply because I wanted to be closer to you.  I hoped that maybe… if I were here all the time, you'd stop thinking about Kit and see me for once.  I'm really sorry.  I feel manipulative now.  I didn't plan last night, not at all."
"To be honest, I haven't really thought about Kit since she left.  That was the final straw, you know?  With you, I just didn't know if I was ready or not and I didn't want to hurt you if maybe I wasn't.  But I think we're past that point now.  I'd like to start over, but I'm afraid it'll be impossible… that or Timothy will kill me once he finds out."
She smiled and took his hand, "he doesn't have to know.  He can just know that we're maybe more than friends… and giving it a shot.  Nothing more, nothing less."
———————————
Note from Mao: I thought maybe the apartment I had everyone in was bugged, so I moved them.  No such luck, still crashing.  I am determined to figure this out!
As for Maggie and James, gah, they were all over each other the entire round.  To explain it best, I had an outing with Isolde and Timothy which resulted in MUCH HILARITY.  James got into a drunken fight with Claude Saunders, Timothy offended mulitple playables (one of which you see, Cara) and Isolde was obsessed with Karoake.  Maggie kept hitting the bar pretty hard, too, lol.