Nevio Anderson is enjoying his golden years while his youngest, Adora, is struggling to figure out just what she wants out of life.  Will she finally choose between Ocean and Simon?
Adora kept herself busy redecorating the entire house.  It certainly needed it, the place hadn't changed since Thomas and Janine Anderson had built on to it so very long ago.  It definitely needed a revamp and Adora was just the person to do it.  It was classier now, more elegant and befitting of the Anderson name.  Nevio found it a bit too stuffy, but wasn't about to discourage his daughter.  The place did need a pick-me-up after everything.  Maybe it would change the Anderson curse when it came to love and marriage.
Despite her busy schedule with contractors and designers, Adora kept in touch with her two favorite guys.  Ocean was sweet over the phone, playing to her ego, and for that, she was definitely thankful.  Still, she couldn't write off Simon.  As charismatic as Ocean was, Simon's quiet and subtle nature just seemed to play her heart strings in ways that boisterious declarations of beauty and wealth could not.
In fact, Adora was pretty sure she was in love.  Not the fickle kind of love where you can't decide between two people, but the kind where you don't get a choice, it simply is and that's that.  Adora had pretty much made her decision.  She wanted Simon.  Ocean was sweet and handsome, but he was too much like her father and everyone knew how tired of cleaning up his messes Adora was!  Simon was mature and stable, calm and assured in that subtle way where he didn't have to be showy and loud.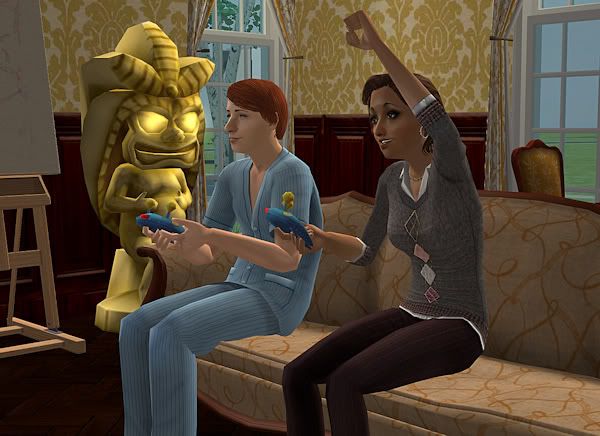 Of course, that didn't mean he didn't have fun.  On the flipside, Adora could enjoy acting like a complete child with him, even so far as to heckling him during video games!  He took it all in stride, a quiet smile and nothing more.  He didn't accost her back nor did he act as if his ego were bruised.  She had definitely made the right choice.  Picking Ocean would have landed her down the same road as all of her ancestors.
Adora definitely didn't want that.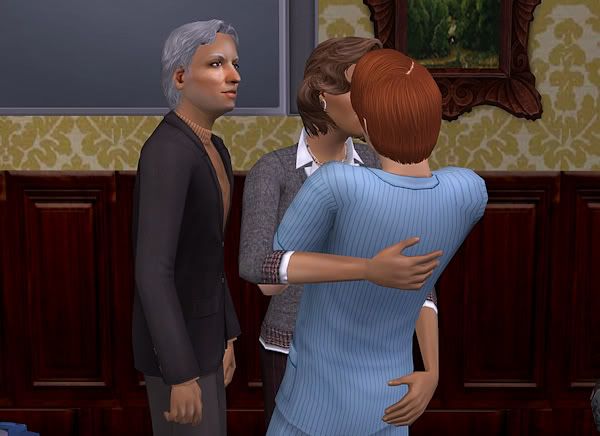 She kind of wished she had more privacy with Simon, though.  Nevio always seemed to be in the background, watching her every move carefully.  She knew he was worried, but it was a bit much.  Wasn't it kind of late to play the role of the overprotective father?  Why didn't he bug Isolde this much when she was dating Timothy?  They were only teens, for crying out loud!  She was a grown woman and she didn't need her father doing play-by-plays of her romantic endeavors.
Thankfully, Nevio soon found his stride once more and began having ladies over to the house.  He respected his daughter's wishes, though, and kept them out in the hot tub.  Adora wasn't quite sure how Simon would take her very amorous father and was trying to introduce him to it slowly.  They had a whirlwind engagement and now Simon was all moved in.  Adora was trying very hard to build a bridge between the two very different men.
Unfortunately, Simon just could not understand his soon-to-be father-in-law.  Especially when he burnt the pancakes and then tried to say that a little beer and they'd taste fine.  Beer?  In the morning?  Was this really Adora's father or was she adopted?  Truth be told, he really didn't know much about her family or their history, he wasn't from the area, but he was beginning to wonder.
"Do you drink?" Nevio asked jovially.
"Er, no," Simon responded carefully.  "I mean, it's not something I seek out."
"I guess that's good.  Adora will like that.  Can't say I do, though.  Don't be so stiff.  We're all family here, or soon to be, at least.  Would you mind getting me a beer?  These pancakes are downright putrid without a little something to take off the edge."
Simon blinked, completely baffled, but found himself scooting away from the table and up out of his chair.  He fetched Nevio's beverage and quickly left the kitchen.  It may have been five o'clock somewhere, but it was still six am here!
Adora and Simon were wed the next morning in a private, intimate ceremony.  They wanted to recite their vows while the sun rose and they weren't about to ask family and friends to get up before the crack of dawn to join them.  It was a lovely ceremony, the ocean at their backs and the sun rising over the distant hills to the other side of them.  Adora truly hoped that she would be luckier than the others who had tread this path before her.  She wasn't sure she could handle all the drama and intrigue her family name seemed to stir up.
———————————-
Note from Mao: Adora wanted to invite Simon over, so I fulfilled her wish and bam, love.  Finally!  I have JM Pescado's hack that makes crushes/love a little more difficult to obtain, so it makes it a bit more interesting when you let sims pick their mates.  Here's hoping Adora's luck pans out, lol.
Also!  My first cuddling sims, YAY!  It's only taken me how long to see the dang animation in my game, sigh.  I was kind of hoping it would happen with Sade and Michael.