Hugh and Kenya Anderson welcome their eldest daughter, Lydia, back home while she tries to figure out what she's going to do next.  Rosa isn't too happy about her sister's intrusion, fearing she plans to take her spot as heir.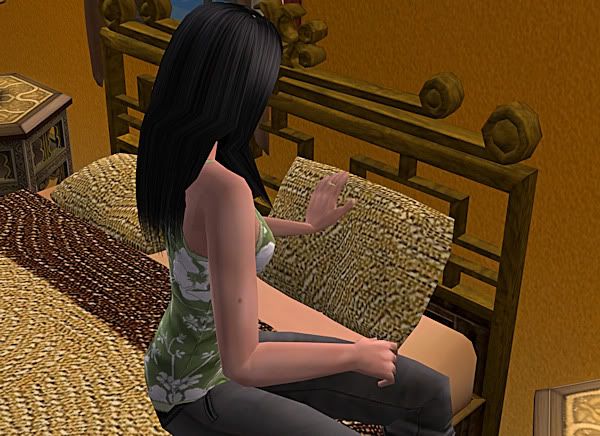 Lydia wasn't quite sure how she felt about coming back home.  She was staying in her grandmother Kate's old room.  It was the same as it had always been, completely unchanged, right down to the crazy yellow wallpaper.  It felt weird to sit down on the bed.  She couldn't stay in her old room, that was Rosa's now.  She was a guest in her own home.
Absently, she glanced at the ring on her finger.  She hadn't taken it off.  She had every intention of returning it… but until then, it was safest there.  It wouldn't get lost if it was on her finger.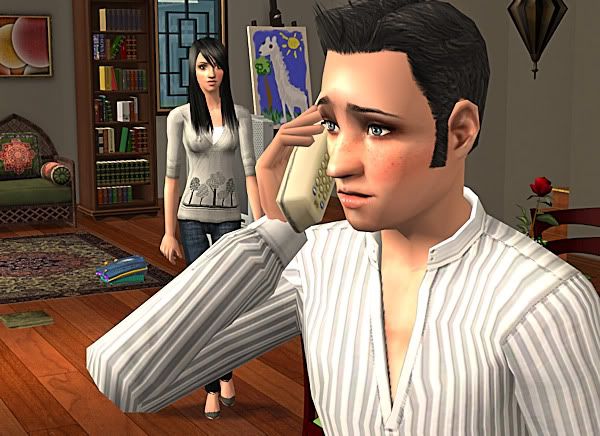 She felt bad about putting her family in the middle of her mess.  She happened upon her father dutifully screening a call from Gregory, kindly telling him that Lydia wasn't home.  Of course she was home, she didn't leave for fear of running into him.  She was a big old coward, to be honest.  Everyone told her she was an idiot, that nothing happened, but they hadn't seen what she had.  She opened herself up and got smacked in the face, now she had lost her best friend.
Maybe it would have been better if she'd just let Emma win in the first place.  At least then they could still be friends and she wouldn't feel so empty.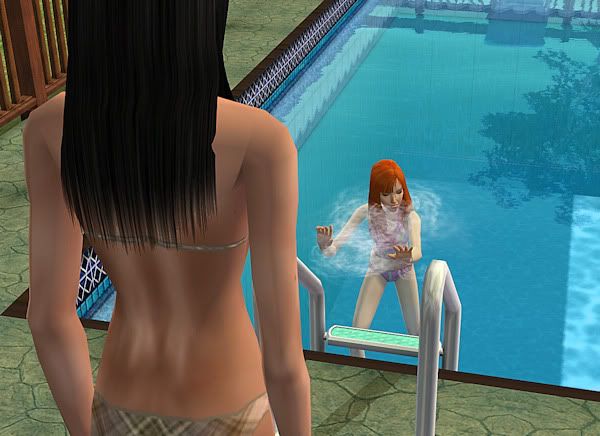 Rosa wasn't very welcoming, Lydia hadn't anticipated she would.  Word spread fast about Kit moving back home and taking Jennifer's spot as heir.  Lydia didn't want to stay home, she wanted to leave, to run away to some far away place, but her family refused.  She had no intention of facing it, of facing him.
"Isn't it bad enough you've taken over the house?" Rosa grumbled.  "Do you have to take over the pool, too?"
Rosa wasn't trying to be insensitive, but she wasn't going to pussyfoot around the issue like everyone else.  Lydia was being an idiot.  Everyone knew that the situation was a huge misunderstanding, no thanks to one Emma Davis.  Gregory had been after Lydia since they were teens.  It wasn't at all likely he'd just turn around and go with Emma the day after they get engaged.
She spoke her mind freely to everyone on the subject, much to Kenya's chagrin.  She just wished it could remain a private matter.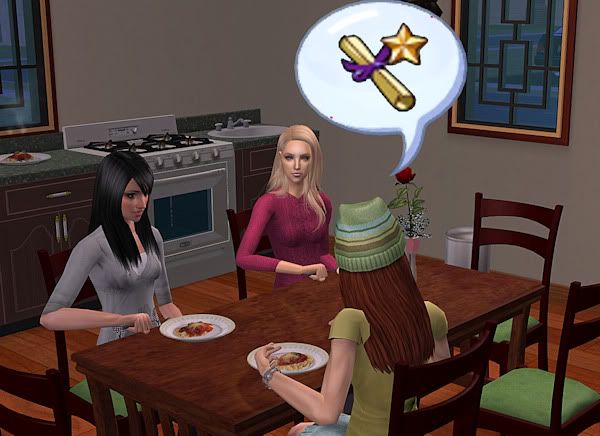 "Just because you're a college graduate doesn't mean you can come home and boot me out," Rosa said, glancing at her mother.  "That's what's going to happen, isn't it?"
Kenya sighed, "no, it isn't.  Stop being rude, Rosa.  You know better than that… Lydia needs her family right now and you're not helping.  If you can't contribute, then be silent."
Kenya rarely, if ever, got firm with her children, but she'd had about enough of Rosa's poor attitude.
"I'm just saying," Rosa replied, humbled.  She ate quietly for the rest of the dinner.
Lydia just kind of stared forward and said nothing.
Instead of going to bed, Lydia often went out to the pool and watched the stars.  There was a great view of the sky from this spot and the sound of the distant ocean was relaxing.  It was a shame the old lighthouse was retired, but it definitely added to the view.
It had been long enough now for Lydia to see the situation rationally.  She knew there was a chance that it was a misunderstanding, but it still hurt.  She couldn't wipe the image from her mind.  Emma Davis was determined, opportunistic, and spoiled.  She had her family under her thumb and she always, always got what she wanted.  Even if she hadn't gotten Gregory this time, how long until she did?
It wasn't as if she'd just give up.  She'd keep trying and it'd make their relationship strained and filled with suspicion.  Lydia wasn't sure if she could handle that.
"I know this is your problem and you have to work it out on your own," Hugh began one morning, speaking out about the issue for the first time since Lydia had arrived.  "But I don't get it, sweetie.  You two had fun, right?  You've been friends a long, long time… and for awhile, you were happy together.  He's a good kid, and Emma, well, I don't know what to say about her.  But I know, in my gut, this isn't what it seems."
Lydia sighed, "I know, but that's not the problem anymore."
"He still hasn't come for the ring," Hugh said hopefully, glancing at her finger.
She quickly hid her hand under the table, "I'm sure Roman wishes he would, though.  I'm half expecting him to walk up and yank it off my hand."  She stared down at her plate, eyes listless.  "I don't know if I can do it.  I'm scared."
"You should talk to him, find out the truth, and decide from there.  You can't hide forever."
Rosa and Emma Davis were friends, but not in the extreme sense.  Rosa wasn't exactly surprised when her friend called and began asking her questions.  Rosa rolled her eyes.
"Look, Emma, whatever you did was really stupid, okay?  You're messing up things for a lot of people and that's not cool.  Worse yet, you're messing with my sister.  So you just need to butt out."
She hung the phone up on its cradle without waiting for a response, walking away as if nothing had happened.  Rosa was sure Emma hadn't meant any harm, but she was sick of all this crap.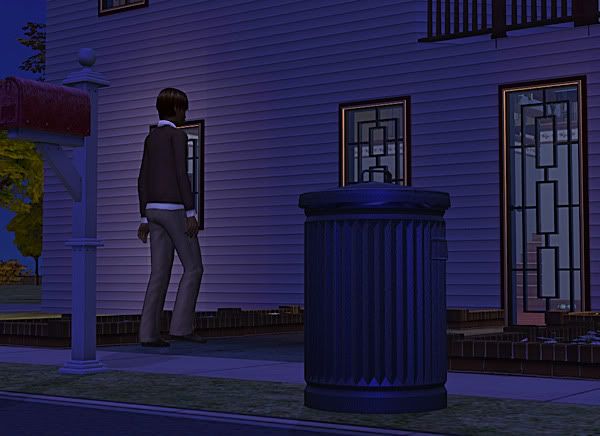 Gregory had been by, but no one knew that.  He came just before it was unseemly to visit.  He'd go towards the door, but lose his nerve at the last minute, turn around, and walk down the street back to his house.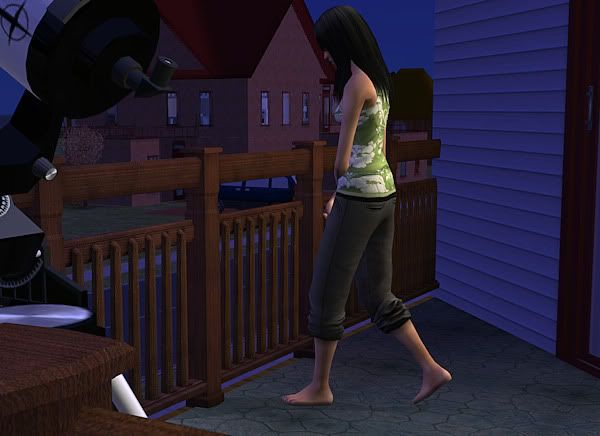 Sometimes, Lydia would get the urge to go out onto the balcony.  She'd tiptoe quietly through her parents' room and out onto the small little balcony that held the telescope.  She'd wander to the edge and look down.  There was no one there, the entire street hushed and quiet.  It was eerie, almost.
If she looked far enough down the street, sometimes, she'd swear she saw a figure walking the opposite direction.
————————————
Note from Mao: Emma really did call Rosa, which I thought was hilarious.  How inappropriate!  Poor Lydia.  She's no longer angry, but I can't see her just jumping back into the saddle, not when she was so apprehensive to begin with.  It's like breaking a horse who is extra spooked.  One wrong move and all that work is undone.  Gregory actually did walk by several times, but he never visited.