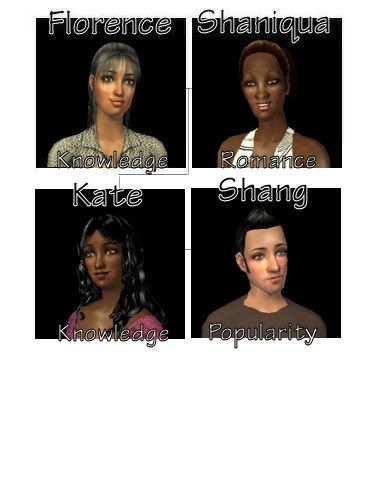 Florence Anderson still hasn't confronted Shaniqua Saunders about her infidelity.  She's too busy worrying about her daughter, Kate, and her good-for-nothing fiance, Shang Yu.  Kate dropped out her senior year at B.S.U. when she got pregnant and Shang joined the house after he graduated.
Shang wasn't thrilled at the idea of being stuck in a house with two old biddies and a very pregnant Kate.  He was quite open about it, too.  He expressed his desire to travel and be famous to Shaniqua, who was surprisingly receptive to the idea.
Florence shut him down quickly, though.  She was going to be the mother-in-law from hell.
"Travel? Don't be stupid!" Florence growled, cornering the unsuspecting Shang.  "You've got a child to raise!"
Nathaniel, who had been visiting, witnessed the entire confrontation.  He wasn't quite happy about what Shang had done to his little sister, but he didn't envy anyone forced to take on his mother's wrath, either.  Shaniqua remained quiet as well, knowing better than to step into the fray.
"You'll learn a thing or two about being an irresponsible adult." Florence finished, storming off.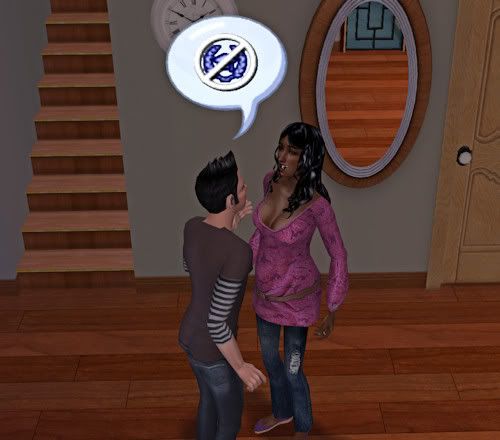 Despite Florence saying otherwise, Shang wasn't completely awful.  He was just promiscuous.  He made sure that Kate didn't feel too badly about leaving University.
"I don't care, Shang," Kate smiled.  "I can still be a nurse.  I'll just have to take some classes, that's all.  Mom just makes a big deal out of everything."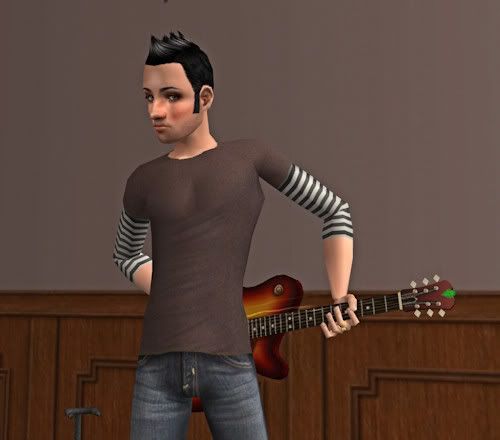 Despite being forced into fatherhood and servitude to a crazy mother-in-law, Shang didn't give up his dreams of music and fame.  He practiced often and was even working as a roadie for a local band.  Soon he'd have to go out and travel.  He knew Florence wouldn't be keen on the idea, but she'd deal.  He wasn't about to give up his life's ambition!  Kate likely wouldn't be happy, either, but she'd be preoccupied with the baby when it came.
Kate gave birth to a single baby boy named Hugh.  He had all of Shang's coloring, much to Florence's chagrin.  Kate was over the moon and she coddled and cared for the infant constantly.  Shang had more than enough time on his hands with his wife-to-be distracted!
It helped that Florence wouldn't let him near Hugh alone.  Anytime he had a random paternal instinct, Florence was there to sweep Hugh away.  He wasn't going to complain.  It took the burden off of him and just made her look bad.  He wouldn't have any issue traveling on the road now, and it was a good thing.  They didn't just want him as a roadie, they needed a guitarist!
Kate barely noticed Shang's absence.  She was too busy caring for Hugh.  He made everything all right and she quickly forgot about how easily Shang was swayed by the female gender.  She had even forgotten all about the lamp she had.  Hugh was her world now.
Of course, Florence was beginning to ask when they planned on getting married, as she wouldn't let the baby be raised in a broken home.  Not a willingly broken one, that is.
When Shang was home, he took advantage of Katarina Anderson's recent move to University.  They usually tried to meet up there, but sometimes she stopped by while she was visiting home.  Nathaniel caught them going at it on the sidewalk, for everyone to see!  He wasn't pleased.
He broke them up and read Shang the riot act.  It was better than Florence or Kate finding out.  He warned Shang to watch his steps, he was treading on thin ice.  Florence wasn't kidding when she said she'd make his life hell!
Hugh's birthday came quickly and soon he was a capable toddler.  Kate was thrilled, now she could teach him things!  They were both completely oblivious to the fact that Shang was making regular visits to Katarina Anderson while also trying to wear down her mother, Alyssa.
——–
Note from Mao:  Shang will never change and it amuses me greatly.  Katarina strolled by the lot often, so it was only a matter of time before their side-project was rekindled!  I was greatly amused when Nathaniel was walking by and caught them.