Mary O`Hanlon is finding herself in a difficult place in her life.  Her daughter is an unwed mother and her husband, Derek O`Hanlon, is on trial for the murder of his first wife.  Gina Saunders, his sister, isn't talking, but she definitely seems to know something.
Despite her better judgment, Sara agreed to come over and talk with her mother.  They chit-chatted idly about the recent house remodel until Mary finally brought up the topic forefront on her mind.
"When are you and Nathaniel planning to get married?"
Sara sighed, "mom, I told you.  We're happy as we are–"
"But what about Patrick, Sara?  And how can you guarantee that Nathaniel will stick around and won't leave you?  Could you be a single mother?"
"Yes, I could," Sara replied angrily, offended.  "Easily.  And Nathaniel isn't going anywhere.  We don't need rings or legality to keep from running off.  We are happy the way we are and Patrick will be happy because we're happy."
Defeated, Mary turned her attention to her husband.  The trial had started and so far, the prosecution had a pretty solid case.  Even worse was the surprise witness they had planned to pull out of thin air.  No names had been called but everyone was definitely worried.
"I didn't do it," Derek said defiantly.  "If they want to stick me in jail, fine.  But I didn't kill Katy."
"It's not us that has to believe it, Derek.  It's the jury.  If this surprise witness is as big as Ryu is claiming, then your ship might just be sunk." Mary confided sadly.  She was stuck between her duty and her husband.  "If you didn't do it, then who did?"
Derek shrugged, "you saw that email Ryu got, didn't you?  Do then you know who did it.  It wasn't me."
"There's still conspiracy, Derek." Gina interrupted.  "They could charge you with conspiring Katy's death."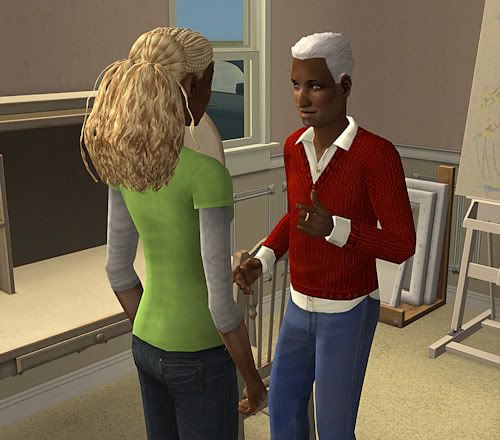 Derek was thankful for a break from all the legal talk.  Between meetings with his lawyer and constant badgering from Mary, he needed the intermission.  He was always happy to see Sara, she visited him often and was the bright point of his otherwise dismal days.  He just wished she and Mary could get along better.
"I wish you could see Patrick, daddy," Sara said sadly.  "I'll have to bring him over once he's capable of withstanding the cold.  The doctor said due to his skin he might be a little sensitive.  Nathaniel doesn't remember it, but I don't want to risk it."
"It's all right, I'm sure he's fantastic.  I'm not going anywhere.  You just bring him around when he's ready."
Sara nodded, not mentioning the fact that by that time, Derek might be behind bars.  Instead, she smiled, "he has grandma's red hair.  It's really a sight."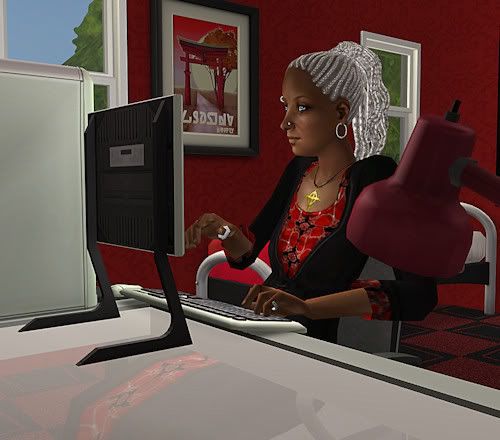 Gina, meanwhile, was unable to take her mind off her brother's possible guilt.  She had heard the phone conversation, but Derek still denied it.  If he hadn't killed Katy with his own hands, had he conspired with Janine?  Did he ask her to do it so he could be with Mary?  Was it just a matter of Janine hearing him wrong and doing what she did because she wanted him to be happy?
It was like one big murder mystery.  Gina was a writer by nature, but even she couldn't figure this one out.  She'd just have to trust in Derek and hope that he was telling the truth.
Mary tried to keep her mind occupied with gardening.  Legally, she wasn't really supposed to discuss details of the prosecution's case to Derek.  No matter how much she wanted to warn him, she couldn't.  She could talk to him as a wife, but not as the DA.  She was dubious as to whether or not Ryu could actually deliver.  Lilith Yu was a strange and bizarre woman, but hardly trustworthy.
To ease their mind, Julie visited with her 'friend' Asia.  Marla had remained behind, too busy with her studies.  Mary and Derek found Asia very charming, but couldn't help but wonder why exactly she had accompanied Julie home instead of Marla.  At the very least, she could have brought home a prospective husband for them to meet!
Anytime they tried to ask Julie, though, she distracted them or turned the conversation elsewhere.  Eventually they gave up and just let it be.
When the dinner ended, Asia went to the bathroom only to be stopped by Gina.  She pulled her into her room and smiled.
"Is Julie going to tell her parents?"
Asia was startled, "w-what?"
"That she's gay.  You're her girlfriend, right?  My sister was gay, it's all right.  But I can see it written all over your faces."
"I-I don't… know.  I mean, I want her to tell them, but she's worried.  All the stuff that's happening–"
"It doesn't matter.  She needs to tell them… especially if she wants to keep her spot as heir."
———
Note from Mao: Wow, an elder only round that didn't put me to sleep!  As for Sara visiting, she did it EVERYDAY on her OWN.  It was weird.  As for Asia and Gina, Gina actually did follow her into her room and stop and talk to her.