Nathaniel Anderson and Sara O`Hanlon have their first child who also bears the alien skin tone that Nathaniel inherited from his otherworldly father. Can little Patrick grow up happy and healthy?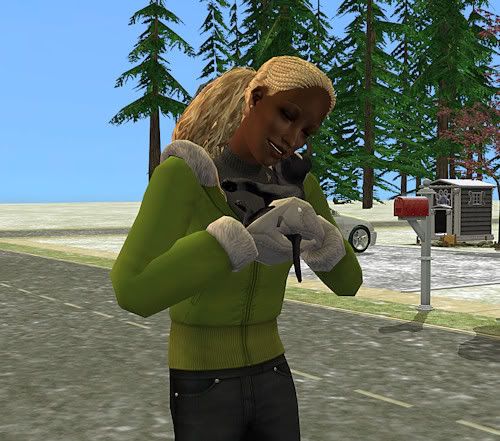 For a long time, Sara had desired a pet. It had been difficult to convince Nathaniel that a pet was worth it; all he saw was puddles on the floor and destroyed furniture. With the arrival of Patrick, however, Nathaniel's resolve softened and Sara was able to adopt a little puppy she named Starbuck*.
Starbuck was meant to be an outdoor dog, but the winter chill hadn't ended and so Starbuck remained inside until spring finally sprung.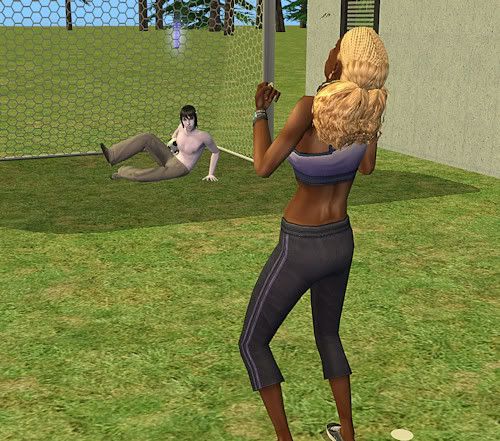 The arrival of spring was a happy occasion for both Nathaniel and Sara. Most of their favorite things in life required them to be outside and the snow only served to hamper them. Spring meant they could once again get into silly shouting matches over games of shootout–where Sara insisted that Nathaniel was obviously cheating.
It also meant that Patrick's birthday was drawing near and soon he'd be a fully-functional toddler, ready to cause chaos where ever he roamed.
Nathaniel was incredibly pleased to see that his small son had also inherited his unique, pointed ears. Lilith had always been jealous of Nathaniel because hers were normal. It served to make Patrick stand out even more as the unique little guy he truly was.
Of course, he was spoiled. Sara and Nathaniel doted on him and anything he wanted, he received. It likely wasn't good planning for the future; Patrick was already showing signs of thinking he was overly entitled and he refused to share with anything or anyone. But he always put on an angel face for his parents, so they really didn't see it.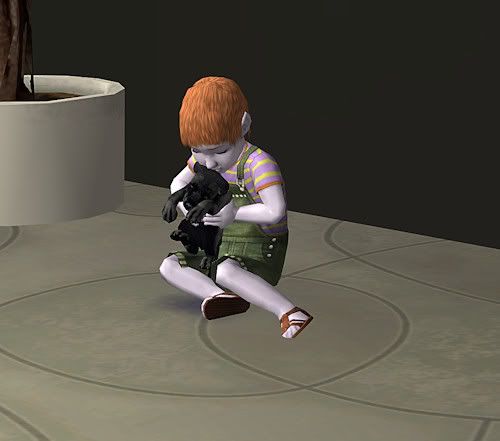 He adored Starbuck and would spend more time playing with her than his toys. His interest seemed to be science and at a young age, he showed a startling amount of aptitude. Nathaniel attributed it to the alien part of him. Poor Nathaniel never claimed to be incredibly intelligent, but he did know what he knew to a startling degree. Lilith was the same way, though her stubbornness definitely got in the way of her intelligence.
Patrick seemed to be without both of those faults and his intelligence shone through.
After spending a month away from Sara and Patrick, Nathaniel returned happy and fulfilled. He couldn't exactly explain what he did or what he had saw, all he could say was he answered to nature now and his job was more important than ever. He wanted to relocate near the beach, but Sara didn't want to move poor little Patrick. So they remained, but Nathaniel did not abandon his plans.
Tracey Saunders stopped by now and again to visit with Sara. She was incredibly thankful for the introduction to Aiyana Saunders, who had quickly become her best friend. Sara had done it only to quiet her husband, but she was finding her vast connections to everyone throughout the neighborhood was an alarmingly good resource. She knew everyone and was good friends with most.
Nathaniel was busy talking over his awards appearance for his work on cleaning up the local ocean.
Time progressed and soon, little Patrick wasn't so little anymore. He stilled enjoyed Starbuck, but he spent a lot of time on his little 'experiments', too. Sara wasn't as sure about them as Nathaniel. He encouraged Patrick's curious mind while Sara worried he was going to blow something up.
Note from Mao: Patrick is acting like my fiance as a child. Scary. Oh, and updates may be sporadic or nonexistent for I'm not sure how long. My fiance's connection is satellite (we're out in the BOONIES) and we went over our dl/ul limit, so they cut our connection back hardcore. It's impossible for me to upload ANYTHING, I'm glad I had these uploaded before hand. It'll expire and we'll go back to normal speed… just not sure when. Gah.
*Starbuck is a character from Battlestar Galatica.