Boreal Springs was uninhabited until a wealthy land-monger bought up the untouched soil and decided to turn it into a suburb. The forests have been cleared and the contracts have been written; four families will begin what is hoped to be a very well-to-do suburb.
I should add that not only did my fiance come up with the neighborhood name, he also helped me create and name the Sims. Anytime I need randomization, I go to him. So he is my 'human set of dice' and random name generator.
The O`Hanlon Family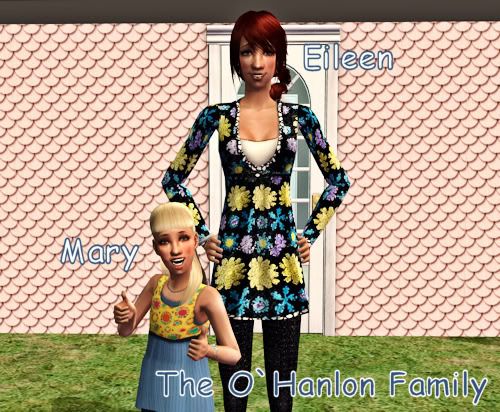 Eileen O`Hanlon – Pleasure – 50 Dream Dates
Mary O'Hanlon – Grow-up – Unknown
Eileen O`Hanlon came to Boreal Springs looking for a new start. She had Mary when she was finishing up high-school. Unfortunately, her co-conspirator in Mary's making wanted nothing to do with babies or responsibility. Eileen got her G.E.D. while working as a D.J. and is now finally ready to pursue a real career. She hopes the move to Boreal Springs will open up new opportunities for herself and Mary, as well.
The Anderson Family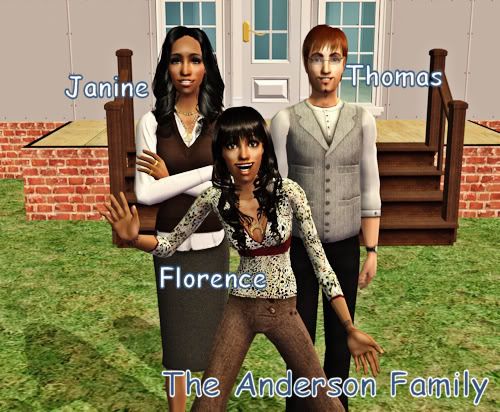 Janine Anderson – Knowledge – Criminal Mastermind
Thomas Anderson – Fortune – Space Pirate
Florence Anderson – Knowledge – Game Designer
Janine and Thomas Anderson married young after Janine found out she was pregnant with Florence. In the beginning, they were content newlyweds who doted on their baby's every whim. Now Thomas is so lost in his career that he often forgets he's even part of a family. Janine comforts herself with her books while poor Florence is left to fend for herself. The Anderson family moved to Boreal Springs hoping to find themselves again, but with the way things are going, it looks as if the move might have hindered their progress even more.
The Saunders Family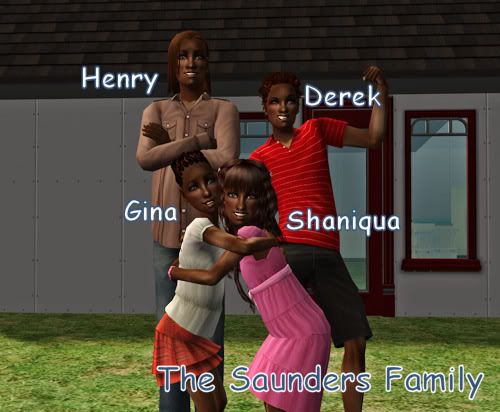 Henry Saunders – Family – Raise 20 Puppies/Kittens
Derek Saunders – Fortune – Hall of Famer
Shaniqua Saunders – Grow-up – Unknown
Gina Saunders – Grow-up – Unknown
Henry Saunders lost his wife before Derek's eleventh birthday. His wife, who worked as a Yoga Instructor, said she was 'lost' and went traipsing off to the Himalayas to 'find her center'. She hasn't been heard from since and Henry has been left to fend for himself with three children to raise. Derek helps when he can, but he's tired of his father 'cramping his style'. Shaniqua and Gina are content to be together, despite their glaring differences. Henry seems to be the only one who is truly unhappy. He hopes that the move to Boreal Springs will give his children better opportunities away from the inner-city and that he might find someone who hates Yoga as much as he does.
The Yu Family
Roger Yu – Pleasure – Celebrity Chef
Risa Yu – Popularity – Rock God
Sun-Tzu Yu – Knowledge – Media Magnate
Jun Yu – Romance – Rock God
Roger and Risa Yu moved from their home country in their youth to pursue better opportunities. Roger has since retired from his position as C.E.O. of a major corporation and is enjoying his retirement. Unfortunately, their daughter Jun was a wild-child straight out of the womb. She's all about parties, guys, and more guys. After some trouble with the law, she's staying with her parents until her probation runs out. They've also recently received another house guest; Sun-Tzu, Roger's younger brother from their home country. Will Boreal Springs bring some peace to this culture-infused family or will it only serve to greaten the rift?