Alyssa has managed to keep her son, Nevio, from faltering despite the loss of his wife Lacie.  Isolde and Adora, still young, leave their grief behind.  When they think about it, their mother really didn't have much of a relationship with them.
Despite their age difference, Isolde spent time with Adora, whether it be tickling or talking.  Adora was beloved by everyone in the house.  It was difficult to ignore her.  Thankfully, Isolde was still young enough to be enraptured by her younger sibling's charisma.  Later on in life, though, she might end up becoming jealous of it…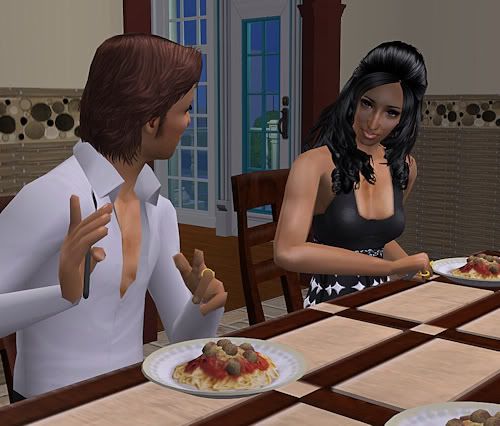 "I'm not going to be here forever, Nevio," Alyssa warned her son.  She was trying to get him to think about settling down again, for the girls' sake.  "What will you do then?"
Nevio made a face, "why do you always have to talk about death?  You're just trying to bully me into another marriage."
"Your marriage to Lacie was your own fault," Alyssa replied sternly.  "You were the one who wasn't careful.  The girls need a mother figure and they don't need their father catting around."
"They have you and that's more than enough.  As for what I do, I'm an adult.  That's my business."
Isolde's birthday crept up on them all and soon, before their very eyes, she was turning into a young lady.  Unfortunately, she took this opportunity to properly express herself.  She shunned all her former brightly lit clothing and instead found things in blacks and grays.  She dyed her hair a darker shade of brown and painted her face to match.
Alyssa was horrified, but what could she say?  Isolde was still a good girl… but her eccentricity was becoming more apparent with each passing day.
Adora, too, grew up into a lovely child.  She reminded Alyssa so much of herself at that age.  She was gorgeous, too, that was undeniable.  She was the obvious heir, that much was certain.  Isolde showed no interest in the family, but Adora, even as a small child, had been keen to persue the Anderson interests.  Alyssa was thankful that at least one of the kids turned out relatively… normal.
Isolde was growing used to people shying away from her.  She had tried to keep all her curiosities and strange thoughts to herself as a child, but now, she wouldn't do it any longer.  She was interested in ghosts, vampires, and all things paranormal.  Her neighbor, Timothy O`Hanlon, was the same age as her and while she had been friends with his sister, she didn't know him very well.
He was woefully normal looking, but he indulged her interests and even participated in her strange conversations.  He seemed transfixed by her oddities.
Some time later, their conversations turned towards a crush.  Without thinking, Isolde took a bold step and kissed him.  She had heard that Shelly Yu was interested in him and so had tried to keep her distance, but he was always around.  It seemed he felt the same.  But they were from very, very different worlds… not to mention what Shelly would do when she found out.
Despite being an Anderson, Isolde was ostracized from the 'popular' crowd due to her looks and interests.  The only time they spoke to her is when they were seeking assistance at Alyssa's clothing boutique.  Isolde had an amazing skill with selling things, which surprised Alyssa quite a bit.
Alyssa just wished she would focus more on selling than asking silly questions.  Isolde was scolded when Alyssa caught her grilling Claude Saunders about his possibly vampiric father.  That was something no one asked about and especially not so bluntly!  There was a known strain between the Andersons and Gordon, Alyssa didn't want it made worse by her loose-tongued granddaughter.
Isolde was a handful, to be sure.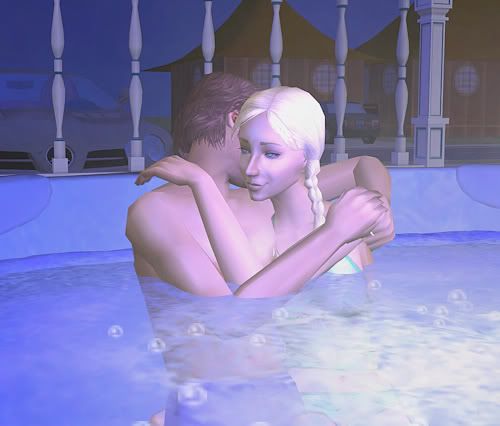 Not near as much as her father, Nevio, though.  He spent his nights wooing fans and doing indecent things behind closed doors.  Alyssa was fed up with his actions, but what could she do?  She was beginning to feel the weight of the family on her shoulders and was worried about Adora.  How could she possibly managed to carry it once Alyssa was gone?
——————–
Note from Mao: Okay, I'm not 100% better, but I can sit at my computer, so that's a plus!  I played this before I got sick, the pictures were waiting to be assembled into an update… so here you go!  I really enjoy Isolde and Adora looks a LOT like Alyssa so far. Also, Isolde and Timothy?  2 bolts without trying, meaning they could easily be a 3 bolt.  She is a Knowledge sim.