Damien and Aiyana Saunders are happy to have two grandchildren, but they're not so pleased with the way they're being raised.  Basil is too busy 'creating' and Virginia, well, she's got her own things to do…
Damien continued to help with the care of the twins, even though they were becoming more self-sufficient.  He hoped that his son and daughter-in-law would spend more time with them now.  They weren't babies and dirty diapers were few and far between, especially since he and Aiyana had potty trained them.  Unfortunately, Virginia and Basil were too busy gossiping about the quick engagement and marriage of Nevio Anderson that ended in death.
Aiyana seemed to be suspicious of Virginia's motives with Nevio Anderson.  She'd seen her daughter-in-law spending a little too much time over there and decided to confront her directly.  Well, in the most direct way that Aiyana was capable of.  She made mention of Nevio being a bachelor again and that the ladies often found him attractive.  She watched Virginia's face carefully.
"He even has affairs with married women!" She added for effect.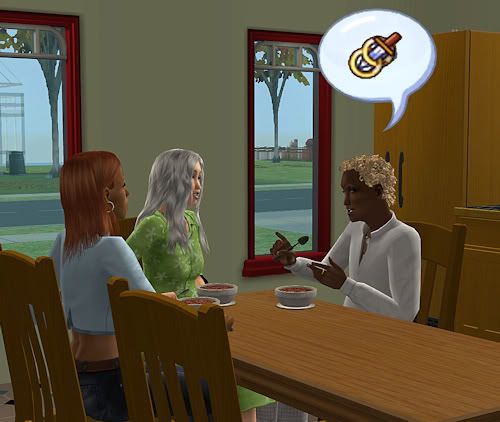 Basil butted in, "affairs with married women?  Not nearly as much as Shang Yu.  I still remember the fallout from that disaster."
"What are you trying to say, anyway?" Virginia said, ignoring Basil's interruption.
"Nothing, nothing at all…" Aiyana sighed, disappointed in her boy's lack of common sense.
Unfortunately, Aiyana would never get the chance to clue Basil in.  She shuffled off the mortal coil not long after.  She had a long and happy life and while everything may not have gone well, she had salvaged what she could.  She only hoped Damien remained long enough to care for the twins as they deserved, instead of being left to the neglect and apathy of their parents.
Damien and Basil were beside themselves with grief.
Virginia, on the other hand, was quite pleased.  Aiyana had known something about Virginia's little 'on the side affairs' and now that she was gone, there was no chance of it getting out or to Basil.  Virginia had never really been a one woman kind of man and certainly not mother of the year material.  She left the children to Damien and Basil's care and spent most of her time upstairs on the balcony, inhaling smoke, or out enjoying her youth.
Daisy and Sage grew into children before long.  They missed their grandma, but their grandpa was still around.  They were closer to him than their own parents.  When they weren't following Damien around, they enjoyed being competitive with one another.  Sage was a bit more serious about it than Daisy was.  Then again, Sage always seemed to be serious about everything whereas Daisy was a bit more easy-going.
Their delinquent mother was too busy checking out the very illegal paperboy to tell the girls not to play in the middle of the street while they waited for the bus.  The only reason she was out there was because she was going for 'a walk'.  The girls had gotten used to her snubbing of them and so they ignored her just as she did them.
It was Damien's job to make sure they did well in school.  He taught them how to do their homework and helped them with it anytime they needed it.  Basil was too busy, locked up in his pottery room.  Virginia, well, Damien wasn't completely sure he trusted her to be responsible for the girls.  He just hoped he would make it until they became teenagers who could care completely for themselves and be independent of their parents.
————————-
Note from Mao: Virginia really is a horrible mother.  She never does anything with the twins, at all.  She never fed them, held them, etc.  It was all Damien and Aiyana, and sometimes Basil.  He's usually too busy making stuff, though.  The picture of Virginia and girls playing on the street cracked me up too much not to add it!