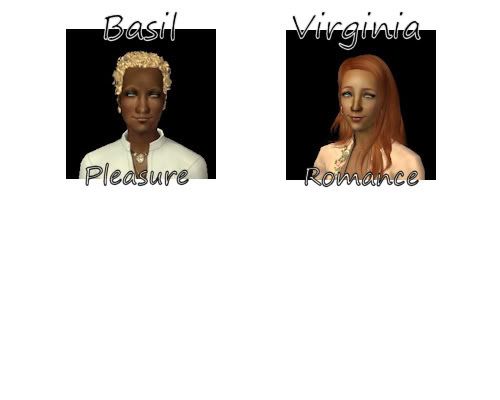 Basil and Virginia Saunders haven't been the best parents.  Will their passage into elder hood make them realize the errors of their ways?
Basil did feel remorse for the way he had acted during his adult life.  He had two beautiful daughters and he'd all but ignored them until it was too late.  Now that he was an elder–and losing his hair–he tried his best to build a shaky bridge between them.  He even smiled and nodded when Sage mentioned that she maybe wanted the house to have a full-scale makeover.  The house had remained the absolute same pretty much since Henry Saunders was in residence and boy… that was a long time ago!
The passing of beloved cat Daenarys was a big wake-up call, too.  Life was finite.  Basil hadn't been feeling too well lately, either.  Maybe he'd caught a cold or something at work?  He rested as much as he could and swallowed down plenty of cough medicine.
Meanwhile, Virginia was feeling her youth slip away.  In an effort to prove to herself that she was still as foxy as ever, she made the mistake of trying to make a pass at James Anderson, her coworker.  He was quick to shut her down.  Virginia's ego deflated slightly.  He had married the town doorknob, yet he wouldn't come near her?  Maybe she was losing her touch…
Of course, there was always Nevio.  Living across from one another, their affair had been an easy and casual one.  He was older, sure, but Nevio had always had that certain charm a lady couldn't deny.  He made her feel better.  She still wasn't looking forward to getting old and wrinkly.
Basil decided that after the loss of Daenarys, he missed having a pet in the house.  He'd always had cats, but maybe a dog would be fun.  He called the local pet shelter and found Roku, a lovable and playful dog in need of a home.  He certainly had fun training him and it took his mind of his illness, which seemed to be getting progressively worse.
Virginia wasn't nearly as thrilled about the latest addition to the house.  She'd never been much of a pet person and Roku's incessant need to roll around in the garbage about had her tearing her hair out!  How disgusting and worse, pushing the garbage can over and spilling it everywhere so she had to pick it up.
No one anticipated what happened next… Basil fell to his unexplained illness.  It turned out to be a very aggressive flu strain that developed into pneumonia, which went untreated.  Virginia found Basil crumpled up in the bathroom and called 911 only for it to be too late.  Daisy and Sage came home to mourn their father's passing, sad that they hadn't gotten the chance to really see him since they left.
Virginia was left alone in the house with Roku.  She was quite upset about Basil's passing, she hadn't anticipated that it would affect her as much as it did.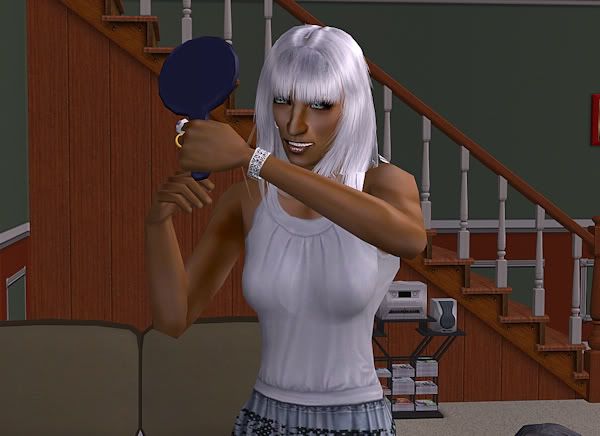 Even worse, the stress of the incident seemed to have turned her hair prematurely grey all over! She was horrified.  Getting old was one thing, but losing her lovely, red locks?  It was too much.  Now she was an old, widowed woman with a dog and gigantic house.  Who would want to be romanced by such a sad and pitiful thing?
She sighed, fingering her limp hair.  Could things get any worse?
—————————
Note from Mao: I really fail at trying to get sims better without the use of soup!  Poor Basil came home from work with a cold.  I had him rest, sleep, and bathe constantly, but nothing worked. 
  I missed his death because I had the game running in the background on FF while I was checking my email, sigh.  Poor Basil!
Although, the scene I came back to was pretty funny.  Virginia seems to be pretty upset that she didn't get her kiss before he died, LOL!