Henry and Janine are elders now, but while Henry may have retired, Janine hasn't. Will her second life keep them from enjoying their final years? And what of their son, Gordon? How will it effect him? The twins Chuck and Damien still aren't sure who will come back and take over, but they are sure they want to head to University!
Chuck had spent a tremendous amount of time and effort on Lilith Anderson. So much so, that she was even starting to come around a little. Well, as around as a girl like Lilith could ever come, that is. So it wasn't any big surprise that he finally made his move when she came over one day to beat Damien at a new game he'd bought.
To say Lilith was surprised would have been a drastic understatement.
Lilith hooked him hard on the arm and sneered angrily, "what are you doing?!"
"How long are you gonna keep up the tough girl act?" Chuck retorted, surprisingly calm in the face of Lilith's anger. "You know you like me."
"Give me a break," Lilith shot back. "You're a jerk."
"Sure, if you think so. But doesn't that make us perfect?"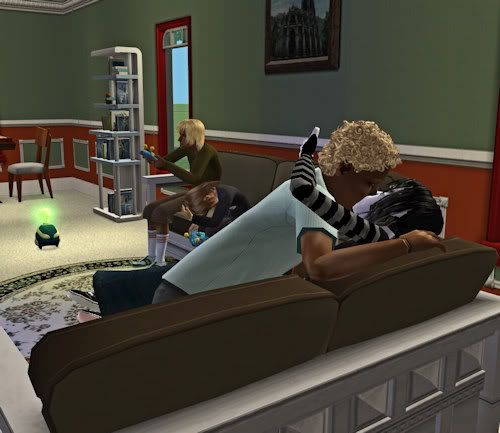 For the next few weeks, Damien lost his gaming partner. Gordon tried to pick up the slack, but he wasn't terribly good at video games. He much preferred to be doing something active. Lilith was too preoccupied to bother and Chuck was more than happy about the situation.
Unfortunately, all good things must eventually come to an end…
Chuck was showing off the train set that Janine had helped him with as a kid when suddenly, it exploded into flames. Lilith cried out and jumped back, but Chuck had nowhere to run. The flames engulfed him and Lilith was forced to watch as he died a slow and agonizing death.
Lilith wasn't quite sure what came over her, but watching someone die was hardly pleasant. It was sort of like an 'out of body' experience–like she was watching herself watch Chuck.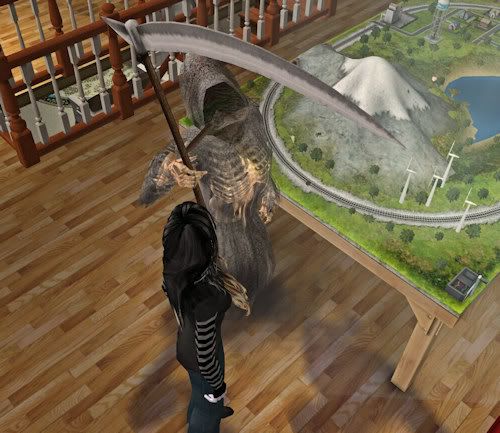 Lilith was surprised when she saw an ethereal figure appear with a large scythe in hand. It was most certainly Death, though Lilith could swear that mortals weren't supposed to see him. He seemed just as surprised, though he continued with his duty. There was no pleading for Chuck, as Lilith could scarcely move. She could only watch. Death had put the fire out on the train set in the midst of the confusion. Before he left, he looked at Lilith and said:
"It isn't your time."
When Henry finally managed to get upstairs, he was shocked to find Lilith comatose and Chuck very much burnt alive. There was nothing anyone can do to save him, he was already gone. Lilith was quite traumatized, however.
Damien was inconsolable. He lost his brother, his twin, his 'other half'. It was like someone had taken a piece of him away. It was difficult to rationalize what had happened, as it just didn't make any sense. Why would the train set ignite? What had he done?
First their mother had died, now Chuck was gone. It was almost as if the family was cursed. At least Katy's death was explainable, but Chuck's? They'd never really know what happened. Lilith had been taken away to spend a week at a facility that would hopefully help her recover from the trauma. They had been advised never to mention the incident to her again.