(Sorry for the lack of updated family picture!  My own fault, forgot to extract the twin's child pictures before they aged to teen.  D'oh… and as for Aiyana, well, I figured it was already messed up, so why bother, LOL)
Despite their parents almost complete indifference to their existence, the twins managed to get along all right.  They did their homework together and generally spent quite a bit of their time in one another's company.  School was okay, but they were having a hard time separating and getting along with other kids.  Their bond was a bit stronger than most due to their parents negligence.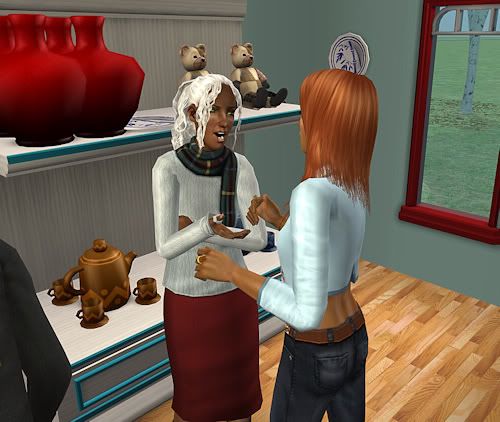 Virginia was much too busy trying to turn a profit off of Basil's obsession.  It was going well, so far.  I mean, it was just a tiny business run out of a side room of their house.  Maybe if they made enough, they could have a bigger venue.  It was also a way to keep Virginia and Basil from having to enter the workforce.  Neither of them were too keen on that idea, as much as Damien tried to push it.  Sometime after Aiyana's death, he retired and now they were living on his pension.
Of course, the old can't go on forever, no matter how much they wish they could.  Damien was forced to leave his granddaughters in the care of their inept parents.  Death wouldn't take no for an answer, and wasn't too keen on Damien's excuses.  He shoved a tropical drink in his hand and drug Damien off to the other side.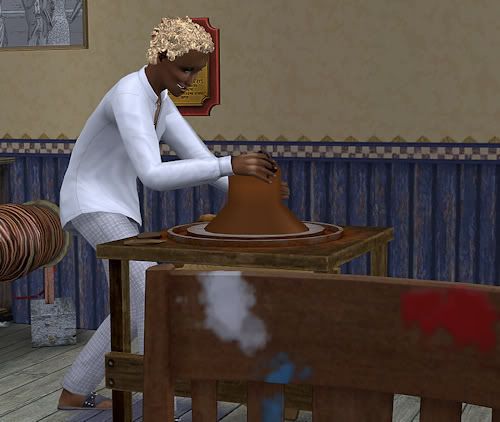 Basil dealt with the death of Damien the only way he really knew how, but spending even more time obsessing over his pottery wheel.  It had truly become a worrisome habit, he rarely left.  The girls were growing rapidly, but he'd have no idea, because he never left that room.
Virginia saw them, but paid them no mind.  She was much too busy trying to make the business work.  Damien was dead and his pension with him.  She had to find a source of income that didn't involve hard, manual labor.  She was much too pretty for that!  The twins had come to ignore her as much as she ignored them.
While they had issue making friends at first, Daisy seemed to come out of her shell much quicker than her twin, Sage.  She met the eccentric Rosa Anderson.  The two bonded in the fact that neither of them looked like they belonged in their respective families.  Rosa was odd and Daisy was friendly.  They get on quite well.  This was definitely a good thing, as tensions had been growing between Sage and Daisy recently…
Sage had begun bullying Daisy, not out of cruelty, but simply as an outlet.  They were siblings and as a rule of nature, siblings fought.  At first, Daisy took it in stride, but eventually, enough was enough!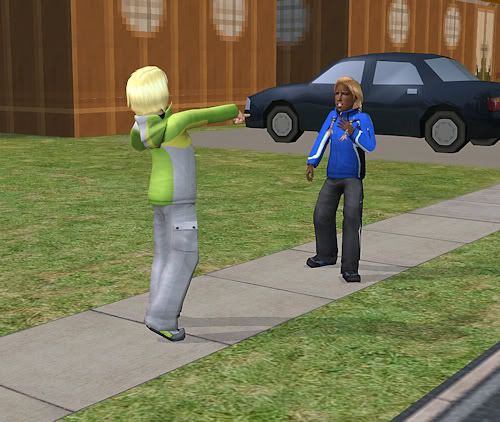 She began to fight back, much to Sage's surprise.  The two tormented each other quite ruthlessly, but it didn't seem to change anything.  They'd be angry for awhile and then resume their usual routinue.  It just seemed to be a way to let off some steam.
At the end of the day, they were still together.  Daisy was the only one who could sleep through Sage playing noisy video games.
————————–
Note from Mao: Torment is hilarious!  I love it.  The pocket thing and then the hands in the face thing.  I keep imagining them going, "I'm not touching you!" over and over.  Silly kids.  But they get along, nonetheless.  Basil and Virginia really do ignore them.  These kids live off leftovers!