Mary and Derek O`Hanlon's days are ending and they still don't have a grandchild. Julie and Asia are starting to feel the strain, while Gina worries that everyone is too worried about things they can't control.
Julie sat on her bed, contemplating the issue at hand. Asia still wasn't pregnant and they'd been trying for a long while now. Something had to be wrong. Before her thoughts could wander, Gina joined her and offered some sage advice.
"Maybe it is better if you don't think too hard on it, Julie. Why does Asia have to be the one to get pregnant?"
"She volunteered, she said she wanted to know what it was like," Julie replied, a little sadly. "I really don't want her to be upset if something is wrong."
"You both want a baby, right? So what does it matter who carries it? Think about it, Julie. Asia would be more upset if she was the reason you two didn't have a child."
Julie took Gina's advice and went to Asia. While Julie wasn't exactly the type to enjoy maternal things like pregnancy, it was a small price to pay to have a baby. She only hoped Asia was as willing.
"I… I guess it makes sense," Asia admitted, though reluctantly. "But I really wanted to experience the miracle of childbirth."
"You still will, just from the safer, viewer perspective," Julie smiled. "We've been trying forever, Asia. It's worth a shot, isn't it?"
"I guess so…"
It worked like a charm, Julie was soon pregnant and Mary was overjoyed. She ignored the oddity of two females biologically making a child and instead focused on the fact that she was going to have a grandchild to inherit the property.
"How do you feel?" Mary asked, looking up from Julie's belly.
"Like crap," Julie confessed wearily. "This sucks, I hope it's a boy. I don't want to have anymore."
Mary laughed, "try having twins!"
"No thanks."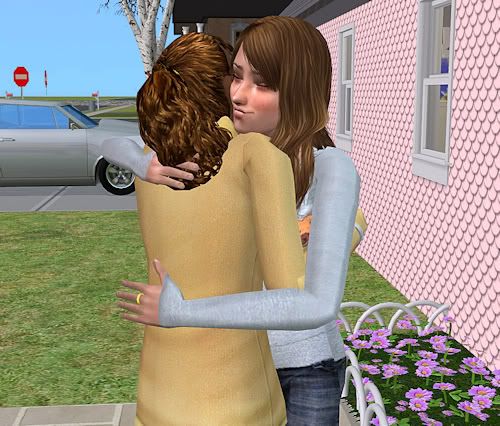 Marla stopped by to offer her support. She didn't get a chance to visit very often anymore, not with little Kit at home. When she did come over, she and Julie enjoyed reconnecting. Julie knew all about Travis' little indiscretion with Katarina.
"You haven't told mom, have you?" Marla asked, giving her twin a hug and minding her belly.
"No, of course not," Julie replied, pulling back. "How is it going?"
"Slow, but better. Anything is better than a divorce though, right? We've had plenty of those lately."
"Yeah, that's true. But I think you should do whatever is best for you, Marla."
"This is what's best… for me and for Kit."
Derek did not get a chance to see his next grandchild born. He died late one night in his sleep. The doctors said his heart simply stopped working. He was old and it was his time. Mary was inconsolable and Gina was equally distressed. When Sara found out, she cried so hard Nathaniel thought she was dying.
The saddest thing of all was perhaps that Derek died never knowing his final daughter, Elena.
Timothy O`Hanlon was born a month later, to everyone's happiness. His presence in the house brightened the mood considerably, everyone busy trying to keep him happy and healthy. He had all the O`Hanlon features and was the first boy born that would inherit the house. Mary was over the moon with pride.
————
Note from Mao: Deeereeeek! I was so sad when I saw death come sweeping in to take him away.
Julie getting pregnant was a freak occurence, no clue how it happened. At least it did, yay!