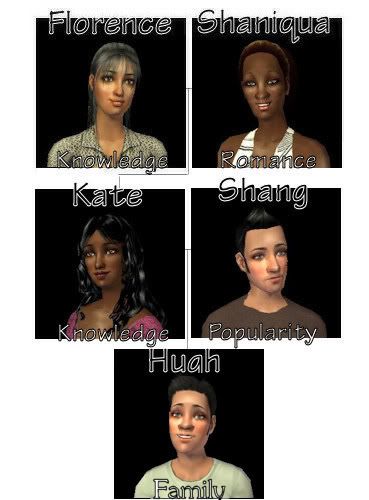 Florence Anderson has tried hard to keep her family together, but Shaniqua Saunders, their daughter Kate, and her cheating filth of a son-in-law, Shang, hasn't made it easy. At least Hugh is a shining star amidst all the crap Florence has had to deal with.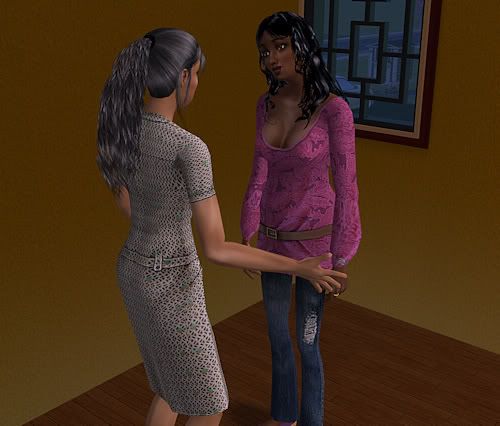 "Are you looking for your lamp?" Florence said, confronting her daughter. "It's gone. I've thrown it out."
Kate was too stunned to speak, "y-you threw it out?!"
"Yes, I did. And I don't want to see it in this house again. What were you thinking, Kate? What have you used that vile thing to gain?"
Florence didn't wait for a reply. She simply sighed and said, "even that lamp won't change who and what Shang is, Kate. And it won't make you any happier and sure won't make Hugh turn out all right. He needs a mother, Kate… and you need to fix this mess you've made."
"But I can't," Kate frowned, suddenly saddened. No more lamp? What was real without it? "If I don't have the lamp, I can't–"
"I shouldn't have pushed this marriage," Florence admitted slowly. "It was wrong, but so were you, so is Shang everytime he does something stupid… which is like breathing for that idiot. Oh, Kate, of all the men… why him? He's no good."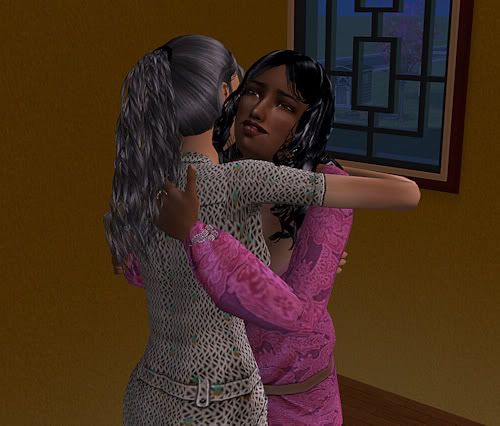 "I don't know, but I can't help it," Kate sniffed, allowing Florence to hug her. "It's just not fair, mom. Katarina has the baby… it was supposed to be mine."
"Don't worry about her, Kate. Take care of the son you have and for goodness sakes, get that bafoon out of this house before he ruins Hugh."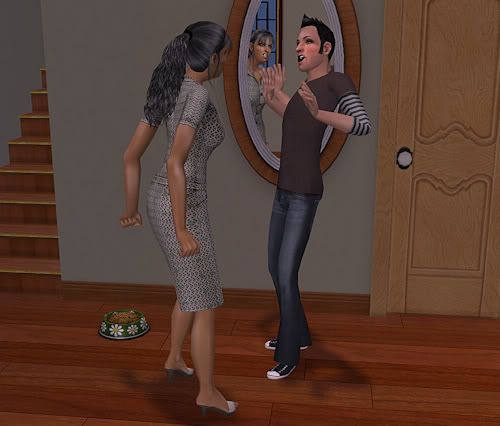 Florence wasn't about to let it pass that Shang had somehow been stupid enough to knock someone else up. She lit into him the moment she saw him downstairs. Poor Shang was so caught offguard he nearly fell backwards. She had interrupted him admiring himself in the mirror. He was a Rock God now and he definitely looked good.
"You selfish little bastard!" Florence roared, backing him into a corner. "I swear, one of these days, I'm going to knock that smirk right off your face!"
"Geeze, chill out," Shang replied, trying to evade his mother-in-law's rage. "I don't even know what you're talking about, you crazy old bag!"
Before Shaniqua could say, "that really wasn't wise" Florence pounced on Shang and took him to the ground. Shang was a little more than shocked by Florence's ability to sweep the floor with him. Truth be told, he spent so much time just looking good that he really didn't bother much with actual physical strength. Florence beat him up one side of the room and down the other and by the time they were through, Shang thought he needed to be rushed to the ER for possible damage to his face. That bag would pay if he had to cancel the tour.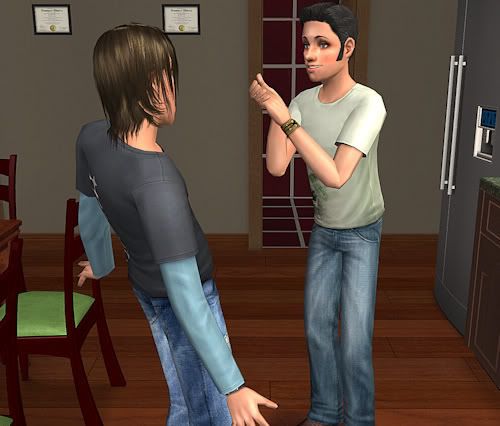 Ignoring his dysfunctional family completely, Hugh continued his progression towards adulthood. He met and befriended his cousin, Fou-Lu. Hugh wasn't particularly fond of his girlfriend, though. Elena was a bit too pushy for Shang's taste. She reminded him way too much of his Aunt Lilith and Aunt Lilith was terrifying to poor little Hugh.
Unfortunately for Hugh, Florence died only a week later. It was heart failure and there was nothing they could do, it was simply her time. As if that weren't bad enough, Shaniqua fell ill and soon died as well. It was two collective blows the strained family could have done without. Shang was glad that Florence was six feet under, but he didn't like how upset it had made Hugh.
That wasn't to be the end of it, though. Since Florence's death, Kate had made a decision. She and Shang had begun talking about possibly separating or even divorcing. It would be rough on Hugh, especially with the loss of his grandparents, but it was necessary.
"So does that mean I won't see you anymore?" Hugh asked sadly.
"No, I'll just be down in Aperture. You can see me anytime you like, even stay, if you want. But your mom needs you here and you need her, too, more than me. We both know that, Hugh, I'm not winning any dad of the year awards."
Hugh sighed, "it's gonna be hard… without grandma Florence…"
"You're stronger than you think, kid. Don't sell yourself short."
Kate didn't like the fact that she had to give up her 'rights' to Shang, but what choice did she have? It was like trying to keep a wild animal caged. No matter what she did, Shang would never be faithful to just her. It was a harsh reality that made Kate feel completely and wholly sad.
"Don't look so broken up, babe. Doesn't mean we can't still fool around. Shang is in demand and you can't expect to keep that demand at bay with a ring."
Kate frowned, "no, Shang. I'm just not that kind of person… and I'd rather you not be so open about it with Hugh."
He shrugged, "Hugh will be who he is meant to be… and I doubt it is anything like me."
And with that, Shang left his home in Boreal Springs and headed off to his swank pad in Aperture. Of course, before arriving, he'd have to stop by the original Anderson house…
—————-
Note from Mao: And so it ends. Poor Kate! She was really tired of catching him cheating. She kept slapping him and fighting with him, almost as bad as Florence! Let us hope Hugh can brave the difficulties and be the grandson Florence hoped he'd be.