Henry Saunders is blissfully oblivious as to the nature of his wife, Janine's, job. He's also completely unaware that their son, Gordon, wants desperately to follow in her shoes.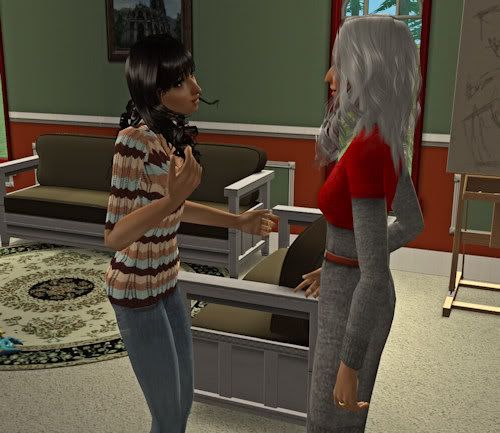 Florence had stopped by to visit her mother, completely oblivious as to what awaited her. Janine had phoned her an hour earlier, telling her to stop by, that they needed to have a talk. It wasn't an easy thing to do, but Janine couldn't stand to let Florence continue living a lie. Of course, Florence didn't believe her.
"That's ridiculous," Florence scoffed. "Shaniqua wouldn't do that."
"I'm sure you want to believe that," Janine pressed on cautiously. "I just thought you should know."
"Thanks, mom, but you're wrong. She wouldn't do that."
Gordon, meanwhile, hadn't given up on his hopes of taking over the 'family business'. He was quite into fitness and spent most of his days working on his flexibility. Sitting on top of the heap allowed you to send minions to do your bidding, but Gordon knew how dangerous it was. He wanted to be able to dispose of anyone who would dare try to cause him harm.
He wasn't aware that his mother had an edge because of her ex-husband, Thomas.
Gordon was beyond pleased when he received his straight A report card. He quickly showed it off to Janine, trumpeting his ability to keep in tip-top-shape while maintaining his grade average. She was suitably impressed.
"Can you see I'm serious now?"
Janine sighed, "Gordon, you don't know what you're saying–"
"Yes, I do and I won't stop until I prove that to you!"
And prove it he did. Janine decided to play along, figuring he'd drop out the harder she pressed him, but he didn't. In fact, he excelled at every task put upon him. He scaled the obstacle course like it was nothing at all, scarcely losing a breath all the while. He was a born natural, flexible and agile as a monkey and cunning, too. Her sweet little boy wasn't quite as sweet and innocent as he claimed to be.
Janine had no choice now. Gordon was her son, and she would never wish him harm… but he was perfect. There was no other option.
When he wasn't training to be the next criminal mastermind, Gordon hung out with Tsung's younger brother Shang. While Tsung and Gordon were best friends, Tsung had left for University early, leaving him alone. Shang wasn't too bad, they would often just sit around watching TV. Shang wanted desperately to be a rock star and spent a lot of time concentrating on music videos and trends.
Gordon, meanwhile, wondered if it would be to his benefit to extend his mother's influence into the music business. Just think of how much power that would add to their arsenal…