Mary O`Hanlon has lost her husband and love, Derek, but continues on for the sake of her children and grandchildren. Gina Saunders' time is coming to a close, a painful fact being that she outlasted her twin, Shaniqua. Julie and Asia are feeling some tensions, but of a different sort.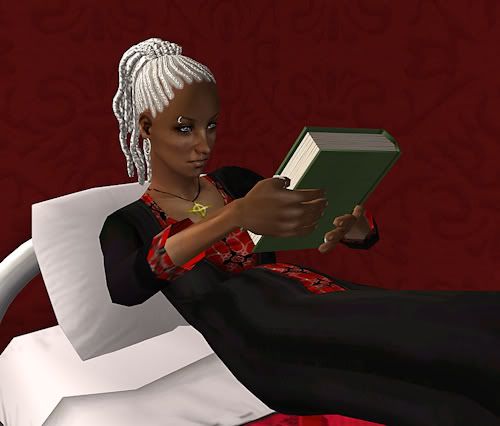 Gina wasn't quite sure how to feel about the fact that she had survived her twin, Shaniqua. They hadn't been terribly close in their final years, this much was true, too busy with their separate lives… but the bond was always there. Gina looked at one of her old novels, examining the cover with careful scrutiny.
She had led a good life, even if she had no children nor love to speak of. She regretted nothing.
Meanwhile, Julie was feeling the urge to get out of the house. She could also tell Asia was feeling a little down. Both of them getting out and about would likely lighten the mood and so Julie suggested they go downtown and visit Marla's new restaraunt. Asia was dubious.
"But what about Timothy?"
"I'll take care of him," Gina called from the sink, splashing a bit of water on Timothy and causing him to giggle. "Mary will be home soon, too. You two go have fun."
After their dinner at Exotic Dining (where Marla was much too busy running around to have a chat with her twin), Asia felt relieved enough to go home. Julie, however, had other ideas. She drug Asia to a nearby club. It took a few drinks, but Julie finally got Asia to agree to go into the photobooth. Of course, Julie's ideas differed significantly from what Asia had expected… not that either begrudged this.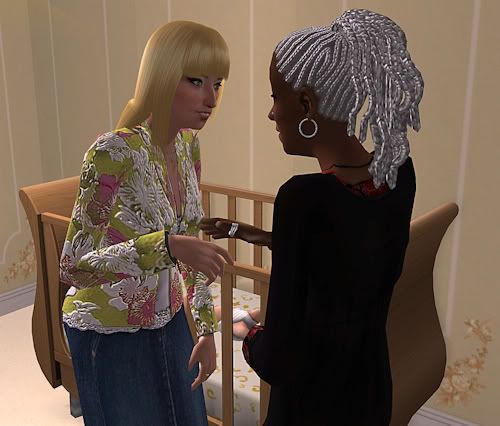 Meanwhile, Mary and Gina were more than happy to care for James while his mothers went out and blew off some steam. Mary and Gina had been close since college, but the loss of Derek had brought them even closer together. They spent a lot of time discussing the old days and spoiling little Timothy.
Sometime after their little sojourn downtown, Julie began to feel ill. It was eeriely similar to when she found out she was pregnant before, but that wasn't possible. The treatments had ended and therefore, she should be in the safe and clear.
"I don't know what to tell you, Julie," Mary said from the sink, focusing on bathing Timothy. Soon, he'd be a toddler. "Maybe you should call and ask."
Julie frowned, "I really don't want to be pregnant again…"