Henry Saunders is nearing the end of his life and his wife, Janine, isn't too far behind. Damien has taken over the house, but he and his wife, Aiyana, have had trouble producing an heir. Will Henry live to see his name carried on or will Damien fail to pass on his namesake?
Aiyana Saunders awoke to a strange feeling that gurgled in the pit of her stomach. Before she knew it, she launched out of bed and ran for the nearest toilet. After paying homage to the porcelain gods with last night's supper, Aiyana decided that perhaps it would be wise to invest in a pregnancy test.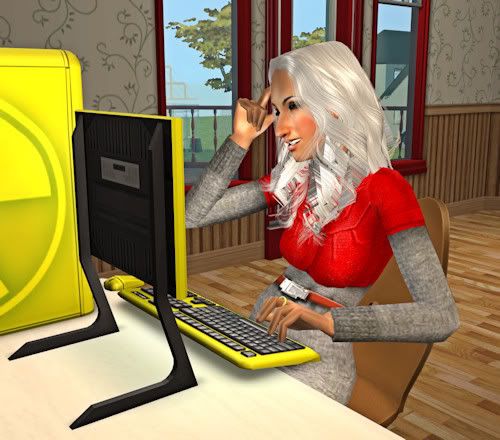 While her granddaughter-in-law was puking, Janine was busy at the computer. Her life was nearing its end, this much was certain. Her last physical had revealed some unpleasant growths. Janine felt old and tired, so she didn't bother furthering the diagnosis. She was ready to move on and tired of living a constant lie. Unfortunately, in order to do so, she had to pass the burden onto her son, Gordon.
She wouldn't be able to teach him everything and she was certain Thomas had his own motives, so Janine devised a plan. She began typing up a 'manual' of sorts for Gordon. She spent every waking hour at the computer, typing until her finger tips felt numb.
Aiyana, meanwhile, had scheduled a doctor's visit after her test came out positive. She returned home with happy news–she was indeed pregnant. Damien, of course, was relieved. He knew that Henry was getting old and he wanted desperately for him to see the child born. While Derek was Damien's real father, Henry had been more of a father-figure to him than anyone else. He and Janine had been there with him every step after Chuck's unfortunate passing.
Aiyana was happy, too, but very nervous. She'd never been very good with babies. Perhaps she should study up?
One night, while Aiyana was browsing various parenting websites, she came across a strange file on the computer. She wasn't very computer literate, having grown up in a commune, so when she accidentally minimized her browser, she began frantically clicking in an effort to get it back. She ended up opening a folder on the desktop that Janine had forgotten to lock. Laid out before her in text was a manual of crime. Aiyana blinked and panicked, closing the window.
Damien, who was washing the windows, gave her a strange look, "are you all right?"
Aiyana froze, unsure of what to say. Was her pregnancy making her crazy? Maybe her hormones were acting up, that's all. She hadn't seen that! "Y-Yeah… just spooked. A pop-up ad. Annoying, huh?"
He shrugged and continued scrubbing. Aiyana shut down the computer. That was enough oddities for one night.
Janine eventually finished her manual, unaware that Aiyana had seen it. She invited Gordon over one day and pulled him into an empty room. As the book left her hands, she knew that it was indicative of passing on her weight to her son. He smiled.
"What's this? Don't trust Thomas?"
"He's my ex-husband, sweetie," Janine replied, shaking her head. "Never trust an ex."
"Of course, I knew better… but thanks."
Janine gave him a look, "don't go into this thinking you know everything, Gordon. Even you can't prepare or weasel your way out of everything. You have to be careful. No one can ever know about this… about you…"
"What about you?"
"It won't matter," Janine smiled sadly. "I'll be gone soon. The trail will hopefully end with me. Just promise me you'll be careful."
"I will, I promise."