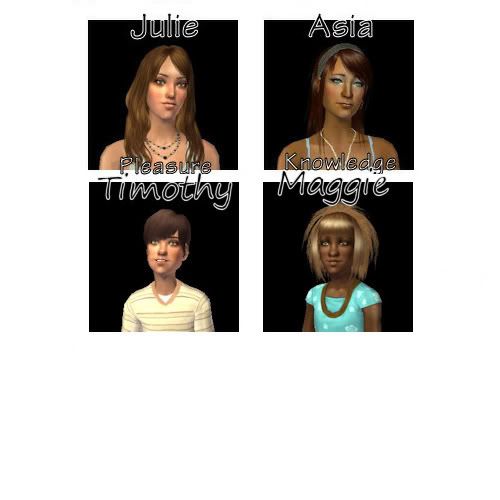 Julie and Asia O`Hanlon aren't your convential type of couple, but they still managed to have two kids.  Timothy is on the cusp of his teen years while Maggie is enjoying her rambunctious youth.
Due to a surplus of money, Julie decided to purchase a cabin out in the woods.  It was a quaint little structure with plenty of room to roam for the kids.  It was also conveniently located next to some of the sights of the Great Lakes area.
Asia would have preferred one on a lake, but unfortunately, those types of properties weren't offered here.
After ensuring everything was set up properly in the cabin, the family headed off to have some fun.  There was plenty of log rolling, giving everyone an ample change to win.  Even so, Julie and Timothy always seemed to win.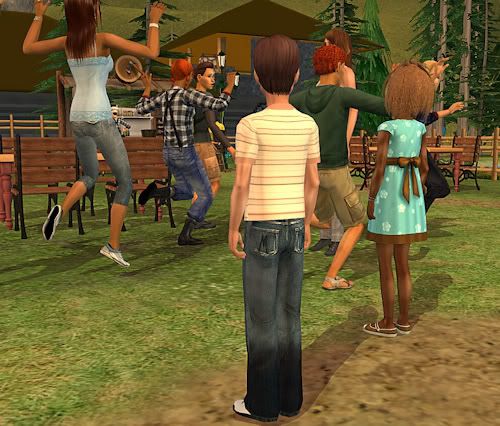 Of course, there was also plenty of slap dancing.  The kids weren't quite as enthused as they should have been.  They just sort of stared and wondered, "what are these crazy grownups doing?"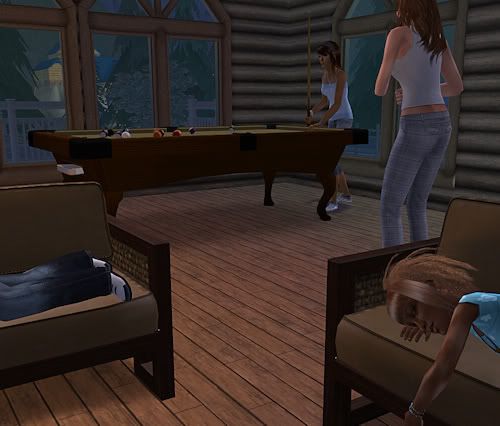 In the evenings, the kids usually tired out and gave the grownups a chance to enjoy themselves.  The pool table was definitely a good investment.  Julie and Asia had a lot of fun challenging one another and betting favors on who won.  After their game, they'd pick up the kids, tuck them into bed, and then go to bed themselves.
It was certainly nice to have an actual home to come home to instead of a hotel room.
They didn't always go out, however.  They stayed in and had fun, too.  Boardgames a plenty with a side of charades.  The kids' favorite was 'Don't Wake the Llama'… probably because they always won.
On their last night, they abandoned the comfort of their beds and decided to sleep in the great outdoors.  They made a fire, roasted marshmallows, and Maggie told a scary ghost story about pet ghosts that Isolde Anderson had told her.  Julie and Asia weren't quite sure what to make of Maggie's new little friend…
When they arrived home, it was time for Timothy's birthday.  He aged into a teen, which didn't change his perspective on his homework any.  He still hated doing it.  He had decided that his family was so nice that he'd like to have one of his own someday.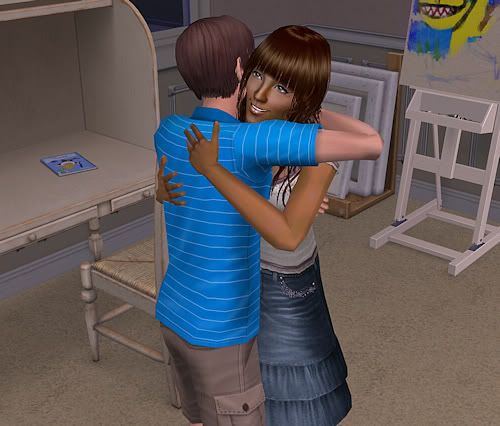 He may have still hated homework, but he found he no longer had such an intense dislike for Shelly Yu.  He apologized and they became friends.  It's as it always goes with boys… dislike turns to like, though Timothy isn't sure if he should be deciding so early in his youth about his future wife.  Shelly is nice, but there's not a big enough spark to keep his adolescent attention.
He also makes friends with James Anderson, who looks like his twin.  They bond over their shared choice in haircuts and similar personalities.
—————–
Note from Mao: I had no idea James and Timothy had the same hair, LOL!  They look like twins. xb  Shelly and Timothy only have 1 bolt.  I'm interested to see what Isolde and Timothy will have, since they are friends and she's his age, too.  I'm also working on updating the DB… shouldn't take long, but I fell behind.  Still not feeling 100%, have another appointment this Friday.  We'll see how it goes.