Gordon is trying to keep his children out of the crime business, but the business might have plans he hasn't quite seen.  Lauren is struggling with the fact that she's growing old and Gordon is still young.  Claude is too busy dating to notice anything else.
Claude wasn't like Patrick O'Hanlon… he didn't use women.  No, what he did was hardly using.  He fulfilled their hopes and dreams of dating him and he got the prestige that came with landing so many girls.  So when he flirted and another girl got upset, well, that was her own fault.  She set herself up for it.  Claude was not the type to settle down.
Perhaps worst of all was the fact that even when he was wooing one girl, he'd quickly leave her and start wooing another.  If he called the first girl later, she'd answer.  The slight in public was humiliating, sure, but Claude Saunders was Claude Saunders.  He came from good stock.  All anyone ever said in rebuke was, "but his dad is weird."  And the girls all replied with, "but his dad is hot and so is Claude!"
Ahh, teen girls don't require much in the way of anything else but looks, usually.
One night, Claude was approached by a mysterious woman.  She was older and so her approach startled him.  He'd only been messing with teen girls and wasn't quite sure if he wanted to 'tackle' a fully grown woman.  But she didn't solicit him.  Instead, with a strange accent, she said, "are you Claude Saunders?"
He couldn't see her face for it was cloaked in darkness, but she sounded hot, so he replied, "I am.  What of it?"
"You… are of interest to u–I mean, me.  But your youth… it a problem."  She laughed, looking him over.  There was a strange sheen to her eyes, even in the darkness.  "Perhaps another time, Claude."
He watched her slink off and blinked.
That evening, when he came home at 2am and found his mother waiting up for him, Claude knew he was in for a lecture.  Lauren had been hassling him endlessly about his late nights.
"What about school, Claude?" She said, sighing.  "Don't you want to go to University?"
"I do, but it's not like it is that hard, mum," Claude said, rolling his eyes.  "Dad will get me in."
"No, he won't, Claude.  I'm talking to you because I didn't want him doing it.  Settle down, Claude.  Please.  For your own sake.  I know it's fun to be able to be free and date… but it's more trouble than it's worth.  At least do some of your homework for me."
Claude groaned, "fine, some homework.  But I'm not standing to any curfews."
Lauren gave him a look, "you can have that discussion with your father."
Claude blanched.  "Fine, 12 o'clock, but no earler!"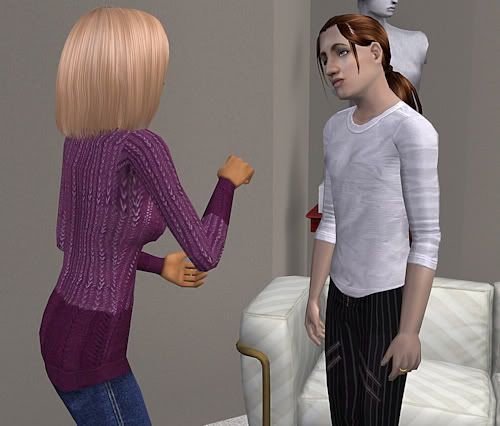 A few nights later, Lauren confronted her husband.  He had wandered up from the basement to catch the news and was completely blindsided by Lauren's hysterical nature.
"Are you done with this yet, Gordon?" Lauren yelled, gesturing wildly.  "I'm old, if you haven't noticed and you're still as young as the day I met you!  This is ridiculous–the sleeping all day and out all hours of the night!  Do you know what Claude's doing?  He's turning into Shang!"
Gordon remained stoic, "I know what he's doing, Lauren.  I have eyes everywhere.  And I'm not stopping now.  Michael is nearly free of this and Claude will be, too.  I don't think you've gotten old, but you've certainly gone mad if you think you can tell me what to do."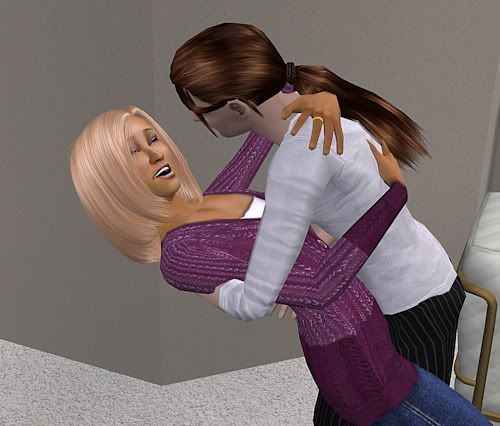 Without another word, he embraced her and took advantage of the fact she was startled, "stop worrying about stupid things.  I'll take care of Claude.  But no more yelling or talk of what I may or may not be.  It isn't going to change, Lauren."
She allowed her shock to subside and gave a small, sad smile, "I know, but it was worth a shot.  What will you do when we're all dead?"
"Be thankful you all lead happy lives and got there as you should–that your end wasn't early because of this painful business."
After dealing with Lauren, it was back to business as usual.  He got on his computer and accessed the most frequently used device of inter-PC crime communications:
vampirechairmanDC: I swear to everything, I am going to stake you for sending me this horrible woman.
necessaryevilsBS: What?  She reminds you of yourself?  I figured as much.  What's the status of that, btw?  This'll be the last we mention it.
vampirechairmanDC: well hooray to that!  Status?  Heh, let me show you.
vampirechairmanDC sent celia.jpg
necessaryevilsBS: Very nice.  We'll keep in touch.
vampirechairmanDC: remember…  I'm not your garbage dump.  I'm trying to work on something here and I sure as hell am not the miracle wish foundation.  You should have just killed her.
necessaryevilsBS has logged off.
Meanwhile, Claude continued his late-night dating.  But no matter who he met, he couldn't get the thoughts of that mysterious woman out of his mind.  Who was she anyway?  She knew his name.  A lot of people knew his name, but the way she had said it… it was almost as if she identified him not by his name, but his appearance.  Was it someone his dad knew?
————-
Note from Mao: Hehe, lots of fun in this round!  If you're confused about what's happened to Miss. Lacie Anderson, check here.