Tsung and Lilith are happy to finally have a grandchild!  Zhou and River seem to be adapting well to their new roles as parents.
River was finding that being a mom wasn't nearly as hard as she thought.  Of course, she had plenty of support, maybe too much support.  Lilith and Tsung were there every step of the way, almost as if they feared little Fujin might just disappear if they turned their backs.  It was a bit suffocating, but River also knew they meant well.  Besides, their help was necessary if she wanted to keep her career going.
Chairman Mao wasn't quite sure what to make of the new tot.  It ate, slept a lot, and cried a lot.  Kittens were cuter.
River wasn't entirely responsible for Fujin's care, Zhou helped out quite a bit, too.  He enjoyed the little bundle, even if it was hard to curb his penchant for foul words.  It certainly helped that being a father seemed to up River's attraction level to him even more.  Another good reason Lilith and Tsung were always around to watch Fujin…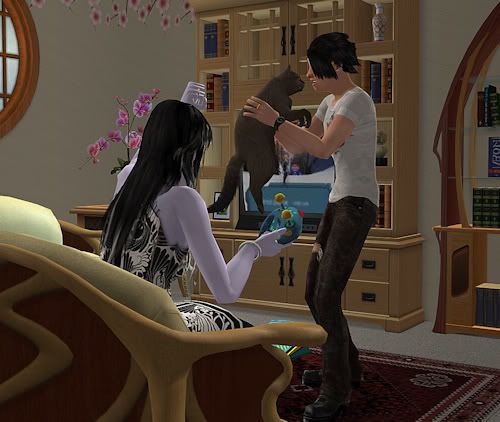 Things all seemed to settle into a pattern, and everyone was happy.  Of course, Lilith still shouted at Zhou to move his lousy butt before he caused her to lose her game.  It wouldn't be the same if she didn't.  It also wouldn't be the same if Zhou actually listened to her, instead of just cooing over the cat and making his mother so angry her face became an uncomely shade of dark purple, almost like a grape.
Lilith was incredibly surprised when her time was up.  She could have sworn she still had more life left in her, but Grim disagreed.  It was her time to go.  Tsung was distraught.  Lilith moved on without much of a fight, but she definitely gave Grim quite a bit of lip.  She wasn't one to go down without a bit of sass.  It was a shame she wouldn't get to see Fujin grow up!
Tsung retired immediately after Lilith's death, determined to immortalize his late wife the same way his father had.  It was a mad goal–Tsung had never painted, and yet he seemed to take to it like a fish to water.  Isolde Anderson stopped by after the funeral to pick something up.  Tsung didn't pay it any mind.  He knew Isolde and Lilith had been involved in a world he wanted no part of.  Whatever it was, Isolde could handle it… Lilith had taught her well.
Fujin soon became old enough to toddle around on his own and so it was a good thing Tsung had retired.  When he finished his painting, he hung it up and felt some sort of peace wash over him.  He could enjoy his final years now, with his family.  Both boys had made out fairly well, even if Fou-Lu had some bumps along the way.  It wouldn't be long for Tsung to remain, though, Lilith was waiting and everyone knew how patient she'd been living…
—————————
Note from Mao: I was so sad when grim came to collect Lilith!  Her age bar said she still had more time. 
  Bye bye, Lilith.  You will definitely be missed!  In order to help you with your grief, I give you a totally random picture of Zhou.  It made me crack up.
'Why so seeerious, Zhou?'