Nathaniel is still mourning the loss of his wife, Sara, while Cole and Shelly are settling into their married life together.
Shelly wasn't really surprised when she found out she was pregnant.  It was a little inconvenient, given that her campaign was going strong, but life has a way of sneaking up on you.  She could still rally the polls, she'd just do so with a little extra weight.  Maybe being in 'a family way' would even bolster her popularity a bit.
Nathaniel was quite pleased to learn about the new addition coming to the house, but he wasn't sure if he'd actually get to see it.  He was older than Sara and his time was quickly coming to an end.  It was hard to believe he'd been around so long already… it seemed like only yesterday he was a teenager, with his twin sister Lilith, living in their house across the street.
Despite her pregnant belly, Shelly was as aggressive as ever.  Her determination to become mayor was increased by the fact that soon, she'd have a child.  She wanted that child to feel entitled to greatness and power.  Being mayor was, of course, quite prestigious… so it was time to step it up a notch.  She didn't care if she had to give birth at the debate podium, she was going to be mayor.
Unfortunately, Nathaniel's calculation of his own lifespan had been correct.  He had his last drink at the bar and death came calling.  He was saddened that he wouldn't get to see his grandchild, but happy to be joining his sister, wife, and friends.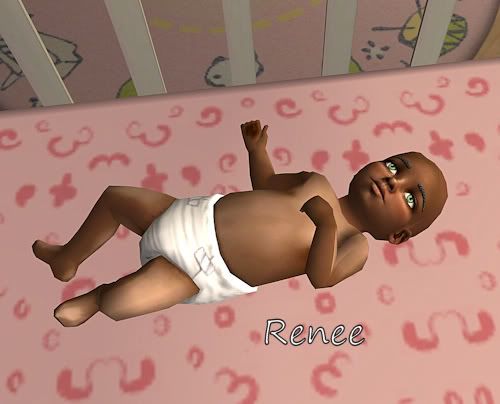 Not long after, Shelly gave birth to twin girls, Catelyn and Renee.  They resembled Cole's mother Sara and Shelly's father Ryu quite a bit, though they had the O`Hanlon green eyes.  It was easy to tell the twins apart, especially, since Renee had black hair and Catelyn's was brown.
Of course, because Cole and Shelly were very busy with their careers and their parents were both dead, they had to hire extra help for the babies while they were away at work.  Shelly didn't mind, but Cole found it a bit strange.  He wasn't sure he could trust a nanny that insisted on wearing a hairstyle suited only for a teen.
—————————
Note from Mao: NO MORE TWINS!  Seriously.  No more, game.  I'm telling you right now… this is not rare.  I have way too many twins!  Agh.  Also, I may have mixed up Catelyn and Renee, so if next update, Catelyn is the one with black hair and Renee with brown, uh… you saw nothing.