Nathaniel and Sara Anderson are happy to welcome their youngest son and heir, Cole, back home.  Shelly Yu also awaits him.
"You haven't been engaged that long," Nathaniel Anderson reasoned as he sat with his son at the table, "I don't see what the rush is."
Sara scoffed at him, "not everyone wants to wait forever, Nathaniel.  Leave him be.  At least he won't be another Patrick!"
Nathaniel sighed, his displeasure evident on his face, "that's true.  Have you talked to him yet?"
Cole winced, awaiting his mother's response.  Instead, she simply shrugged, any animosity she had for her eldest was veiled to them both.  Regardless, they both felt a pang of sympathy for Patrick when his mother confronted him about his transgressions against his wife and child.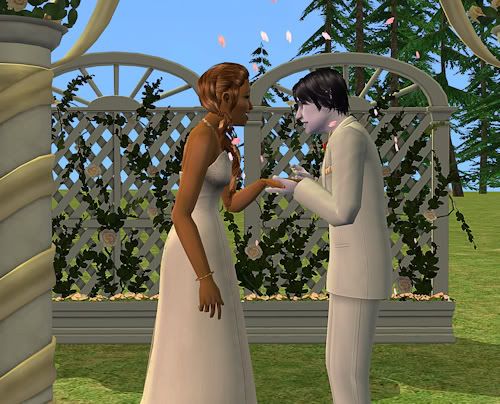 Cole and Shelly were married one a warm spring day.  Despite Shelly's high position and political power, they had a small wedding that included only their closest relatives and friends.  Of course, it was hard to miss that Patrick and his family were absent.  Viola had wanted to come, but Patrick was avoiding his mother as assiduously as a one does when they know what's coming to them.
Despite that, Cole and Shelly made the best of the day.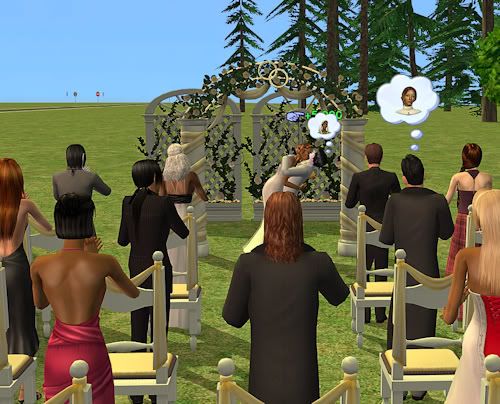 The aggressor was obvious from the start, Shelly always had a bit more fire in her than Cole did.  She reached out and took what she wanted… well, except Timothy O`Hanlon.  But she was young and naive.  That didn't matter now.  Cole was much more pliable to her will and Shelly had grown fond of him.
Living with one's parents isn't exactly conductive to the newly web vibe, so Cole and Shelly went on a honeymoon to the faraway place known only as 'The Orient'.  It seemed an odd name, but the place was such a mish-mash of obscure cultures, neither questioned it.  Shelly vaguely recalled that her father's side of the family came from this place.
They bought a small rental house and stayed there, enjoying the open, but private backyard and it's natural hot spring.
It was a relaxing type of honeymoon, one filled with sipping dark, bitter tea that seemed to energize and discussing the odd culture they were surrounded by.  Neither really understood why grown (perhaps, a bit too grown) men would wear diapers and wrestle one another out of a circle.
C0le found considerable luck at one of the shrines that littered the area.  Unfortunately, he had hardly expected the rain of actual coins that followed his little bit of luck.
Shelly usually slept quite fitfully, but Cole was an early-riser.  He would often be up and dressed, ready for the day and simply waiting for Shelly to roll out of bed.  It was a funny notion, that the ambitious and driven one of the two could be so lazy in the mornings…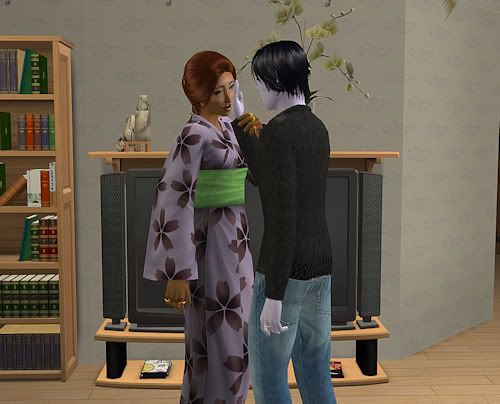 Shelly soon embraced the culture that surrounded her and indulged in a little play of dress-up.  She enjoyed the elaborate nature of their dress and tried to encourage Cole to do the same.  He managed to decline politely, in his own way.  There was no way he was wearing a dress, no way.
Of course, not all of their vacation was spent embracing the culture and the vivid landscapes… they made plenty of use of their private time together.  Once they returned home, they'd be thrust into their individual careers and under the constant eye of Cole's parents.  He loved his parents, but perhaps inheriting the house wasn't all it was cracked up to be.
He needn't have worried about his mother's prying ways, for no sooner did they return from their trip did Sara pass on.  She had been on the phone with Patrick.  None could say what transpired spare those two, and Patrick wasn't talking.  Mostly because his family wasn't talking to him.  Both Sade and Cole were quite grieved over their mother's loss and blamed Patrick for putting so much stress on her old heart.  Nathaniel was older than Sara and yet she was the first to go…
—————————-
Note from Mao: I was totally not expecting Sara to die!  And yes, she was on the phone with Patrick.  Good bye, Sara!  You will be missed…