Nathaniel Anderson and Sara O`Hanlon enjoy their unwedded bliss and their two children, even if they don't understand them. Patrick is fast becoming an egocentric misogynist while Sade can't pass a mirror without admiring herself in it. To make matters worse… Sara's been feel a little ill lately.
Sara was distraught over the loss of her father, Derek O`Hanlon. Along with that, she was dealing with the astronomical amount of divorces currently taking place in Boreal Springs. She needed a break, that much was certain. Nathaniel took some time off work and the kids had a break in school coming up, so they were set to head off to the mountains for some R&R.
Sade and Patrick weren't too keen on being surrounded by burly lumberjacks and towering pines.
Before heading to the shuttle, Patrick had to admire himself in the mirror. While most would remark that his collection of features was odd… it was also unique. That uniqueness would help him achieve his ultimate dream–stardom. He could use his smarts and his good looks to skyrocket himself to fame unknown. As long as he was making money and being admired, it was all good.
They arrived at their resort hotel without a hitch and the two kids realized they'd be living in the lap of luxury for the better part of a week. Warming up to the idea of the outdoors, they accompanied their parents to a nearby logging area. Patrick was sure he could throw axes without an issue, but was proven wrong when only one hit the bull's eye. Sade claimed she could do better, if only they'd let her actually throw an axe!
Sara decided to show her son how it was done and landed each axe perfectly within the bull's eye, much to Patrick's humiliation and Nathaniel's fear. Where Sara had picked up her logging prowess, none could say, but she could certainly throw an axe with the best of them.
Despite feeling ill the entire trip, Sara still managed to beat Nathaniel several times at log rolling. Of course, Nathaniel claimed she was quite obviously cheating. Sara just laughed and beat him again. She was definitely more athletically geared than her male counterpart, even if she did spend a lot of time in the court room.
Patrick decided that it might be fun to fish. Nathaniel wasn't too keen on the idea, being a nautically minded man. Patrick was overjoyed when he caught a huge catfish, but grumbled incoherently when Nathaniel insisted he that apologize and put it back. Fish had feelings too.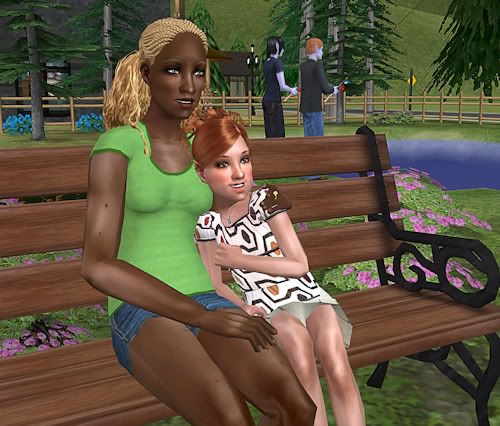 Sara was feeling even worse during the last leg of the vacation, so she spent a lot of time lounging around. Sade mostly stayed with her, content to sit and watch people walk by. It was surprisingly calm, despite being in the middle of winter, and strangely warm, too. It only flurried once, though it didn't accumulate. They didn't even have rain. They couldn't have picked a better time to come.
The night before they were set to leave, Nathaniel decided to voice his concerns about Sara's state of health. Of course, being a male, he wasn't exactly tactful about it.
"You're looking a little bit like a beachball, Sara," he said, eyes falling on her stomach. She hadn't gained much weight, but her normally flat abdomen had puffed out a bit. "Are you pregnant?"
"I think so," Sara said. "I don't want to believe it, but it would make sense."
When they returned home, Sara scheduled an appointment immediately with her physician. Sure enough, she was pregnant. The doctor told her to be careful, since she was older, she was more fragile. Nathaniel wasn't exactly keen on the idea of another child–he would be an elder soon–but he supported Sara. It wasn't like she did it all by herself.
He just hoped the baby didn't turn out like their other two kids… which worried him immensely. Patrick the evil, egocentric genius and little Sade, the budding beauty queen.
———-
Note from Mao: Nathaniel and Sara woohoo'd ONCE before they went on vacation. ONCE! I thought it was safe because they were both getting up in years and InTeen puts a drop in fertiliy the older a sim gets. Gah. At least Sara is a little younger than Nathaniel… and I definitely won't bemoan their genetics spreading.  Pointy ears, yay!