With Katarina gone, Alyssa is left with Nevio, Lacie, and little Isolde. Poor little Isolde, if it weren't for Alyssa, she'd be neglected.. can her romance-oriented parents get their act together?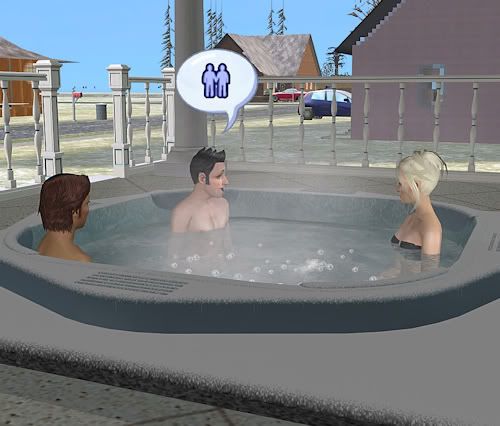 Lacie had mentioned several times how nice it would be to have a hottub, but Nevio was incredibly surprised when he came home one day to see contractors setting up a deck and hauling a huge jacuzzi. Alyssa said nothing, she just shook her head. Nevio was too shocked to speak.
He came around, though. The hottub was an extremely nice addition, even if it did mean he saw way more of Shang Yu than he ever wanted to. Shang had dropped by one day and told Katarina to pack her and James' things, she was coming downtown with him. They saw more of Shang than they did of Katarina… and Nevio wasn't quite sure he liked the looks that passed between him and Lacie.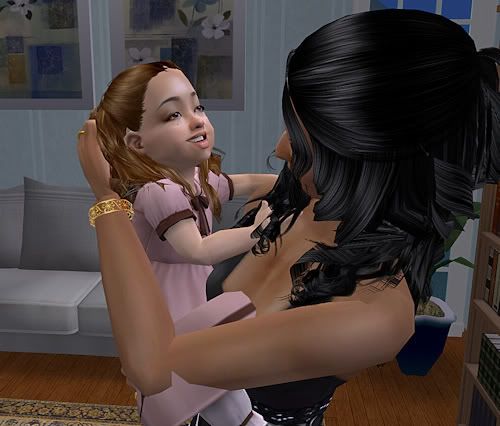 Meanwhile, Alyssa was stuck caring for poor Isolde. She had become an adorable toddler and though she still resembled Jun Yu, Alyssa could now see that she looked quite a bit like Nevio, too. Alyssa loved spending time with Isolde, but worried that her parents had no part in her life. She'd have to kick Nevio into shape, she hadn't raised her son to be a negligent father!
Of course, she'd have to fish both Nevio and Lacie out of the hottub, first. They spent the majority of their time out there, doing goodness only knows what. Alyssa was really sick of Lacie lazing around the house, doing absolutely nothing. She refused to get a job and she didn't care for Isolde at all, except to complain to Alyssa that most rich people had nursemaids or nannies to care for their offspring.
Roman had planned on opening his real estate venture in Boreal Springs, but after some advice, decided to put it in Aperture. He gave the lot to Alyssa, suggesting she open a store and save up some funds so Lacie didn't bleed them dry. Alyssa did more than that, she drug Lacie with her, putting her to work at the register. She was going to earn her keep if she wanted to stay and Alyssa would hear no more of this "don't you want to move out" business!
(Shoppers viewed here are Aiyana Saunders and Tsung Yu)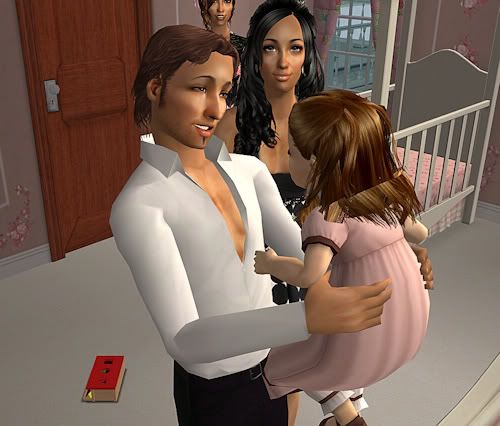 Alyssa was happy when she finally got it through Nevio's thick skull that his daughter needed him and that being an athletic didn't mean he had to be a complete jerk. He didn't dislike Isolde, quite the opposite, he just wasn't sure what to do. Thanks to Alyssa and some help from Katarina, Nevio was slowly spending more and more time with his daughter.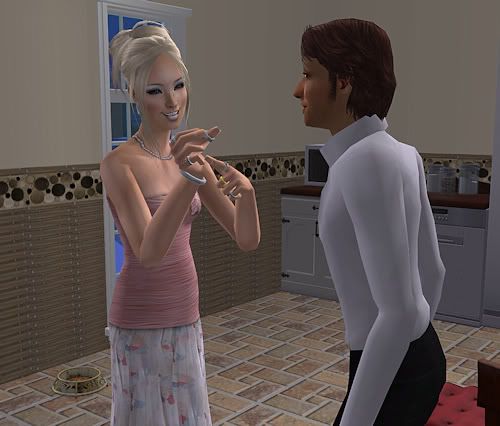 Lacie eventually got out of working for Alyssa by claiming to be pregnant again. Alyssa had to hide her fury when she realized it was true. This woman having another child was just wrong. Alyssa wished her son could see what a little harpy he married, but he was oblivious. Anything she asked for, she got. Lacie had Nevio wrapped around her finger like one of the many platinum diamond bands she owned.
In fact, she even went as far as to suggest that perhaps a bigger ring would be better suited for her finger, given all the pain and tribulation she had to go through.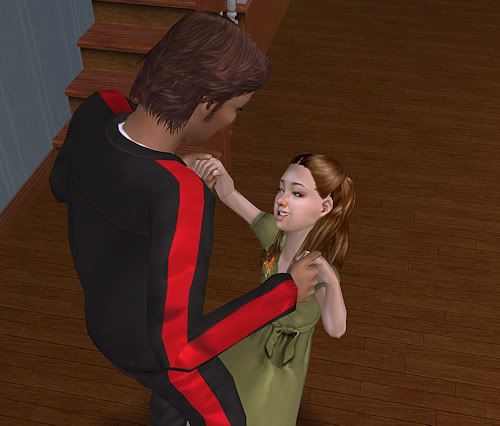 While Lacie was a vacuum of money and wealth, Isolde was the opposite. She was a happy and smiling child and being around her made Nevio feel considerably better about his life. He knew that perhaps Lacie was not the best choice, but even so, he loved her and that emotion often rendered even the most intelligent of beings foolish.
He just hoped Isolde didn't take her mother's bad example and act the same way.
——–
Note from Mao: Poor Nevio, he's such a patsy. And Shang really did refuse to leave when they got the hottub. He came over once with Katarina and Lacie started swooing over him. He kept trying to put the moves on Alyssa, but she's over that now. Lacie and him are good friends now, though… and Isolde is ADORABLE. Srsly.