Thomas Anderson's days are coming to an end; will it be a natural end or something more dastardly? Alyssa and Ryu's marriage is quickly crumbling beneath the weight of his case against the former Janine Anderson and now Derek Saunders. Roman remains quiet and studious, but Nevio finds himself unable to cope with the familial distress.
Thomas Anderson watched as his young grandchild Nevio slept. He would never be ready in time. With all the chaos in the house, it was nearly impossible to teach him anything. Had Thomas mad the wrong choice in an heir to his fortune and notoriety?
His days were numbered and he knew it was only a matter of time before the natural processes of life called him to the other side. What he wasn't too sure of is whether or not Gordon would have a hand in it. The student outdoing the teacher is a common theme.
Alyssa, meanwhile, found herself bored with her life. She was tired of arguing with Ryu and she was even more tired of all the political backlash. She refused to believe that her mother was a Criminal Mastermind! There was just no possible way. Ryu was creating mountains out of mole hills, as seemed to be his thing now.
She was also bothered by the fact that he was always talking to Tracey Saunders. Tracey was young and exotic, but also very much married to Gordon Saunders. Of course, in this day and age, that really didn't matter. The more Alyssa thought about it, the angrier she got.
Alyssa had no way of knowing that Tracey was just a part of Ryu's plan to bring down the entire criminal empire. He had suspected Gordon for sometime, but with what Tracey told him, he was even more sure of it. Of course, he didn't tell her this. He simply comforted her as a friend would and told her she was doing a good job. He felt bad, but Tracey had dug her own grave, really. She wanted off the island bad enough to marry the first person she came across!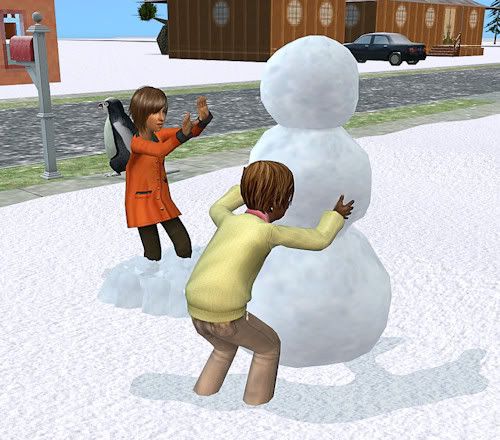 Meanwhile, the twins did their best to stay away from all the familial strife. They built snowmen and spent a lot of time together. Poor Roman lost a bet to his brother and was forced to wear their mother's old snow clothing. It wasn't so bad, except for the daisy pockets and the pink scarf. It seemed to cheer Nevio up, though, and so Roman suffered through.
He did take advantage of Nevio walking away to put the carrot nose as something else, though.
Ryu also spent a lot of time communicating with Lilith Yu through the computer. It would be best if their connections in this upcoming trial were left secret until the final revealing. Ryu was certain that with Katy Saunders as his star witness, nothing could go wrong. He felt bad for his brother, but he couldn't forgive murder. This was his job and it had quickly become his passion, too.
Luckily for Ryu, Lilith came through and was ready to do the ceremony. She just had to know ahead of time so she could make sure Tsung wasn't home.
The twins grew up into hardy teens. The result of all the dysfunction caused Nevio to have pre-conceived notions of relationships. He found them stifling and frightening. People who ended up in steady relationships were guaranteed to be miserable and he swore that'd never be him. Nevio idealized love, though, and so by not tying himself down, he was free to enjoy it without it shattering his ideal. (Romance Sim)
Nevio ended up looking a lot like his mother, Alyssa.
Roman was a little too serious and introverted for such endeavors. Instead, he found that he enjoyed the life his parents and grandfather had provided for him. He was determined to make as much, if not more, than their family had accumulated. Even if he wasn't heir, he was going to live a life of luxury. Finding a female that felt the same would truly be ideal. (Fortune sim)
Roman took more after his father's side of the family.