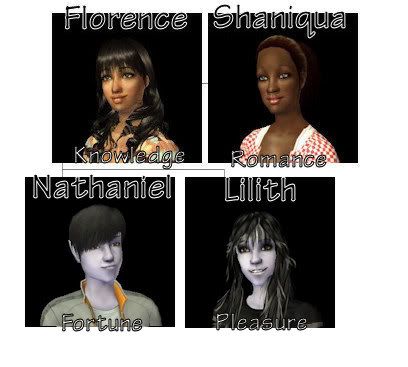 Florence Anderson and Shaniqua Saunders have an… interesting relationship. Can their daughter Kate keep Shaniqua from straying? Will the alien twins, Nathaniel and Lilith, find their way amidst the neighborhood drama?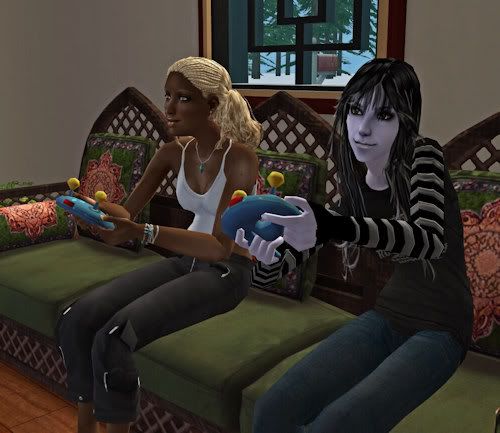 Lilith and Sara sat in the Anderson living room enjoying their daily, after-school gaming session. Sara couldn't concentrate and it was obvious. She usually put up more of a fight and Lilith was quite disappointed.
"Pay attention, Sara!"
"Sorry," Sara shifted nervously against the cushion. "Where's Nathaniel at, anyway?"
Lilith rolled her eyes, "like I care. Hey, HEY! What are you doing? Pay attention!"
"Sorry, maybe we should quit for now. I can't focus."
"Fine," Lilith relented, giving her friend an odd look. "And why do you keep asking about my stupid brother? Do you have a crush on him or something? That's stupid and gross. He only likes girls who actually look like girls, Sara."
It was meant as a good-natured barb, but it stung a bit more than Sara could vocalize.
Nathaniel entered not long after their abandoned game with Damien Saunders in toe. Damien had come to see Lilith, of course. The two were fiercely devoted rivals when it came to video games. They went off to chat, leaving Sara alone. While she pretended not to notice, she knew that Nathaniel had moved from the door and to the couch. He was staring absently at the TV while Sara shut off the game console.
Talking to Nathaniel when they were kids was easy, but now? Sara wanted to run away and hide. She'd say something stupid or not-girly… like always.
Unfortunately for Sara, Nathaniel had other plans. He approached Sara when she moved to leave and stopped her.
"Lilith says you're going to try out for the girl's soccer team," he began, grinning. "Since when can girls play sports?"
At this, Sara forgot all about her nervousness. Instead, her pride took over and she replied confidently, "excuse me? Women can do anything that a man can, and sometimes better. Maybe I'm better than you at soccer, huh?"
That was a really, really stupid thing to say. Nathaniel was extremely good at sports and in just about every team he had time for amidst his academics. There was absolutely no way Sara was better.
"Hollow threats, hollow threats," he laughed, waving her off. Just like he would 'one of the guys'… Sara hated that. She did have boobs… somewhere beneath her clothing. Hidden, quite well, too. But they were there! She was female!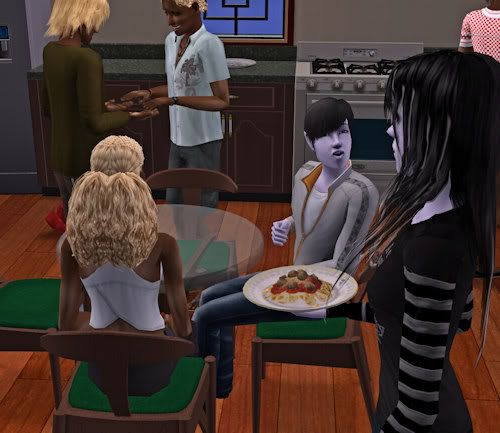 The conversation continued at dinner the next day. Sara spent a lot of time at Lilith's house–she hated being around all the baby insanity at her own. Her mother and father finally revealed it wasn't going to be one baby… but two. The thought made her want to crawl in a hole and disappear. The Saunders twins were visiting, too. Chuck seemed to be coming around a lot lately…
"Hey, sis," Nathaniel called out as Lilith passed by. "What are you teaching Sara? She says she can beat me at soccer, but she won't put her money where her mouth is."
Lilith ignore his charismatic and good-natured grin, countering with a sneer from the depths of the darkest reaches, "leave Sara alone or I'll smear this spaghetti all over your pretty girl face."
Sara fidgeted nervously, "no… no… it's okay. I'll do it."
Lilith was shocked, but Nathaniel just smiled: "Good! We've got a net outback… tomorrow is Saturday. Come over at lunch."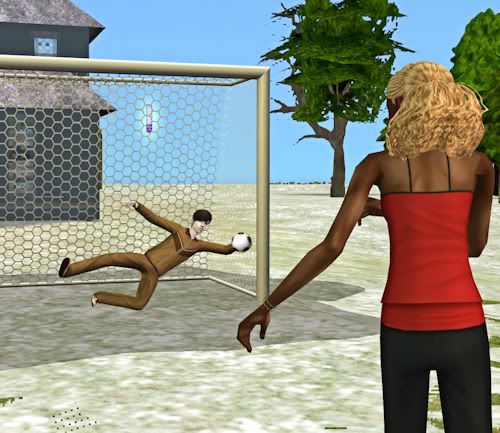 Sara did as Nathaniel said and was over at the Anderson house at exactly noon. Unfortunately for her, Nathaniel was ready and they were off to the net. It was simple enough–get a ball past him and he'd accept that maybe a girl could play sports past waving pom-poms around.
He caught everything she kicked. It didn't even look like he was struggling, really. Which just infuriated her all the more. He smiled the entire time–smug and amused. If he saw her as a real girl, he'd probably be apologetic or mess up on purpose. But no, Sara was 'one of the guys'. Well, fine then, Sara thought.
Sara summoned all her strength and sent the ball hurdling forward. Nathaniel caught it all right, with his skull. He was knocked out for five minutes. Sara was mortified! She had missed completely and given him a concussion.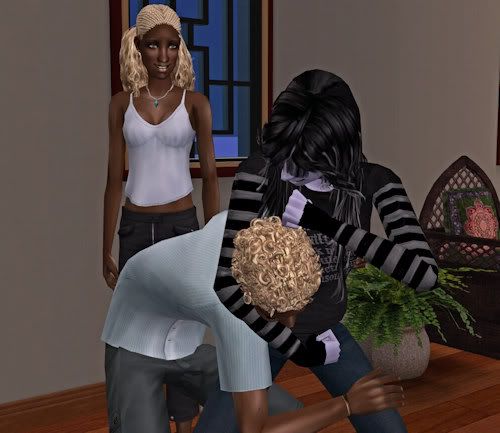 Sara looked to Lilith for comfort, but Lilith was too busy abusing Chuck. Sara wasn't quite sure why her half-brother seemed to be so intent on 'getting' Lilith. She wasn't exactly what you'd called a 'good catch' when it came to a womanizer like Chuck. Maybe it was the thrill of the chase? Whatever it was, it meant someone saw Lilith as a real girl… and Sara was still just 'one of the guys'.
She left quietly and decided not to try out for soccer after all. Maybe basketball would be less dangerous?
Meanwhile, Shaniqua tried to distract herself by caring for Kate. She'd been having thoughts of giving her new friend a call. Seeing Kate and holding her seemed to make the temptation go away. What would happen to little Kate if Florence caught Shaniqua? She remembered what happened when her mother ran off…
For now, Shaniqua would resist the temptation. She just hoped Florence didn't suspect anything.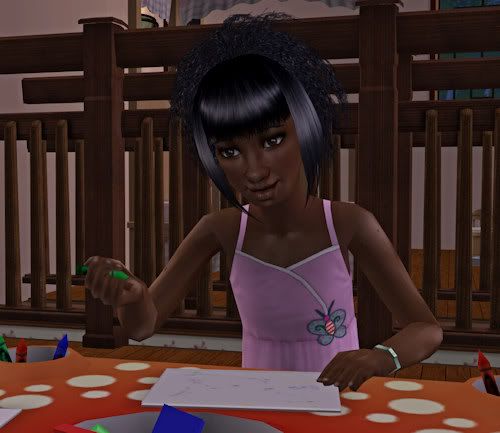 Despite the weirdness that surrounded her on a daily basis, Kate's birthday went by easily. She was a cute and creative toddler. She enjoyed drawing pictures, catching butterflies, and just being a kid. She didn't really notice any of the tension that surrounded her.