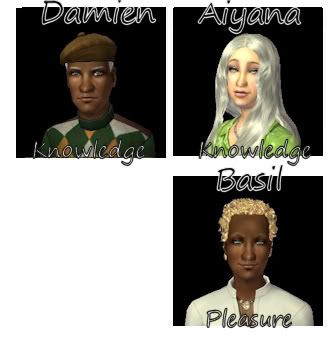 Damien and Aiyana Saunders are happy with their noses in their books, but they still worry about their son, Basil.  Will he able to choose the proper girl or will his decision fail to meet his parents expectations?
Basil decided that Virginia was the one for him.  Forget rational thought and the fact she couldn't stand to hear him talk about Grilled Cheese, the passion and the fire was definitely there.  He wanted more illicit meetings in hot tubs and heavy make out sessions in the public.
Virginia, on the other hand, wasn't quite sure what she was thinking when she said "yes".  She should have turned and ran, but something kept her tethered.
There was a freedom that came with leaving her life of leisure and living pay check to pay check.  She cared about Basil, sure, but Virginia wasn't necessarily the type to narrow down who exactly she cared about.  They were married quietly and hurriedly, not wanting a big ceremony.
Aiyana and Damien agreed to this, just happy that their son was finally showing that he was not the wrong choice when they picked an heir.
Meanwhile, Aiyana fulfilled her lifetime want and Damien was not far behind her.  They both knew everything they could possibly hope to know.  At first, it was fulfilling, but after the excitement waned, they weren't quite sure what to do with themselves.  What else was there out there for them to enjoy?  And so, they began to think of grandchildren…
Basil wasn't concerned with children of his own yet, though.  He hadn't even gotten a job.  He found his time was much better spent mucking around in the craft room, playing around with his mother's old tools.  Sculpting was his favorite, perhaps he could make a trade of that.  Jobs were too rigid, too strict.  Everyone had them and Basil desired something vastly different from the norm.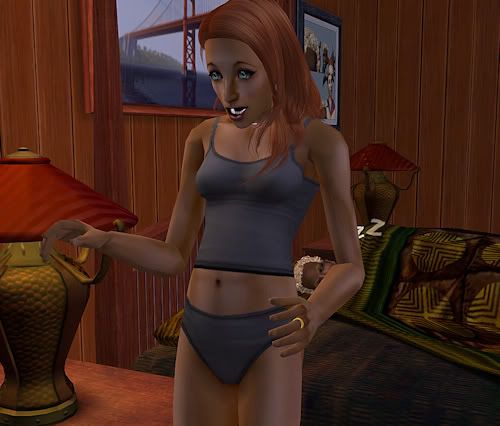 Unfortunately, he and Virginia hadn't really taken the precautions necessary to prevent a little bundle of joy from joining the house.  Virginia was extremely surprised when she found herself pregnant and a panic filled her.  What would she do now?  She still had hopes and dreams!  A little, wiggling kid would just tie her down!  All of the sudden, she felt that great urge to run, to flee… but it was too late.
This would set back her chances of going into sports greatly.
Damien decided that with this news of an impending child, he needed to have a talk with his son.  Unfortunately, it was easier said than done.  Basil had no interest in changing his lifestyle and was insistent that he would make a trade of selling his wares, he just needed more time.  But a growing child needs money and while they had some in the bank, eventually, he'd need an income.
Basil wasn't concerned about the future, he was only worried about the here and now.  Damien hoped his son's lack of foresight wouldn't come back to bite him.
———————-
Note from Mao: I really hadn't intended for Virginia to end up pregnant so quickly, in fact, I had no idea she was pregnant until her belly pop!  I was quite stunned.  It's been awhile since it's surprised me like that!  Still not 100% better, but I can function.  I will be leaving to rejoin my fiance in about a week's time, though, and going back to work… so I definitely need to get some playing in!